Even as president of a 96-year-old travel company, Tauck's Jennifer Tombaugh was caught by surprise multiple times by how much travellers were eager to lock in post-pandemic trips ahead of time.
"We have never seen the level of advance bookings for 2022 than we have right now," Tombaugh tells Travel Courier. "It really speaks to the pent up demand and that energy that people have to get out and explore the world again."
Although bookings are not yet at 2019 levels, the resurgence is giving the tour operator hope for the remainder of 2021 as it prepares for a robust year across the board in 2022.
"Vaccications as they were called a few months ago are a real thing," she says. "We saw that back in April when all of a sudden the volume in our call centre — and this is true for many other tour operators and travel advisors — everybody, at least in the U.S. travel industry, saw a spike in call volumes because all of a sudden people were saying 'I'm vaccinated, where can I go, when can I go?'"
Notably, she says the bulk of bookings are new and not just guests who are rescheduling previous travel plans.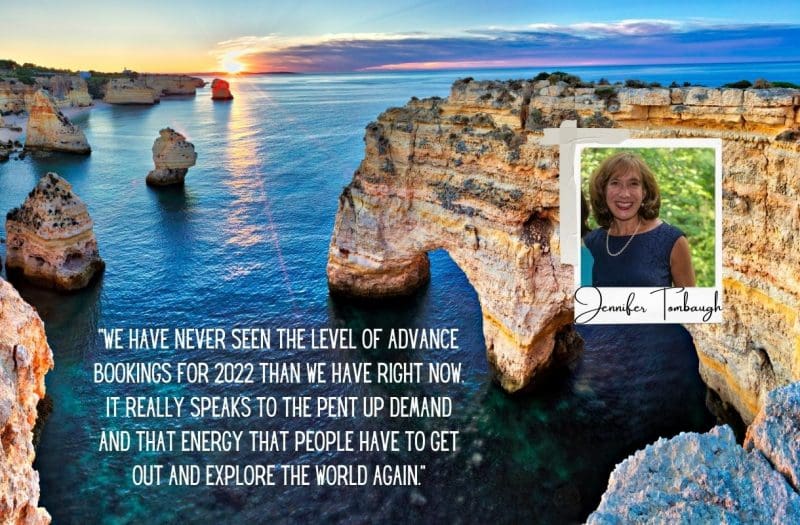 As for what's selling well, she says it's steady across all of the places the company operates and she'd be hard pressed to find a place that isn't.
"It's crazy. I've really never seen anything like it. We are seeing tremendous lift everywhere. The U.S. is having an exceptional year this year, obviously it was the only place people could go up to recently, but that is carrying into 2022. I think we've all discovered our backyards again. Europe is booking very strongly. Particularly for Canadians, river cruises always book strongly for us. We're seeing demand grow even in exotic destinations, on African safaris, getting back to Israel and Jordan. Even Australia and New Zealand, especially because Australia and New Zealand have been so strict about managing this virus. Japan has a tone of pent up demand because we're now onto two years of not being able to travel during cherry blossom time."
Tombaugh expects the growth trajectory to continue for the next 12-18 months as people continue to act on taking multiple trips as well as extending trips for a longer period of time.
"I think you are really seeing that rebound of people that have their bucket list and they're making their dreams come true. Granted it's a smaller percent of our travellers but we are seeing people booking two or three or four trips next year," she says. "I can point to Portugal, France, Spain, Greece, we've been able to add three departures on our sailings in Iceland and they sold out in four days. Literally, as we're able to open up a destination, we're selling those programs."