AMResorts' Carlo Trinidad says destination wedding groups have come back with a vengeance.
"We are fortunate in Canada where wedding groups typically book at least 10 to 12 months in advance, sometimes longer. So not only have individual bookings spiked, but also wedding groups," Trinidad, the Business Development Manager for Western & Central Canada for AMResorts tells Travel Courier. "By pure capacity from the tour operators, Cancun/Riviera Maya, Puerto Vallarta, and Punta Cana lead the pack in popularity."
Trinidad reports that destination wedding groups are very strong for 2022 across the AMR™ Collection, which includes 102 properties across 36 beachfront destinations and eight countries, and he's now also seeing wedding group inquiries and bookings into 2023. 
"I'm encouraging agents to stay positive and remain optimistic. I believe we're on the path to onwards and upwards and the travel industry will rebound even stronger than before," he says. "AMResorts has almost 60 resorts in sun destinations that cater to all budget requirements of a wedding group."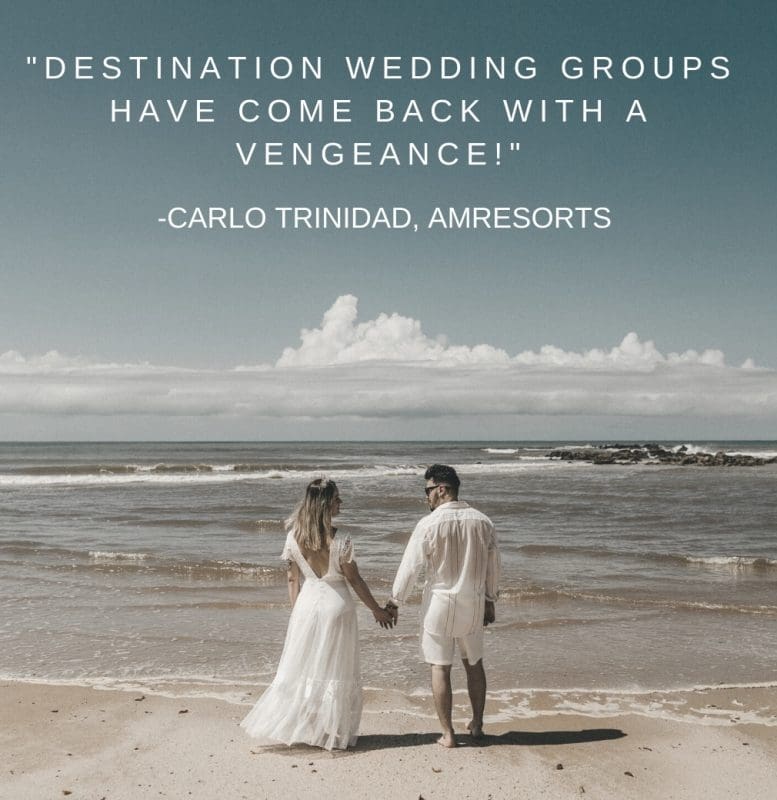 Similarly, Cindy Almond, the owner of Romance and Foodie Travel, has found that inquiries for destination weddings are starting to pick up with a mixed bag of a booking window from upcoming departures in Dec. or Jan. to Nov. 2022 and as far out as March 2023.
"I think places with easy entry and easy testing potential [will appeal to Canadians]," says Almond, who is based in Ottawa. "Most people aren't really asking about distancing requirements as most people are booking under the assumption that this COVID situation will be mainly behind us."
One of the key factors driving bookings right now is the flexible policies that are currently in place.
"If suppliers become more stringent with their cancellation policies, I fear the bookings will slow down, but right now given the booking conditions are quite flexible, it's been easier to convince clients to commit for sure so it's been great for my business," she says. "I'm having issues securing space nearly a year out in particular for larger family suites, so I'm definitely encouraging people to book sooner than later."
Interestingly, she's finding that couples aren't as eager as families to book for the upcoming winter season.
"That being said, I do have some honeymooners already booked and planning for July and September 2022," she adds.