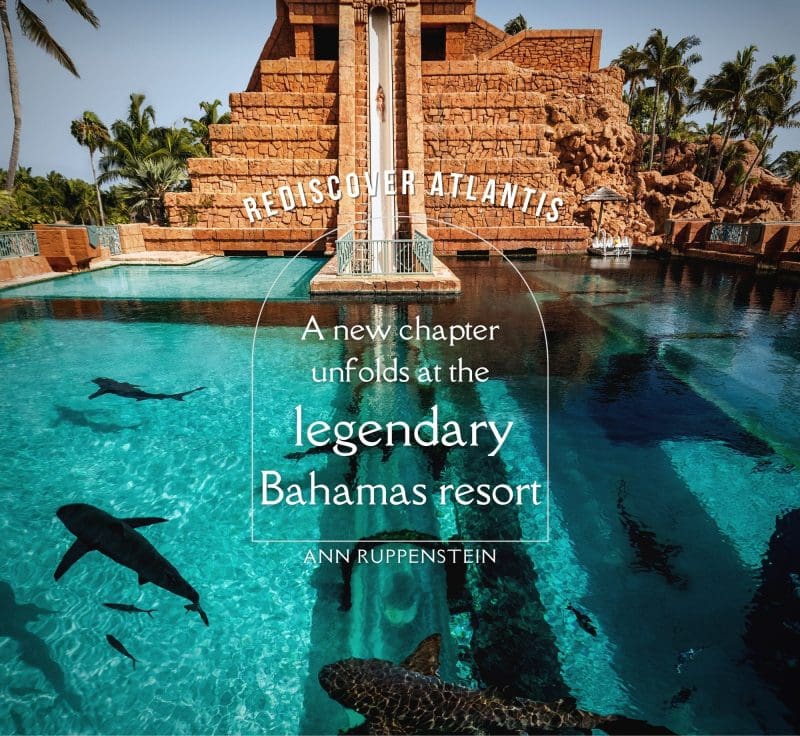 A behind-the-scenes look at what's new at Atlantis Paradise Island amidst a multi-million dollar renovation, a growing culinary scene and a deep focus on sustainability
I'm watching intently as a cook follows a meticulous list of ingredients to prep the next course that will soon be served for a feast at Atlantis Paradise Island. But this is far from your typical behind-the-scenes dining experience — the meals won't be feeding guests, but rather, some of the 50,000 aquatic animals that can be found across the sprawling resort in The Bahamas. 
While the iconic property was closed during the pandemic, a team of 165 workers, including marine biologists and vets, were still on hand to ensure over 250 marine species — ranging from tiny seahorses to Caribbean Reef sharks — thrived. 
"We don't just have an aquarium, we're one of the leading aquariums in the world not because of our fish but because of the people who do the research," explained Ted Adderley, vice president, sales at Atlantis, showcasing a glimpse into the inner workings of one of the largest resorts in the destination. "We have four marine biologists on staff, and our research into how we take care of our fish makes us important."
Before setting foot on the resort, guests may get a small sense of just how large the collection of marine habitats and marine exhibits is, but what isn't as well known is the amount of sustainability and conservation efforts that take place with facilities like an animal-rescue rehabilitation hospital and a fish hospital with state-of-the-art equipment on site.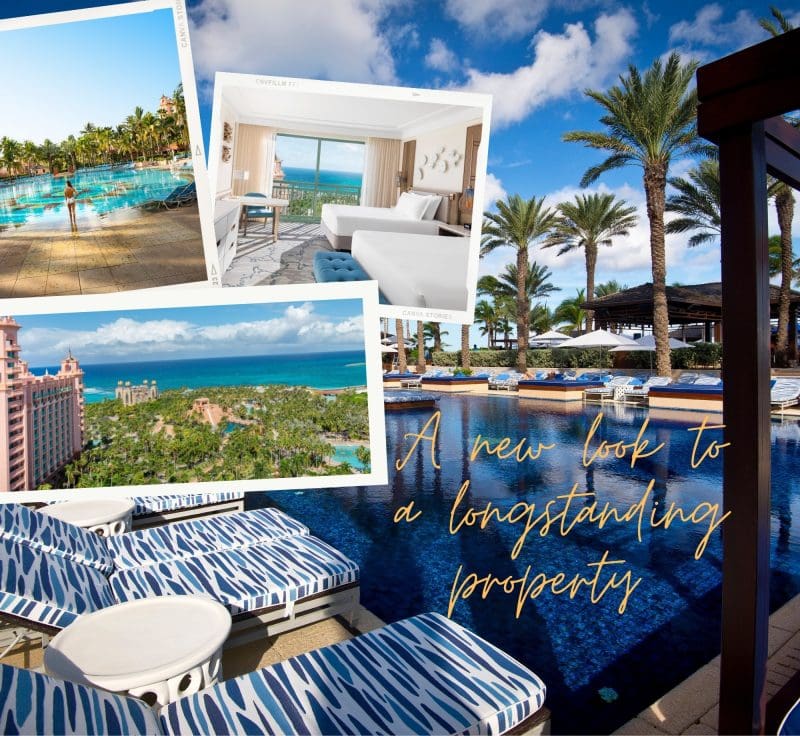 "Atlantis Paradise Island opened the Caribbean's first animal rehabilitation hospital and today, maintains an on-site laboratory, pharmacy, and operating suite to treat injured and stranded marine life," added Audrey Oswell, President and Managing Director, Atlantis Paradise Island. "The marine mammal team consists of biologists, researchers, lab technicians, behaviourists, and veterinarians, and their focus is around the clock care, rehabilitation and protection of animals and marine life."
Following upgrades completed in 2018 across the elegant and best suited for couples section, The Cove, renovations then continued at the family-friendly Royal Towers — the landmark section featuring two towers connected by a massive bridge suite. Although the pandemic slowed progress due to delays in getting all the products and services needed, the largest East tower is almost complete with new modern furnishings and stylish accessories.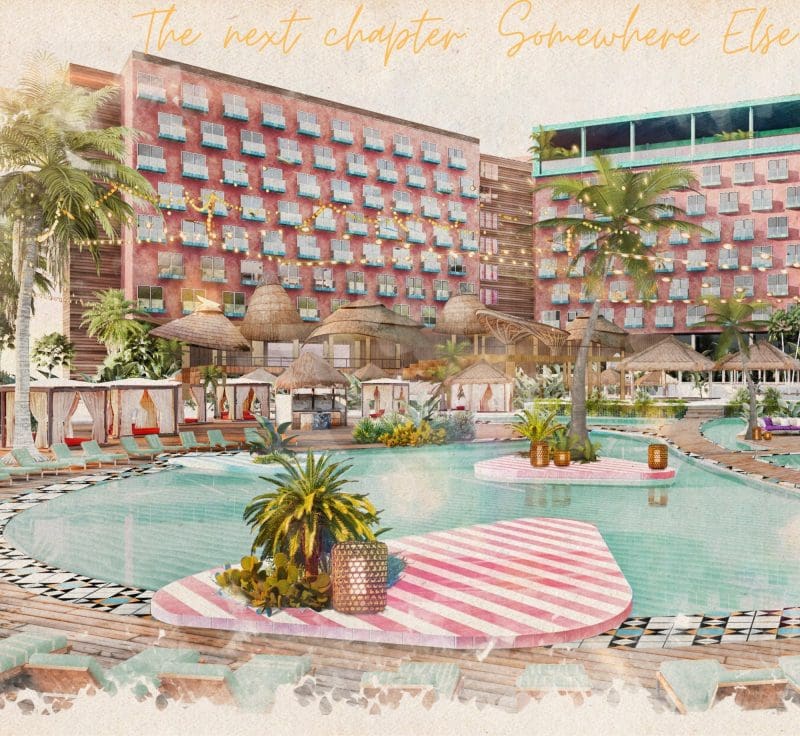 Once finished, upgrades to the West tower will begin. In addition to elevated designs, there are also more user friendly additions like USB charging outlets for phones being installed. For clients looking for an added level of luxury, The Cove pool offers private cabana rentals complete with food and drink service.
Recently, Atlantis announced it would be entering a partnership with rapper Pharrell Williams and David Grutman of Groot Hospitality to bring a new resort concept to life called Somewhere Else. Featuring 400 suites and guestrooms, the property will take over the current site of The Beach and is set to open in 2024.
"We think it's incredible that we now have them creating another lifestyle-type hotel in the family of the Atlantis chain," Adderley added.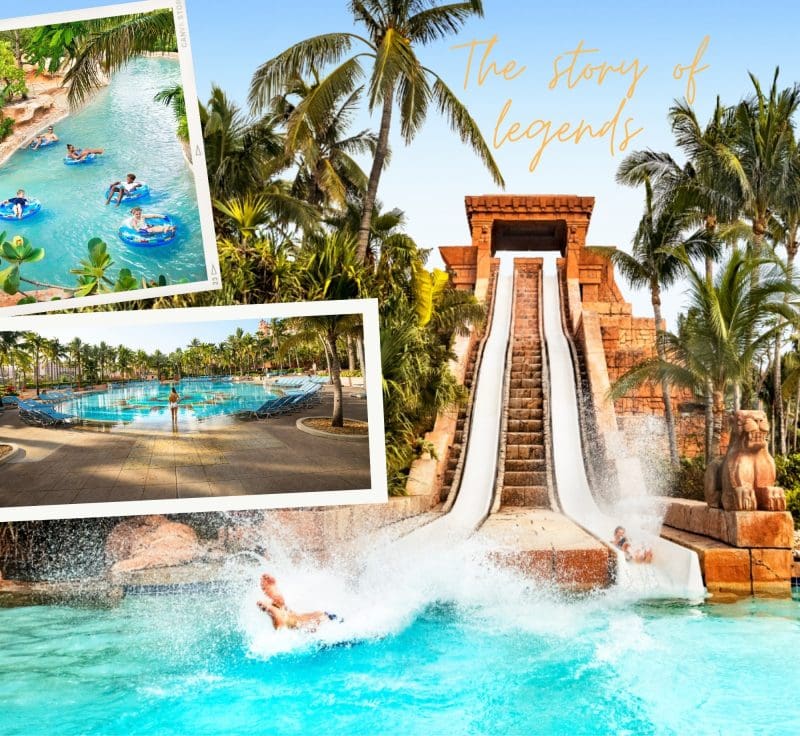 Although Atlantis is now synonymous for its theme deeply rooted in the lost city of Atlantis, Adderley shared that this story almost didn't see the light of day as it was originally set to be based after the adventure novel Treasure Island. 
"But then after we passed Blackbeard there was really nothing left so Atlantis became the theme and where it came from is in Bimini, there's this myth that part of the lost city of Atlantis still exists today, and that was told at the time to the chairman," he said. "This lost city of Atlantis theme became who we are and our identity. Even today we try to manage the identity of the lost city of Atlantis and create a more modern contemporary feel to the resort. And that's a balance we're working on."
Launching at a time when most packages were focused on cheap getaways with hotel and airfare included, Adderley said Atlantis' vision was different from the beginning. 
"We were very dynamic in the '90s to really bring this type of resort to the destination and not just the Bahamas and the Caribbean," he said. "We put the level of quality resort in the destination that now people are following. We are a destination within itself and purposely done."
For a mega resort with five distinct properties, Atlantis has also placed a lot of value on its culinary offerings. Currently, there are multiple restaurants by Michelin-starred chefs on location, including chef Nobu Matsuhisa with Nobu restaurant, who is known for his take on traditional Japanese fare and chef José Andrés, the man behind The Cove's Fish restaurant, who is also the founder of not-for-profit organization World Central Kitchen, currently stationed by the border in Poland to serve warm meals to Ukrainian refugees. Finally, Michelin-starred chef Michael White will be bringing a new restaurant to the repertoire soon.