Métis Crossing clients may paddle pass reminders of the past.
Smoky Lake, Alta.'s Métis Crossing — described as "Alberta's first major Métis cultural interpretive destination" and found a little over an hour northeast of Edmonton —  includes among its programs Paddle into the Past, which enables spring and summer visitors to paddle on excursions of around four hours on the North Saskatchewan River in 22-foot-long canoes that hold eight people and recall the massive canoes the voyageurs — who were frequently Métis — used as they paddled and portaged across much of what is now Canada centuries ago as part of the fur trade.
Krista Leddy, Métis Crossing's experience development coordinator, says Paddle into the Past gives participants insights into the voyageur lifestyle while sparing them the hardships that the voyageurs — often French-speaking explorers who married Indigenous women or descendants of such couples — faced on their long journeys between the West and Eastern cities.
"Through this immersive experience, you will learn the importance of canoeing and portaging to the Métis Community in just a short amount of time," Leddy says. "Because the canoes are very lightweight and stable, they are very easy to paddle. It is also important to keep in mind that you are floating on the river – which helps out a lot. The trips are guided with a certified guide on each canoe."
Leddy says the large canoes provide a different paddling experience than what people are generally used to, with regular canoes having a smaller turning radius, while the larger ones take a "little more teamwork to steer. With that being said, a larger canoe is very hard to tip over, making for a smoother ride."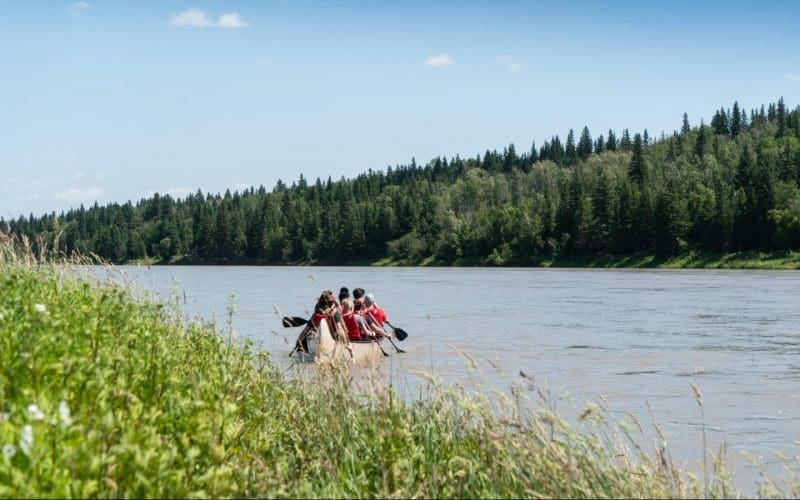 Those who sign up for Paddle into the Past will find themselves retracing part of a historic fur trading route home to a Hudson Bay Company trading post.
Leddy says the voyageurs were hugely important to the history of this country "as they created communities that opened up the West and were able to help map out the area for trading.
"They created lives that thrived from living from the land and we are very proud of the understanding that they had to believe that everything is connected to the land and that we are all connected as people. It is also important to note that not all Métis families originate from voyageurs, but many of the families had roles that supported the skills of the traders."
She says the Métis have a distinct Indigenous story to tell.
"We believe there are significant opportunities to educate and share our culture with the public. This is a true opportunity at Métis Crossing — we're excited about sharing our culture and history through unique programming – whether it be for groups, individuals, schools, or corporate teams."