50 Degrees North clients may be able to get a whirlybird's-eye view of a firey display that's provided by Mother Nature if the timing of their visit to Iceland is just right.
The Scandinavia tour specialist includes Iceland among its destinations and those who visit that island nation with the tour company may be among the very first to see any newly flared volcanic activity.
Authoritative Guide to Iceland reports that the Nordic nation — dubbed the Land of Fire and Ice because of its glaciers and volcanoes — has around 130 volcanoes, many of them active. Indeed, since the turn of the 19th century, Iceland hasn't gone a decade without experiencing a volcanic eruption.
The volcanoes aren't generally seen as a threat to public safety threat as seismic stations monitor them and they're away from towns.
50 Degrees North's Satu Vanska-Westgarth's told a recent webinar that those hoping to see a particularly dramatic Icelandic sight on an Iceland vacation can place themselves on a "volcano waiting list" and "if there's an eruption you're one of the first to know."

Those people are then whisked to the site by helicopter, viewing a natural pyrotechnic show from above.
"There are no erupting volcanoes in Iceland at the moment. If clients are near Mývatn, they can see the lava field made by the Holuhraun (Bárðarbunga) eruption in 2014-2015. Closer to Reyjkavik, you can see the lava field made by the Eyjafjallajökull glacier volcano in 2010. It isn't that common for there to be an active live erupting volcano hence the waitlist/alert set up," 50 Degrees North reports.
"They do get quite close to the volcano, depending of course on safety considerations and weather," the company adds of those who happen to be there at an optimal volcano-viewing moment.
Most helicopter tours also stop beside remote hot geyser activity. "When we fly over one of the most active volcanic areas in Iceland, the Hellisheiði Plateau, you'll see moss covered lava fields stretched out to the horizon, interspersed with colourful basalt mountains, steaming hot springs and the very geothermal power plants that supply Reykjavik it's renewable energy,"  the company continues. "On this sightseeing tour, we make sure to land off the beaten track and away from the crowds to witness the region's raw energy first-hand. In the landing place of Hengill geothermal area — named after the Hengill volcano — you can witness upfront the untouched Icelandic nature. We bring you close to hot springs and boiling mud pots, and you might even see some sheep wandering around the valley in the summer. Note that this is not a regular tourist site, there are no safety ropes etc. — it is just how nature created it. Furthermore, no matter the season or time of year, this area always brings magical, colourful and beautiful views."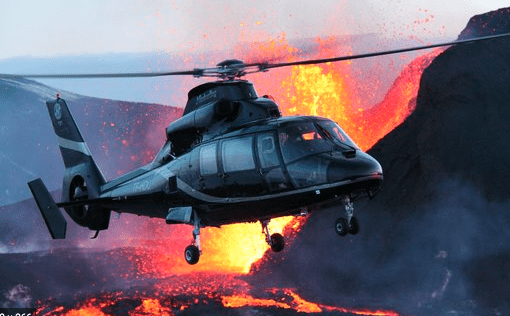 "Interestingly, this year you can now do a Hunting Film Locations tour, visiting behind the scenes and overfly some of the beautiful landscapes captured in recent Iceland film projects. The hunting begins by taking off from Reykjavik and following the Secret Life of Walter Mitty "road" towards Hellisheiði plateau and Hengill. This active geothermal area is also known for some of the famous Game of Thrones scenes. You might for example remember the memorable fighting scene between Brienne of Tarth and the Hound! From there you overfly the continental drift of the Eurasian and the North American tectonic plates. If you keep a close eye you might witness the "Bloody Gate" from Game of Thrones from above!"
Meanwhile, 50 Degrees North says those seeking a particularly cool experience can opt for a visit to a man-made ice cave in western Iceland's Langjokull Glacier,  the second largest glacier in a country that has about 10% of its surface covered by ice The nearby Husafell Hotel says those who go on a guided cave tour will "go deep inside the man-made ice tunnels, leading to the blue heart of the glacier."
The hotel adds the tours provide some 101 glacier schooling, adding although they're  designed to be entertaining, participants "will learn the basics of glacier science."