Want to know a creative way to spark inquiries and motivate clients to stop dreaming and lock in upcoming trips? Consider highlighting some of the special experiences and features that await on future vacations while going live on location from an idyllic Caribbean destination.
That's exactly what Clementina Iannuzzi of Dream Adventures with TTAND did while attending Sandals Resorts' first Canadian FAM trip this week in Ocho Rios, Jamaica, and within the hour she already fielded promising requests for bookings.
"The live on my Facebook page was very successful," Iannuzzi tells Travel Courier. "Literally within 30 minutes, I had a client reach out for further information for her family of five for the Beaches property. She has three adopted children with special needs and thought this would be a great fit for her family."
Beaches Ocho Rios is known for its autism-friendly kids camps in partnership with The International Board of Credentialing and Continuing Education Standards. Julia, the Sesame Street muppet with autism, was on hand to give a warm welcome to the agents who toured the resort on a site inspection.
"I also had a client reach out asking for feedback as she is planning her honeymoon," Iannuzzi adds.
Similarly, Heidi Pivnick, a luxury travel and cruise specialist with Voyages Anne Travel Inc., makes it a point to connect virtually with her followers when she's on site at resorts — with great results.
"Usually I would average about six bookings per trip," says Pivnick, who specializes exclusively in Sandals and Beaches properties for Caribbean bookings. "Since this is a return to travel during COVID, clients are more wary, however, so far on this trip I've had eight inquiries to follow up on so I am thrilled at everyone's reaction."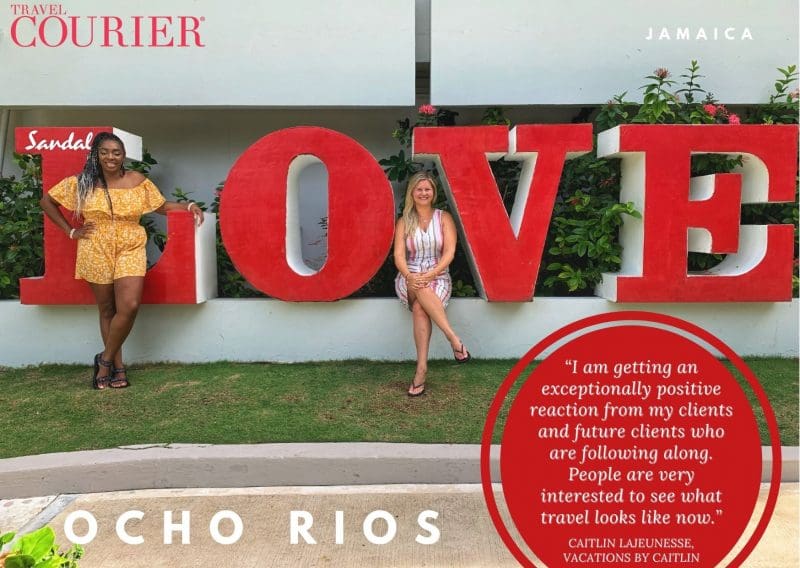 Back to travel
The FAM in Jamaica represents Sandals Resorts' first Canadian FAM since Nov. 2019. The group is staying at Sandals Ochi Beach Resort, while also experiencing Beaches Ocho Rios and Sandals Royal Plantation.
"With the Canadian market opening up, we want to share the message with advisors and their clients that it is alright to travel now — just as long as they're comfortable to do so — and that the protocols do work," explains Giselle Williams, Business Development Manager – Central Ontario & Ottawa for Unique Vacations Canada Inc, affiliate of Unique Travel Corp, worldwide representatives of Sandals Resorts and Beaches Resorts. "For Canadian advisors to gain that valuable, personal experience in seeing our resorts in real life instead of on a computer screen, it's invaluable to us as they sell us moving forward."
Nine travel advisors are participating in the trip, all at various stages of selling Sandals and Beaches, from newbies to rising stars to top performers, with the intention of having them feed and learn from each other. Notably, it marks the first time most of the agents in the group have left Canada since the start of the pandemic.