On Aug. 27, Tara Sparshu, a professional travel consultant with TierOne Travel in Edmonton, Alta., embarked on her first international trip since the industry was altered by the onset of the global pandemic.
"For me it was important not only because I miss travelling to see and experience new destinations but also to learn about what it's like to travel now, learn and experience firsthand the new travel protocols so I can help my clients through these processes, as well as show people that travel can definitely be done safely," Sparshu tells Travel Courier.
Sparshu was one of three dozen fully vaccinated travel professionals from Canada and the US who took part in the 2021 instalment of the Air Canada Race, held in Basel, Switzerland, and says getting back out in the world will help while working on future trips for clients.
"The first thing will be that I now have experience with the COVID protocols entering other countries, entering Canada as well as the PCR testing in destination," she says. "Learning about the travel prep, COVID protocols and just experiencing the whole process for myself will definitely help me advise clients better. The other experience that will help on future trips is just the experience of Switzerland and what it has to offer as well as the connections made with local representatives."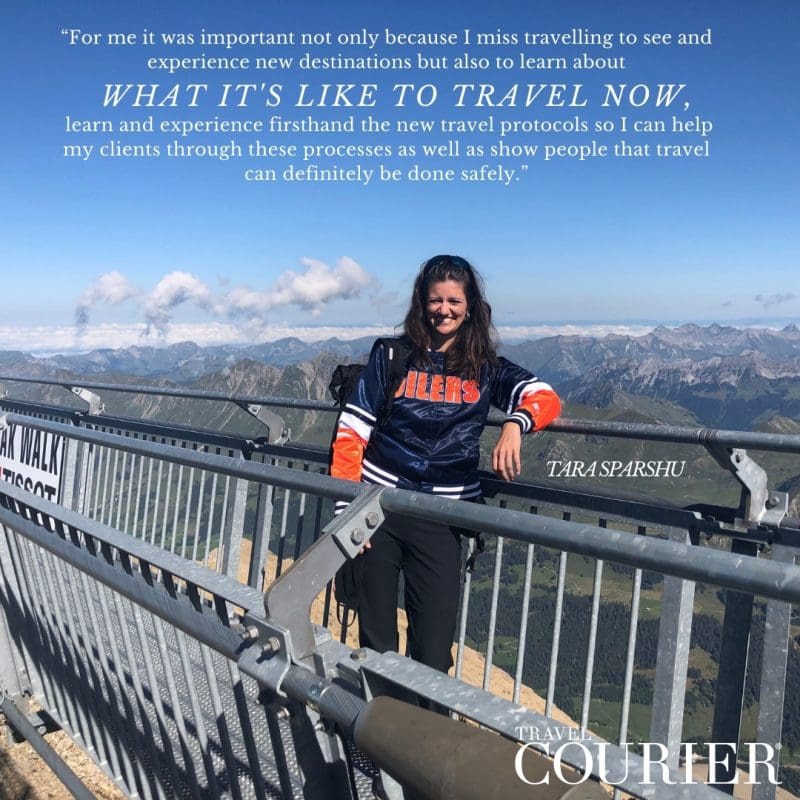 A self-described hands-on learner, Sparshu says the experience in Basel, followed by a post race stay in Gstaad, also outweighs what could have been taught during a virtual webinar or event.
"Though you can meet people and do your event virtually, I think that you make much deeper and more meaningful connections when meeting in person. And you could definitely feel this not only with the travel consultants but also with all of the suppliers [we met during a trade show] saying how excited they were to be back at a live event and being able to see people in person," she says. "Prior to the trip, I would often have river cruise clients that would do their pre or post stays in Lucerne or Zurich. This trip showed me the benefits and reasons why river cruise clients should consider doing their pre or post stay in Basel."
After participating in a pilot project between Air Canada and Switch Health, which offers a PCR-like test that's been approved by Health Canada for emergency use that can be conducted by travellers from their hotel rooms around the world, she also looks forward to working on more convenient ways to get the required testing done that's needed for entry back into Canada.
What's the Air Canada Race all about? Don't miss the recap video!