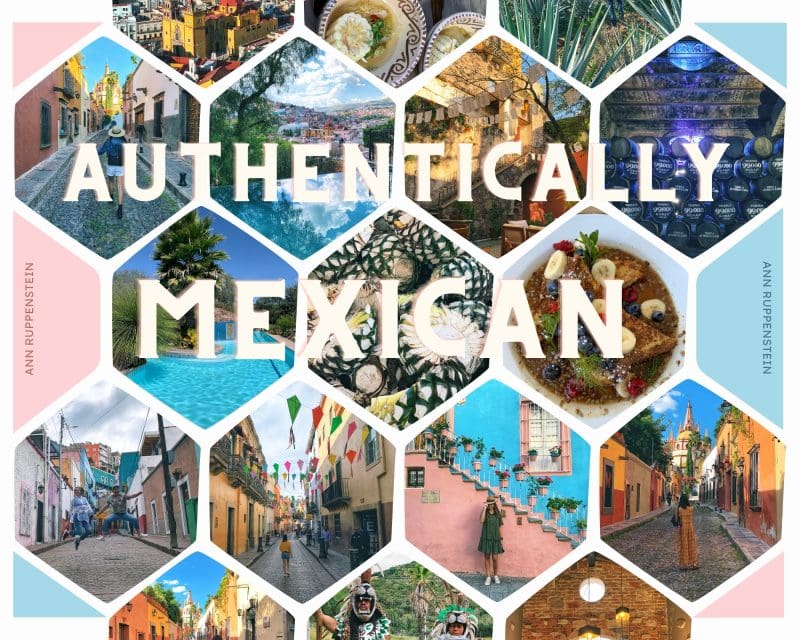 Known as The heart of Mexico, Guanajuato is home to boutique hotels, vibrant colonial cities, top notch tequila, gastronomical experiences, Instagrammable views and passionate people
It's hard to appreciate or understand just how much time goes into producing a bottle of tequila. That's why one of the premium tequilas at the Tequila Corralejo distillery boasts the name 99,000 Hours to call attention to the lengthy amount of time it takes to create the añejo (old) spirit. 
"Eleven years and three months is the time of the whole process. From when the agave is planted until the harvest, it's eight to 10 years. Then comes the process in the company [for roasting, distilling] and aging it for one year and a half," says Nohemi Murillo, e-commerce manager and marketing executive at Tequila Corralejo. "The shape of this bottle is like a tree. It represents that we wait patiently to do something right. We are passionate and proud of the final result. We are so proud of our tequilas."
The distillery is housed in a hacienda that's roughly 1.5 hours from Guanajuato City and two hours from San Miguel de Allende, two colonial cities that are a must to visit in Guanajuato, which is also the name of the Mexican state.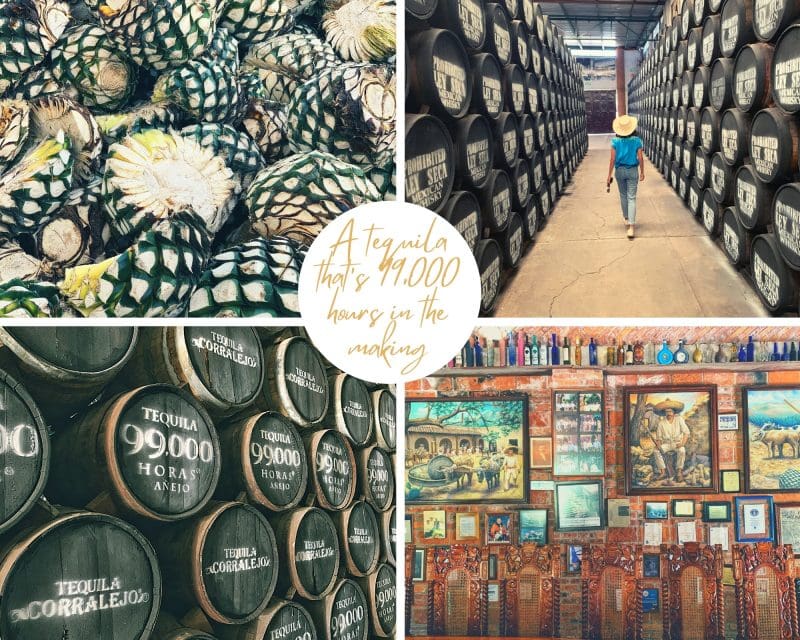 Here, a walking tour (free guided tours are available daily) reveals more insight into the process of making tequila, which can only be made using blue agave. Notably, you have to pass through a confessional to get to the storage area for Tequila Corralejo's best tequilas, including 99,000 Hours.
The hacienda is open 365 days a year and produces its own bottles so along with an impressive collection of tequilas and whiskey to choose from, it's an ideal spot to pick up glassware like vases and shot glasses. 
Murillo's tour ends by sharing the product that's at the heart of the business — the tequila that's 99,000 hours in the making. With a smile on her face, she eagerly distributes a sample to everyone, passionately describing its smooth flavour profile. 
This passion winds up being a common theme across the people we encounter along the way over the next week across Guanajuato, from tour guides to restaurant owners to artists. Along with the highlights of the destinations themselves, it's arguably the charm of the people that make the region known as The Heart of Mexico so special.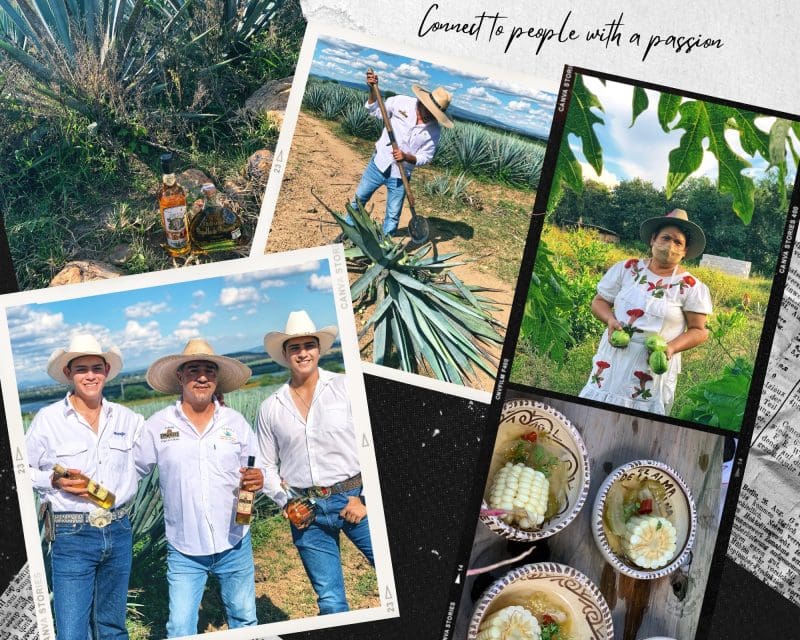 One of these passionate people is Alma Nuñez, who owns El Alma de la Cocina, an unassuming family-run farm-to-table restaurant in Corralejo. 
Nunez is one of 13 local chefs working to preserve the region's traditional cuisine.
El Alma de la Cocina offers a set three course menu, with the majority of the ingredients stemming from the onsite garden. Reservations aren't required from Friday to Sunday from 10 a.m. to 6 p.m. and don't be surprised if the traffic jam you encounter to get there is a herd of cows strolling down the cobbled street. 
As she serves a typical meal featuring xoconostle (cactus fruit) soup with corn and a thick tortilla with cactus salsa, cheese and dried jerky like meat, she's proud to share a bit of her culture with us.
Fittingly, our guide explains that Alma means soul, and "Alma is the soul of the kitchen."  
Not far down the road is another family run business, Rancho El Coyote, an agave ranch owned by the Hernandez family. Father Luis Hernandez started making tequila in 2005 and continues the endeavour with his sons Luis Jr and Eduardo, who are dressed in blue jeans and white collared shirts. 
With rows upon rows of agave set against a mountainous backdrop, the ranch itself is worth a visit for the views alone, but there's another reason to visit along with learning about all things tequila: to sample the goods. The session starts out with a Cantarito tequila cocktail, traditionally served in clay pots made with tequila, grapefruit soda, grapefruit juice and lime. Then it's off to the harder stuff, sampling their claim to fame, Orgullo de Penjamo, Tequila Bacabes and other family recipes. 
After several samples I'm put to work, learning that it's not an easy task chopping off the leaves to get to the core of the agave, known as the pineapple — in spite of — or perhaps despite — the liquid courage. After a valiant effort, our group decides to leave it to the professionals and we watch intently instead as father Luis effortlessly does what he does best.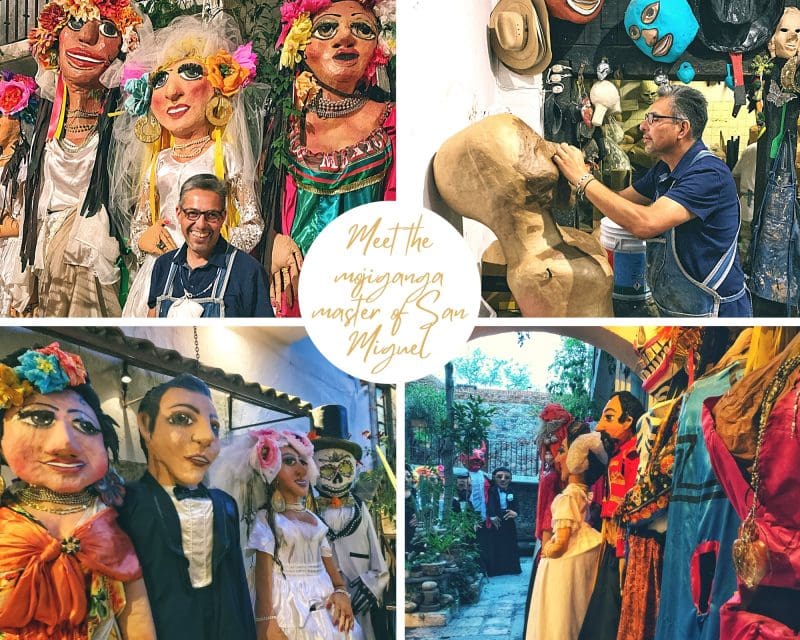 In San Miguel de Allende, Hermes Arroyo has been making mojigangas since he was eight years old and continues the family tradition from his studio decades later. 
Picture larger than life papier-mâché puppets that are very popular for wedding celebrations (couples get puppets done that look like themselves) and festivals like Dia de los Muertos. Each puppet is a handmade labour of love taking roughly three weeks to make and ranging in size from two to four metres. 
Arroyo's passion is evident as he painstakingly uses his hands to sculpt intricate details on the face of his current project donning a paint splattered apron. Later, he shows our small group around the studio where dozens of mojigangas line the walls, with a warm grin permanently fixed across his face. Mojigangas originated in Spain and remain part of the local culture because of people like Arroyo who are dedicated to carry on this tradition. 
The studio has a gift shop where visitors can purchase his creations as well as handmade goods and pottery from local artisans.
The sculptor has also created nativity scenes for the likes of the Vatican and even led a mojiganga demonstration for actress Meryl Streep.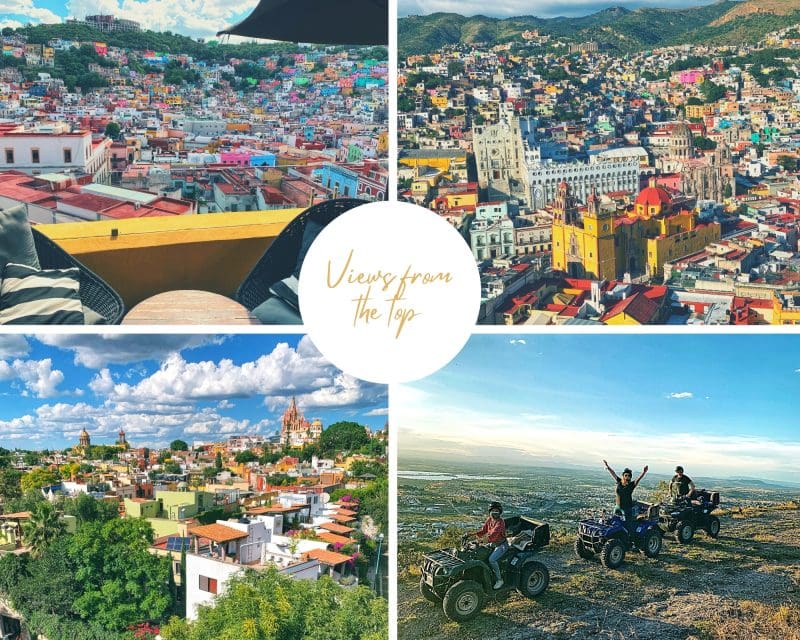 When asked to choose between visiting the local dam or admiring the city of San Miguel de Allende from above, it was a no brainer on our ATV tour with San Miguel Parque de Aventura. Roaring up the hills on four wheels, we weren't disappointed with our choice as we sat around watching the sunset with a bird's eye view of the beloved city. 
From this vantage point it's easier to spot the differences between Guanajuato City and San Miguel de Allende, which is much more subtle in its paint colours, but none-the-less spectacular. 
It's easy to see why San Miguel de Allende has become a popular spot for North American travellers. This city has a thriving culinary scene, delightful colonial Spanish architecture and photogenic boutique hotels. 
While Guanajuato City isn't yet all well known in the Canadian market — it likely won't be that way for long. For anyone looking for an alternative to their beach getaways or to tag on an authentic destination to a sunny stay, this UNESCO designated city offers something for everyone.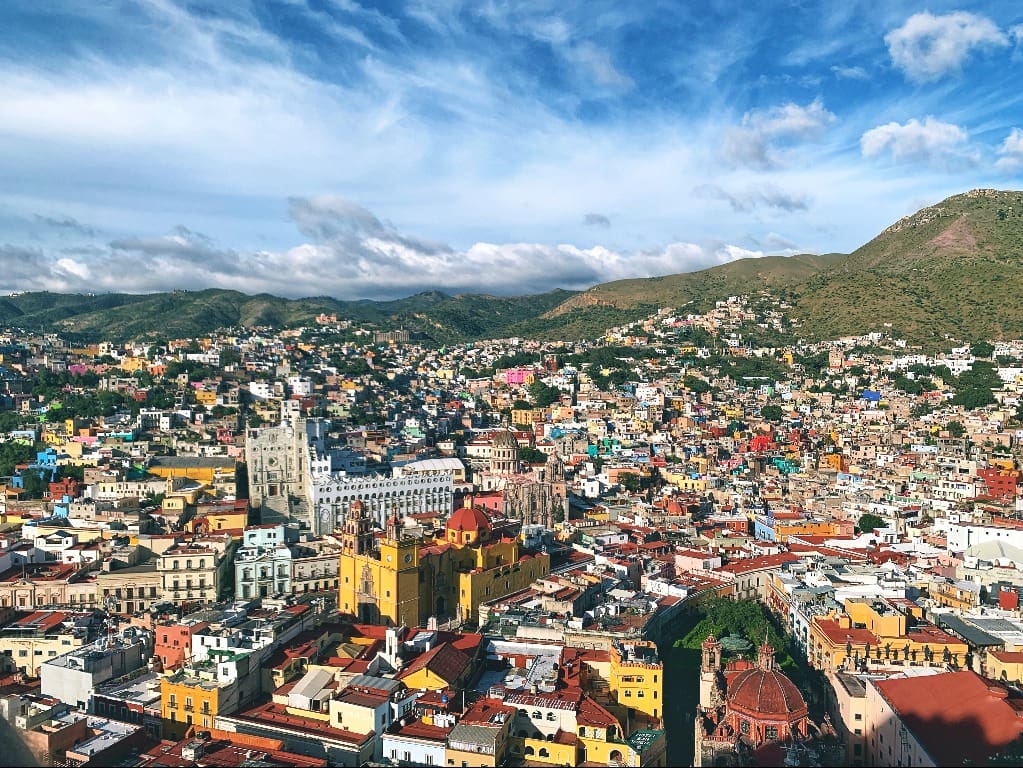 As Ricardo Vazquez, Director of the Tourism Council of Guanajuato Capital says, "I like to say that Guanajuato is a kaleidoscope city. It's a city that you have to walk." 
With over 3,200 alleys to meander through, it's indeed a city that's best discovered by foot — and there's a photo opportunity around every corner. For a stunning view of Guanajuato from above, take the funicular or steps up to Al Pipila monument. From below, the vibrant city almost appears toylike. 
Interestingly, underneath the pastel coloured picturesque city is a series of underground tunnels, meant to ease traffic in the city. This underground network is showcased in the recently released movie Infinite starring Mark Wahlberg. 
The city used to be a hub for mining, but is today filled with art and culture, and plays host to the annual International Cervantino Festival, with three weeks of music, theatre, art and folklore staged by renowned artists, actors and musicians.  
As city tour guide Gabriel Alcaraz explains, Guanajuato has its own tragic Romeo and Juliet-esque love story. The story goes that the daughter of a wealthy man fell in love with a young man who rented an apartment across from her bedroom and every night they would secretly share a kiss. When her father found out about the forbidden romance he killed her in a fit of rage. While that story doesn't have a happy ending, today travellers head to El Callejon del Beso, or the Alley of the Kiss, to share a kiss.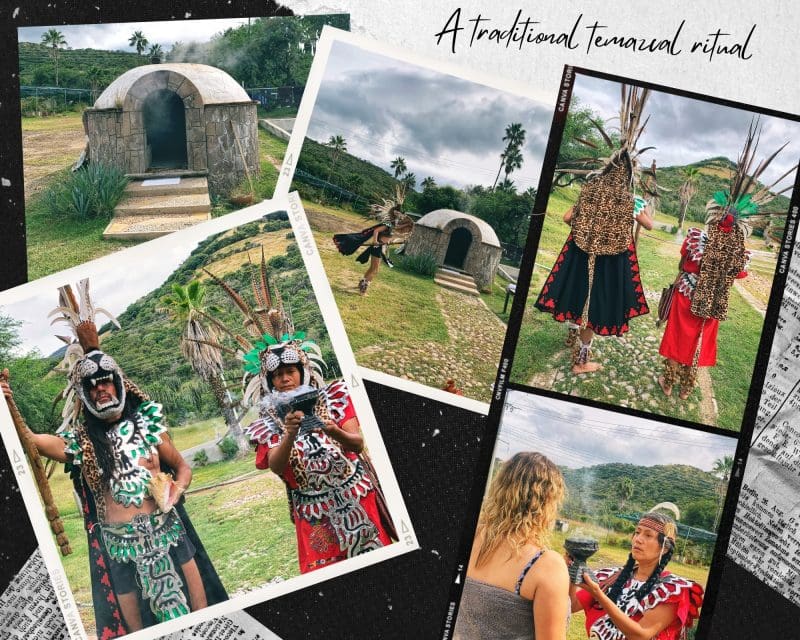 It seems only fitting that during a trip that represented the return of international travel, I'd find myself taking part in a cleansing steam ritual led by a shaman and his wife in a temazcal. 
This centuries-old ceremony is filled with singing and chanting in a sweat lodge meant to cleanse and reawaken the body and soul. The ceremony is often performed to commemorate a new year and signifies a rebirth into the world, along with having therapeutic benefits.
As the gate opened we marched behind the couple dressed in ceremonial clothing with feathered headdresses as the shaman blew into a conch shell as we headed towards the igloo shaped structure. With steam building up and sweat trickling down virtually every part of our bodies, we started a journey of introspection and sharing goals and hopes for the future out loud. 
 

 

 

View this post on Instagram

 

 
Maybe it was the dehydration getting to me but after four rounds at Ce-kalli Temazcal & Spa at Mision Comanjilla hotel in Silao, I felt alive and that this moment somehow represented the dawn of a new era after the pandemic. 
One of the unique features at Ce-kalli is that the temazcal is naturally heated because it's built on top of a geyser. Visitors can enjoy the natural healing powers of the temazcal year round, but need to book a shaman ritual in advance.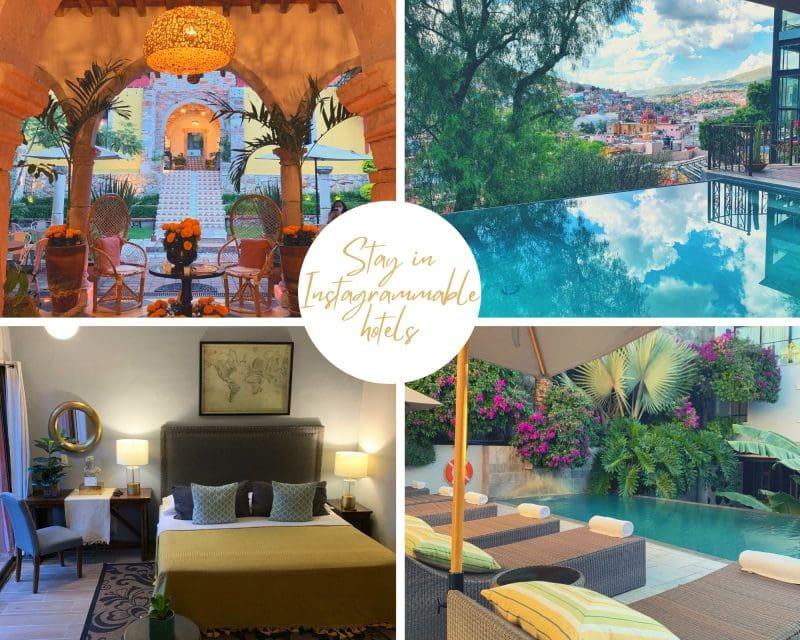 Boutique luxury hotels are the norm across Guanajuato. In Guanajuato City, a great option is Casa del Rector, which has an awesome courtyard restaurant and a hard to top view of the colourful city from its rooftop bar. The boutique hotel also offers experiences like tequila and chocolate tasting with Jonathan Martinez of Xocola-T. Be prepared for chocolates with a twist — his creations have some unexpected ingredients like grasshoppers or fried pork skin, which pair surprisingly well with the chocolates. 
Another unique choice is Villa María Cristina, a member of Small Luxury Hotels of the World. The luxury villa has nineteenth-century roots and is like a labyrinth of discovery. For an Instagrammable stay near the tequila farms and plantations of Penjamo, look no further than Real de Piedra Hotel. If it looks straight out of a luxe magazine, it's because the 20 room boutique hotel is owned by an interior decorator. For a modern hotel that's steps away from the cobblestone street featuring one of the most iconic views of San Miguel, check into Hotel Matilda. Whether or not you spend the night, be sure to visit the rooftop Luna Rooftop Tapas Bar at Rosewood San Miguel de Allende for delicious tacos and spectacular views of the city.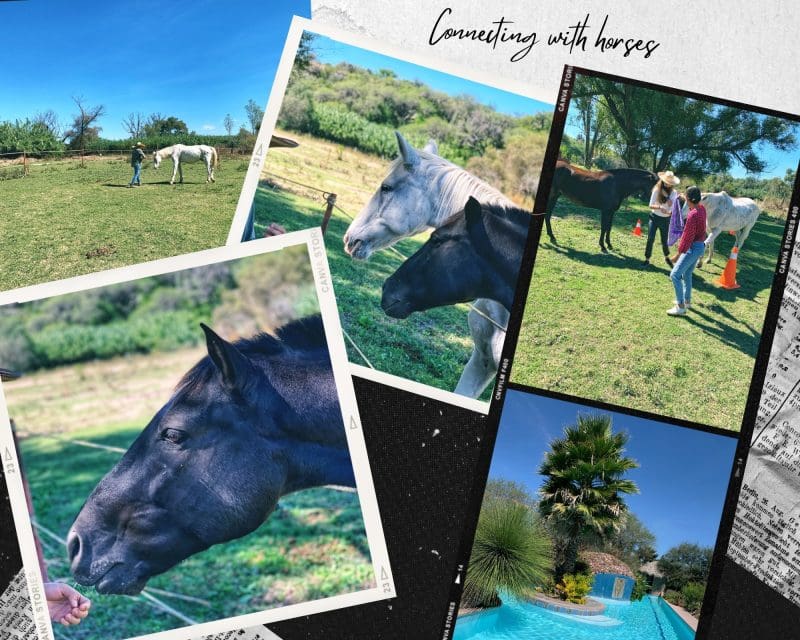 After finding out my grandpa had passed away on the second last day of my trip, I was feeling far away from my family and unable to return home still awaiting the results of a PCR test needed for entry back into Canada. Of all things on the agenda that day, it was a visit to Hotel Nirvana, which has launched an equine therapy program. The owner of the small hotel started out by owning a restaurant before he had the option to buy the ranch, which features nine rooms, a thermal water pool and is home to eight horses — one of which is named social distancing.
As trained psychologist Ana Villasuso explained on arrival, the benefits of the equine therapy program can range from helping to connect with one's emotions in light of COVID, to recovery from addiction and dealing with the loss of a loved one. 
"This is something that no one is doing," she says. "People come here to heal from the last two years."
Something about the therapeutic team building exercise which had me running around trying to lure a horse into doing what I wanted it to, at times successfully and at other times failing miserably, I was left with a sense of comfort. At the very least, it helped me take my mind off of things.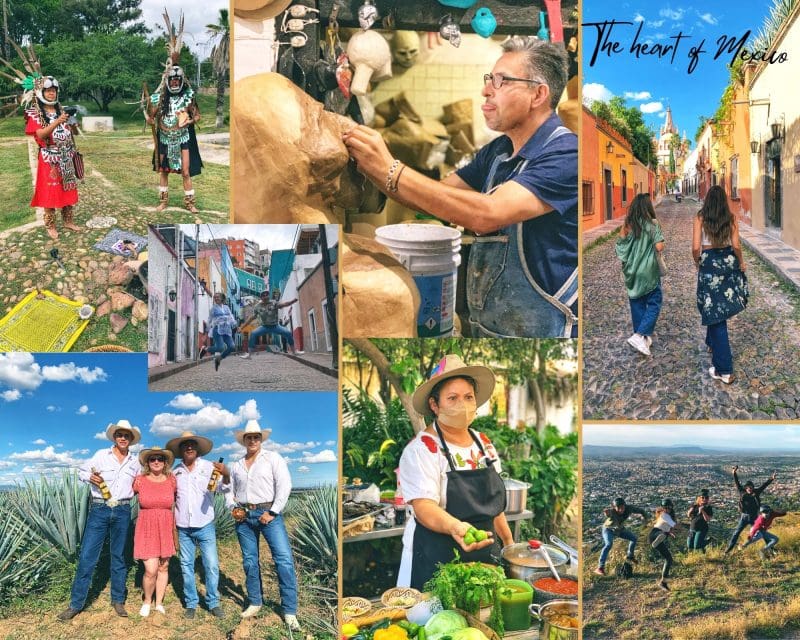 Travellers are drawn to Guanajuato for its boutique hotels, Spanish colonial architecture, gastronomical experiences and Instagrammable cities, but somewhere along the route you'll discover it's about so much more.  
"You can land at BJX [Guanajuato International Airport] and drive in different directions and each city has something different," says Jorge Cabrejos Samane, marketing director for the Secretary of Tourism for the state of Guanajuato, from a rooftop overlooking San Miguel.
From the unassuming kitchen of Alma's home or sampling tequila with the Hernandez family or learning about a tequila that's 99,000 hours in the making to learning about the art of mojiganga from Hermes, for me, the heart of Mexico is all about the passionate people you meet.