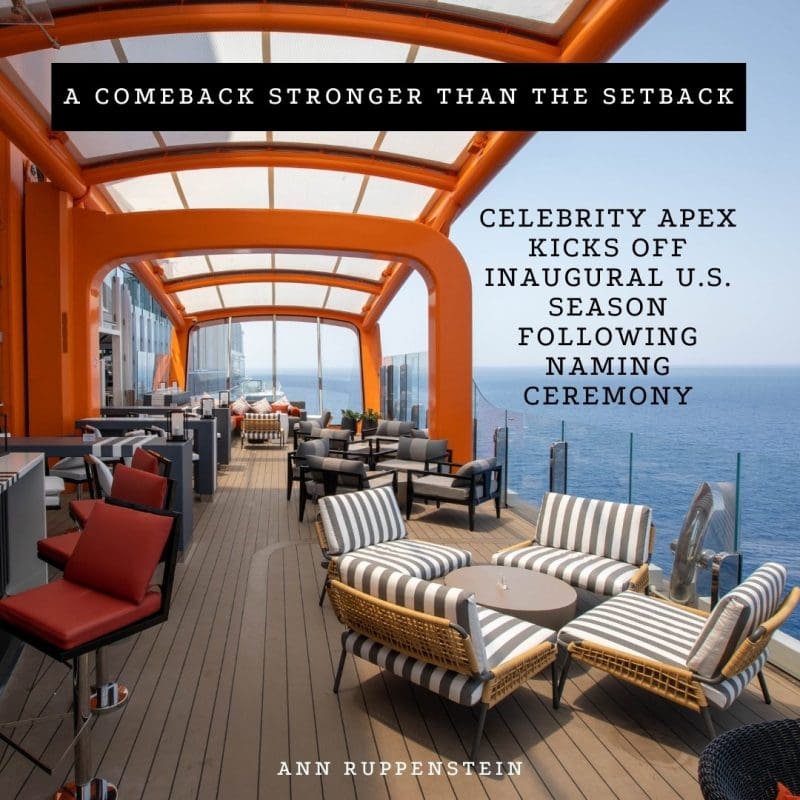 Needless to say, the original naming ceremony for Celebrity Apex scheduled for March 30, 2020, didn't exactly happen as planned.
It may have taken 581 days to get to this point, but in the delay, the long awaited naming ceremony for Celebrity Apex on Nov. 2 symbolized something much bigger than just the christening of a ship. 
For Celebrity Cruises President and CEO Lisa Lutoff-Perlo, the highly anticipated moment represented optimism for an industry that had gone through "the stormiest waters we've ever sailed in" over the past 19 months and the beginning of the next chapter as the U.S. cruise season ramps up.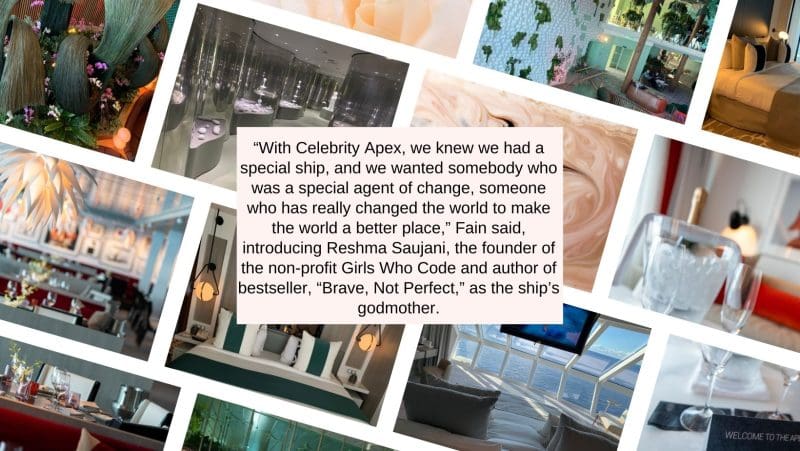 For such a momentous occasion, Richard Fain, Chairman and CEO of parent company Royal Caribbean Cruises Ltd., explained how a regular bottle of champagne wouldn't quite cut it for the naming ceremony of the second ship in the Edge series. Rather, a Sovereign champagne bottle was selected, holding the equivalent of 35 bottles of champagne.
"With Celebrity Apex, we knew we had a special ship, and we wanted somebody who was a special agent of change, someone who has really changed the world to make the world a better place," Fain said, introducing Reshma Saujani, the founder of the non-profit Girls Who Code and author of bestseller, "Brave, Not Perfect," as the ship's godmother. 
Before pressing a big white button to release the gigantic bottle of champagne against the hull of the ship, Saujani said she was blessed to follow Nobel Peace Prize Laureate Malala Yousafzai to take on godmother duties.
"This ceremony was supposed to take place in March of 2020, but then we know what happened, then the world came crashing still. We had to push this ceremony out and the launch of this beautiful ship again and again," said Saujani. "Almost two years later, 19 months or 581 days, here we finally are. It seems fitting that a ship whose message was supposed to be brave, not perfect, got derailed by an unexpected global pandemic. Because these past 19 months, these past 581 days, they've been anything but perfect, but they have been everything brave."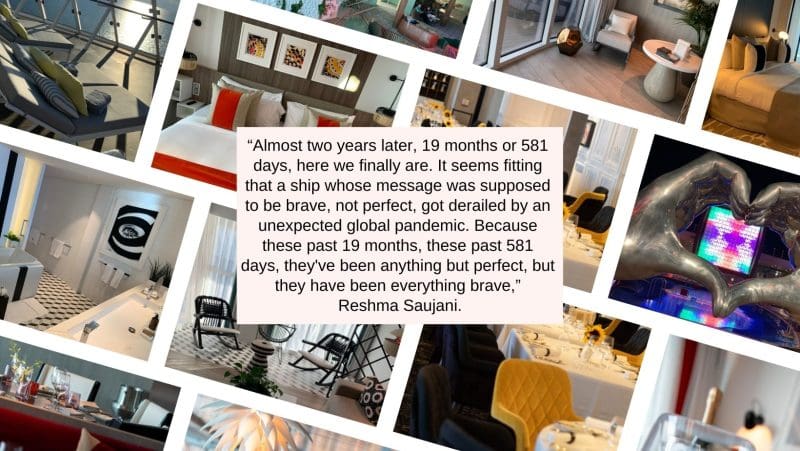 As part of Saujani's work with Celebrity Cruises, Girls Who Code and the cruise line will offer educational coding programs as part of the Camp at Sea S.T.E.M. experiences onboard Celebrity Apex and Celebrity Edge. Children aged six to 17 will be able to design and develop two modules based on basic computer science and coding modules covering topics within the Marine Life and Bioluminescence fields.
"This is a day that I've been looking forward to for years. Reshma is someone that I've admired deeply. She is an industry trailblazer that encapsulates what Apex stands for: pushing the boundaries of what's possible, challenging stereotypes, and making everyone feel included," said Lutoff-Perlo. "Her work championing the advancement of women in an industry dominated by males has been nothing short of inspiring."
Fain also highlighted Lutoff-Perlo's impact on driving change when it comes to the advancement of women in the cruise industry.
"I don't have to tell you that the maritime industry has traditionally been a male dominated industry and you've made an incredible difference in bringing women into positions of responsibility and authority in our industry," he said. "I think that is particularly fitting when we have a godmother who has made such a difference in another male dominated industry, technology."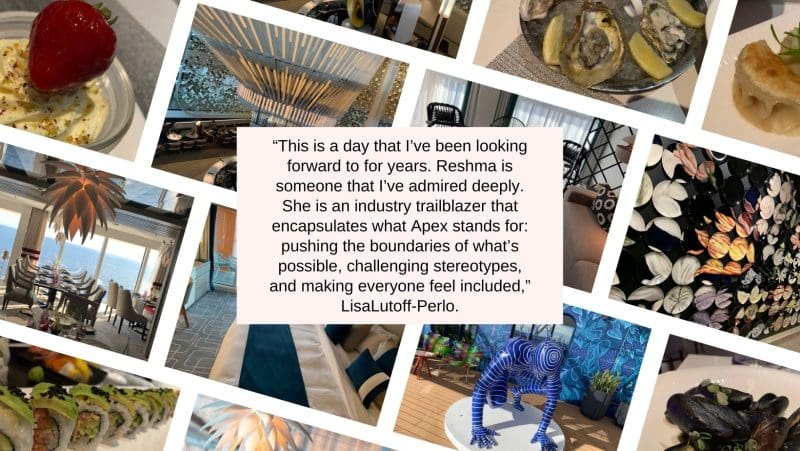 During the ceremony, Lutoff-Perlo also made it a point to recognize travel advisors, many of whom joined the special sailing, for sticking with the cruise line throughout this challenging period.
"Thank you for supporting our comeback, which I promise you will be stronger than our setback," she said.
Over the past year and a half, Lutoff-Perlo described how Pink's song A Million Dreams always popped into her head when she was looking for a silver lining. However, instead of "I think of what the world could be, a vision of the one I see," she would sing, "I think of what the world could be, if we could just get back to sea."
"Someday is here," she exclaimed. "And isn't it time?"
Following a short run of Greek Island sailings earlier this summer, the ship now embarks from U.S shores on rotating Eastern and Western Caribbean itineraries, visiting Puerto Rico, St. Thomas, Belize, Grand Caymans and more.