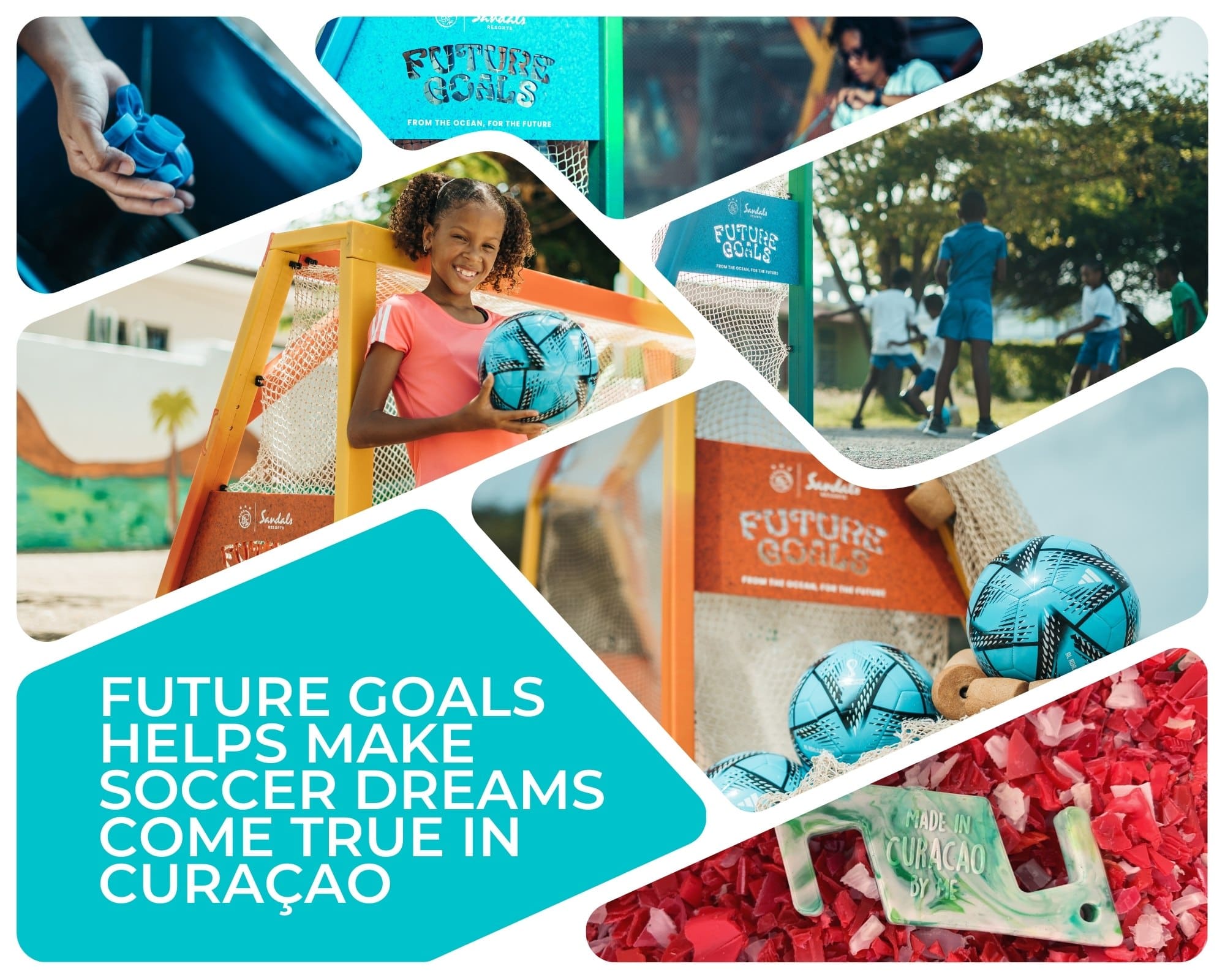 The Limpi Recycling warehouse in Curaçao is lined with containers filled with shredded plastic assorted by colour — red, white, yellow, blue, green and orange.
This is the site where industrial product designers Debrah Nijdam and Mitchell Lammering give "new" life to discarded bottles of laundry detergent, water bottles and other collected plastic waste materials.
"When we visited the north side of Curaçao we saw how much plastic is being washed ashore on the island and we thought why don't we bring awareness to this problem by making new products from this plastic waste," Nijdam tells Travel Courier. "Showing everyone that plastic isn't waste, but a material that can be repurposed into new high-quality products."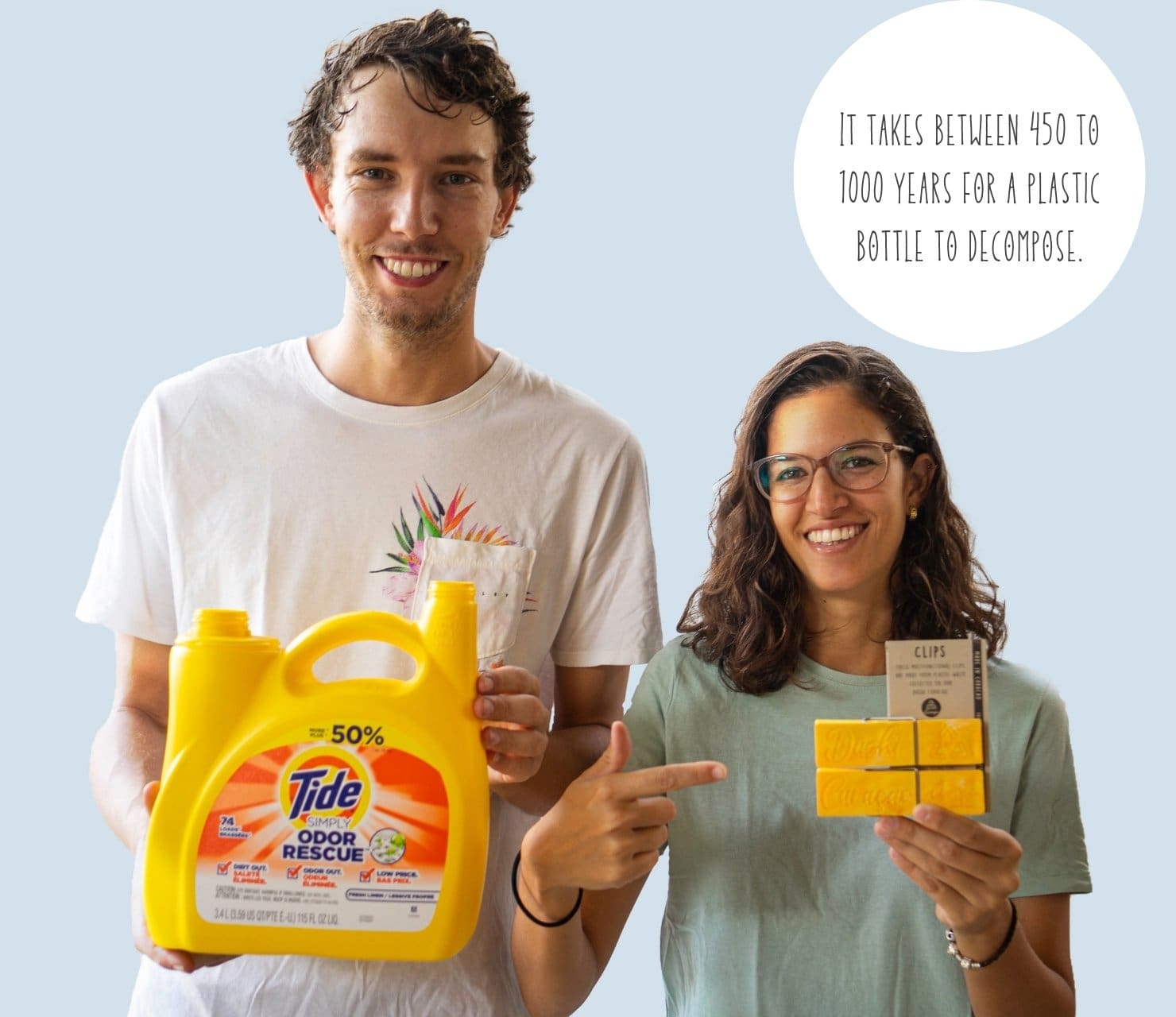 What started in 2017 as a small venture creating coasters, keychains, beach towel clips and medals — some 45,000 products to date — is now also part of a project known as Future Goals, an effort to encourage the next generation to play soccer on the island coinciding with the launch of Sandals Royal Curaçao.
"With Sandals' entry into Curaçao and our firm belief in the transformative link between tourism and community development, we were already starting to explore opportunities on the ground in our newest destination," explains Heidi Clarke, executive director of the Sandals Foundation. "The 'goal' – pardon the pun – was to do something that is innovative and creative, while at the same time respect the island's surroundings. This was the starting point for the colourful Future Goals program."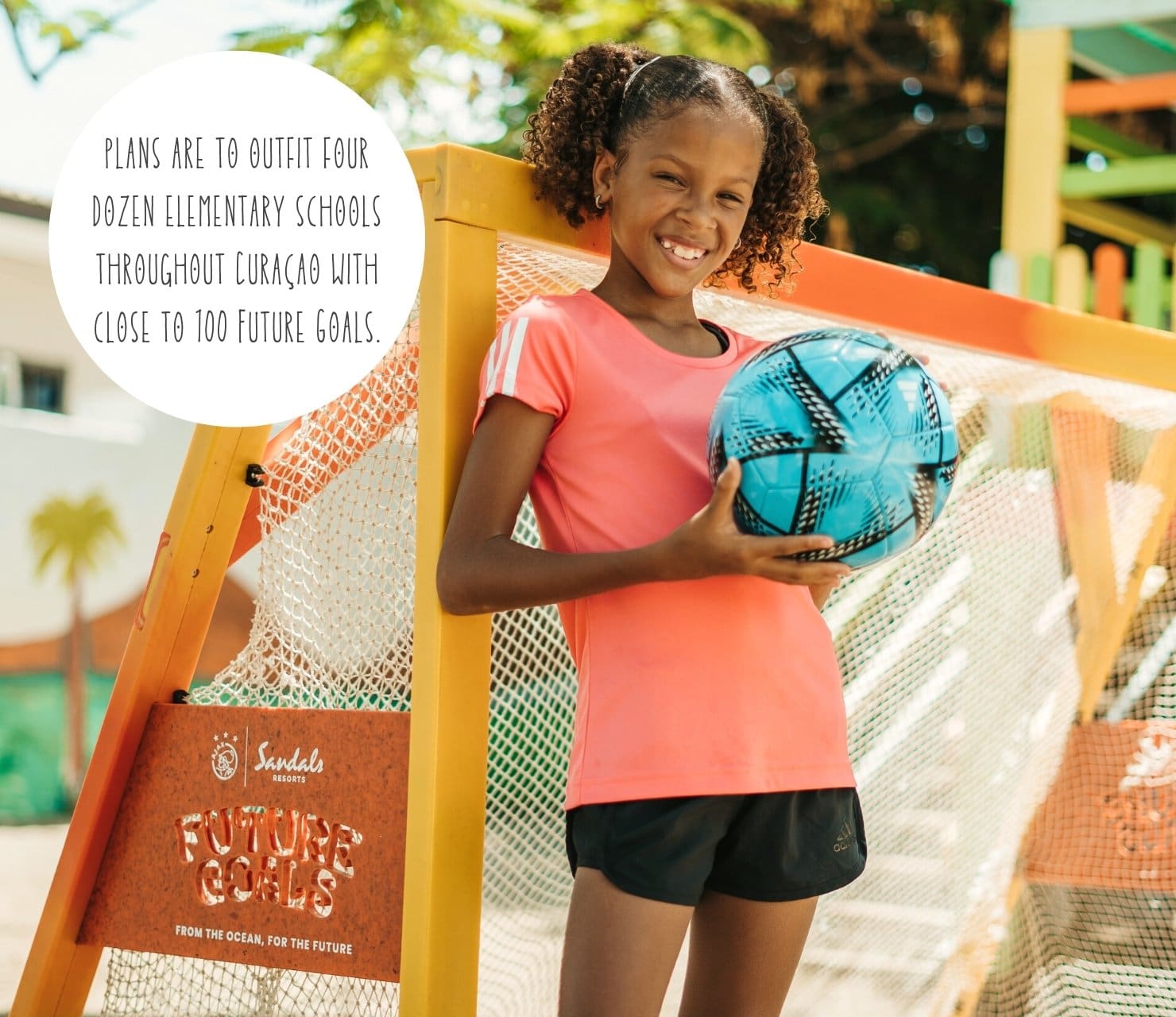 In partnership with Limpi and Netherlands' AFC Ajax football team, the new Sandals Foundation program not only turns fishing nets sourced from the ocean and recycled plastic waste into soccer goals for children to play the sport, but also strives to foster the next generation of soccer development. Plans are underway for 48 elementary schools across the island to receive 100 goals made from the recycled materials, along with 600 soccer balls provided by Adidas.
"Since fishing nets lost at sea (also known as ghost nets) make up nearly half of the world's plastic soup – a term for the accumulation of waste, including plastic, that ends up in the ocean – it was a win-win for us, to help mitigate this global concern and also help the youth in Curaçao through the power of sport and the beloved game of football (or soccer in North America)," adds Clarke. "The Future Goals nets are made out of 100% old fishing nets from the ocean and the goalposts made from recycled plastic."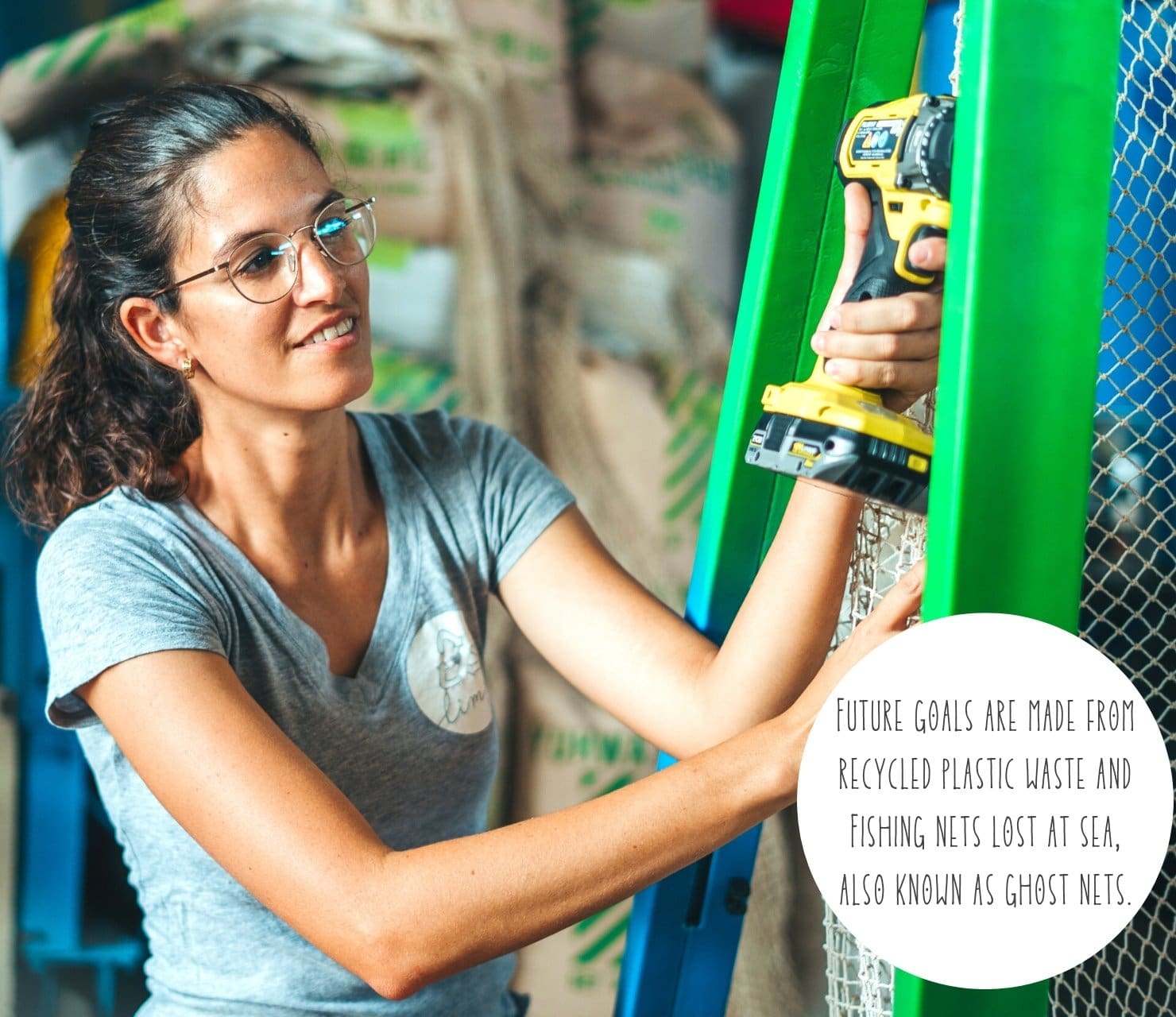 In addition, local coaches and athletes recruited by the Curaçao life skills program, Favela Street, will take part in a training program with AFC Ajax players and coaches during an eight-week curriculum to develop soccer and coaching techniques as well as leadership skills.
"Our mission has always been environment, education and community — how are we making a difference outside of our hotel doors," says Clarke. "[AFC Ajax] are a top team out of the Netherlands. They're quite incredible when it comes to the development of football. It's all about developing kids for the future, but it's also about sustainability and the future of the island."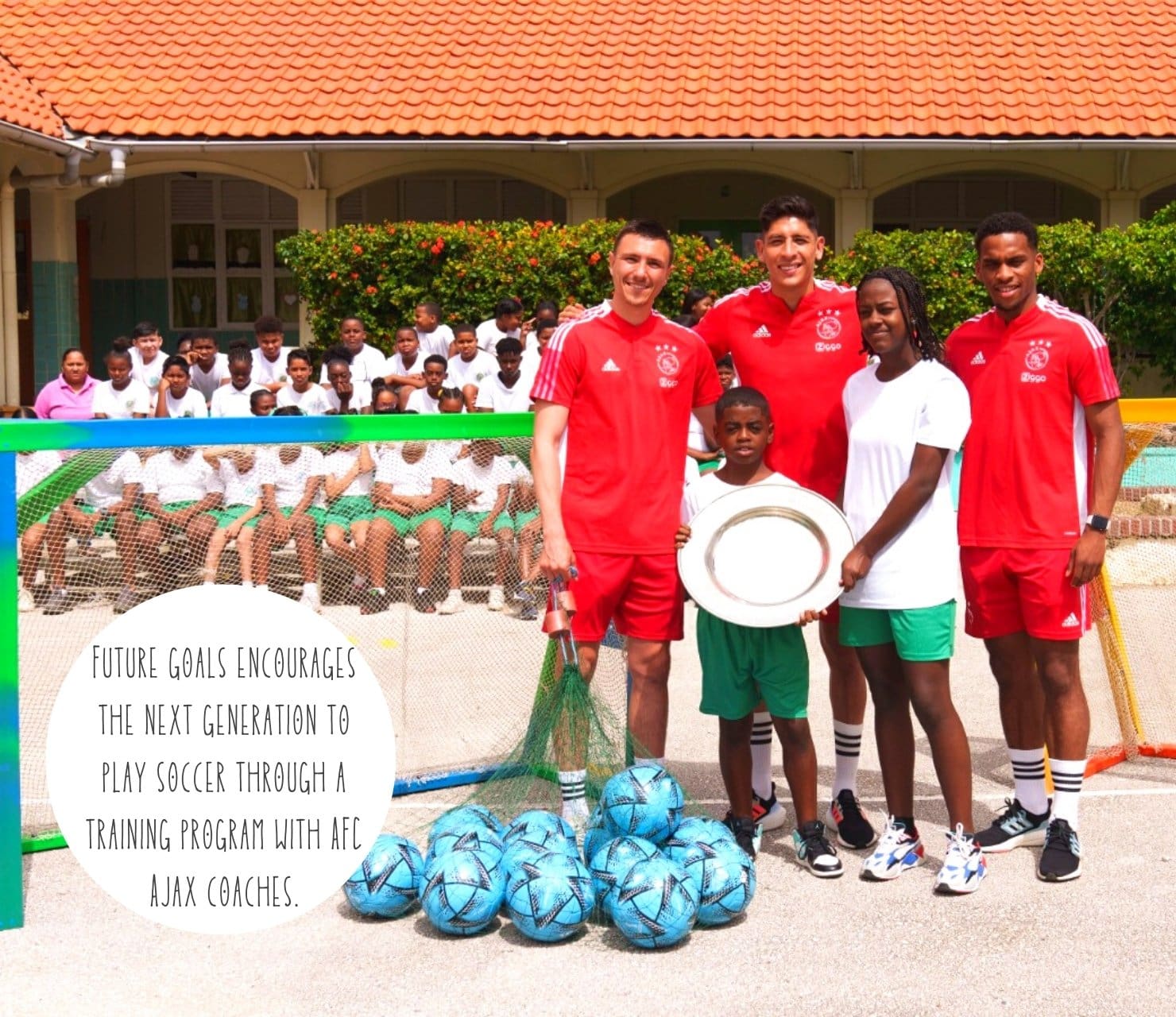 "Ajax is on a mission to impact the future of football on a global level, starting with the youth, our next generation," notes Edwin van der Sar, CEO of AFC Ajax. "Together with Sandals Resorts and the Sandals Foundation, we are eager to facilitate impactful football programs for children in Curaçao and the rest of the Caribbean, realizing tomorrow's opportunities through today's fun."
The Curaçao Tourist Board has already been partnering with AFC Ajax since 2020 and this season the team launched new uniforms with small red, yellow and green birds on them in tribute to fans singing Bob Marley's "Three Little Birds" at matches.
"This partnership was truly destined to happen and the values of both brands align perfectly," says Clarke. "Sandals was founded in Jamaica and is a proud Jamaican company, so it was the perfect opportunity to partner with them."
Along with fostering the development of soccer on the island, the longterm benefits of the project are also about sustainability, as taking plastic and ghost nets out of the ocean positively impacts the environment.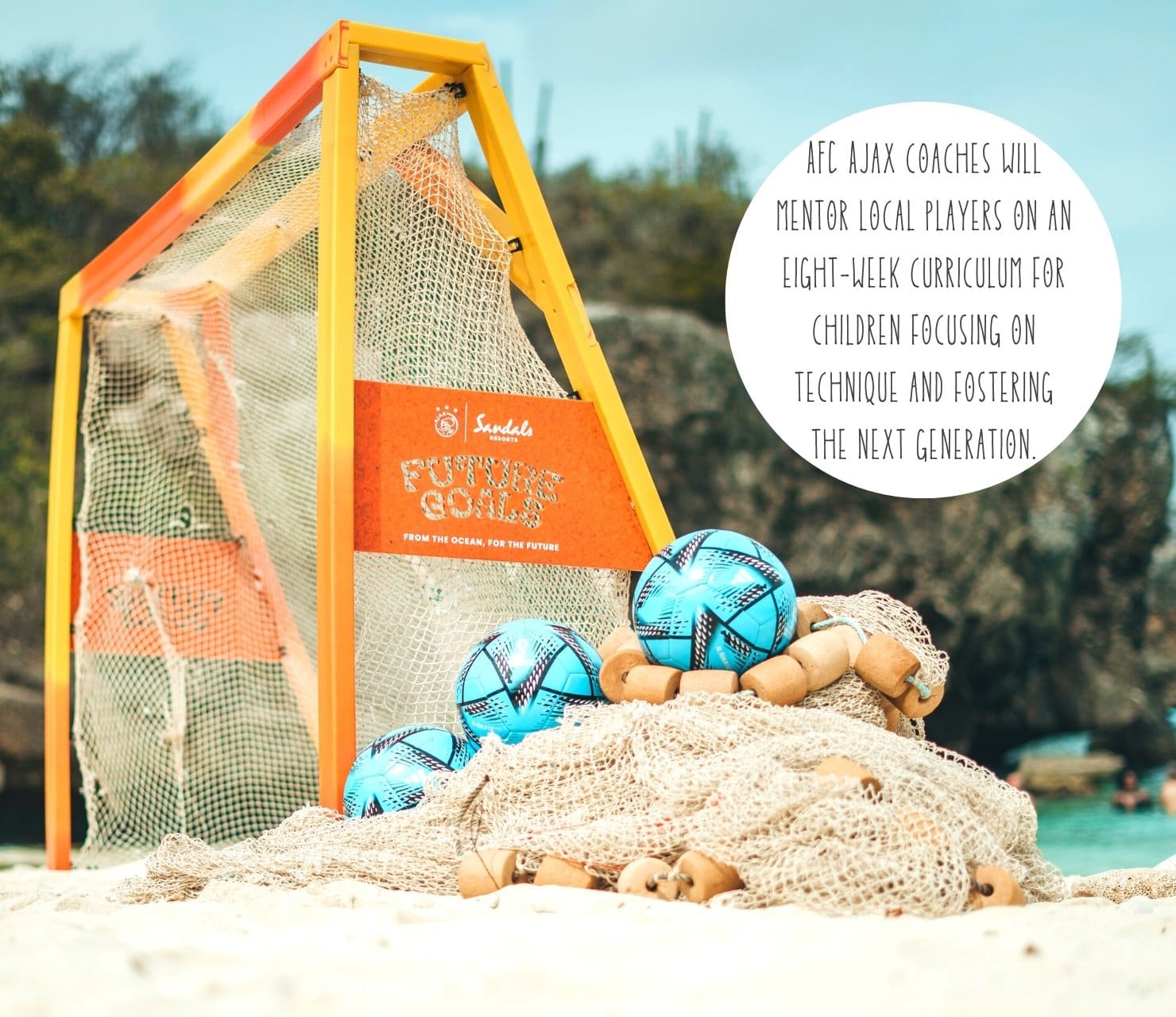 "It takes about 450 to 1,000 years for a plastic bottle to decompose," explains Nijdam. "When plastic is in the ocean, fish and other marine animals mistake this for food. This is bad for them because it won't deteriorate in their stomach like normal food. This will then fill their stomach, there won't be room for food and they can die."
While the Limpi team is currently working on creating more goals for the current phase of the project, she says there is potential to grow the scope of Future Goals.
"There are possibilities to expand to other islands or for other types of schools," she adds. "The great thing about the goals is that they need a lot of plastic to make, therefor having a big [environmental] impact on the plastic waste needed to be recycled into these goals."
In a full circle moment, the Sandals Royal Curaçao gift shop also features products made by Limpi for guests to take home as souvenirs or gifts.