Real stories from travel agents on how they've helped clients out of a bind
Angie Oswald is ready to bare all the details about the times she's saved the day for intrepid travellers.
"Clients came in wanting to confirm a hotel they researched online for a wedding," recalls Oswald of Edmonton-based Klondike Travel. "They didn't realize that the hotel they chose was a naturist lifestyle resort."
Near au natural clients aside, look no further than the onset of travel restrictions due to the global pandemic for a universal example of travel advisors jumping in to help out clients in need.
"Getting people home in March 2020, even if they did not book with us because they could not get assistance directly from the supplier," points out Cynthia Collins of CAA in Saint John, N.B. as an example. 
Thinking back to the start of travel restrictions, Charrisma Travel's Shannon Graves from Bolton, Ont., had clients who were travelling across Portugal, Spain and Morocco for two months on an FIT trip when things went from bad to worse during COVID.
"They had just left their rental car in Spain and taken the ferry to Morocco for a three-day stay when COVID hit hard," she shares. "Spain closed their borders while they were in Morocco leaving them stranded and not able to get back. I had to get them out of Morocco before they went in lockdown as well."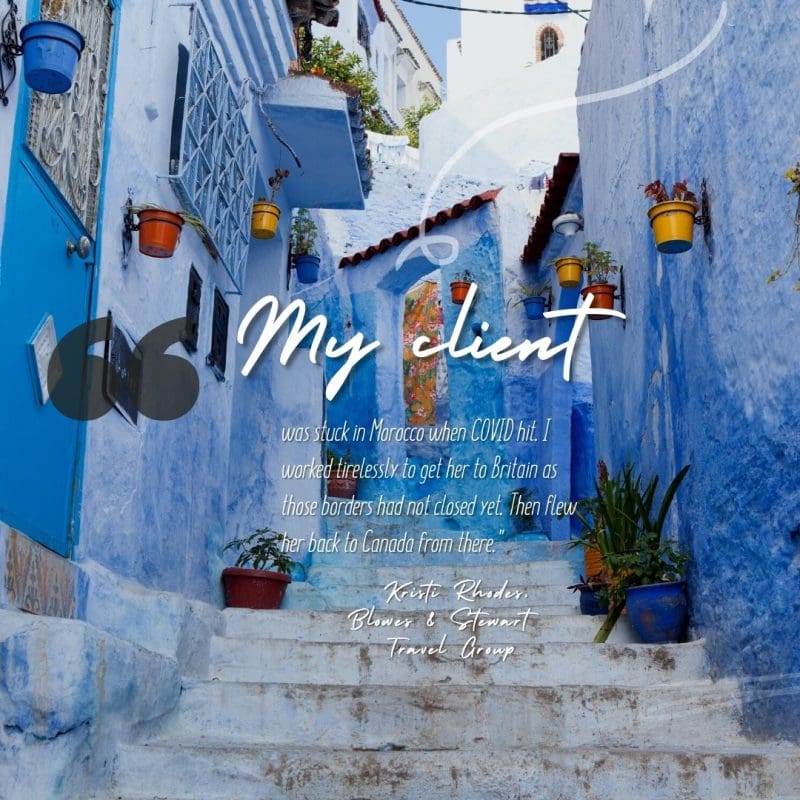 Long story short, Graves was able to find a way to get her clients back to Canada via London, while also arranging for their rental car to be picked up in Spain and get all their belongings couriered home.
"They would have been completely lost without our agency's assistance," she notes.
With six wedding groups who were set to travel in 2020, Shiva Mojdehi of Maritime Travel in Langley, B.C., is another prime example of a travel advisor who stood by her clients even while facing a challenging time for the industry.
"I had six wedding groups to travel in 2020 with different tour operators, with an average of 50 passengers in each group," she says, highlighting the advantages of working with a travel advisor versus booking online. "Obviously, they all have been cancelled. I took care of each guest and each group while being on temporary layoff and on EI. I fought for each case and took care of them."
Even as international travel started to rebound, Camille Wilson of Adventures with Camille says some clients wouldn't have successfully been able to board flights without her assistance.
"Navigating all the ongoing changing rules — they would not have made it past airports," she says. "Getting them home safely — I did all the airline calls from home VS them trying to do that from in destination."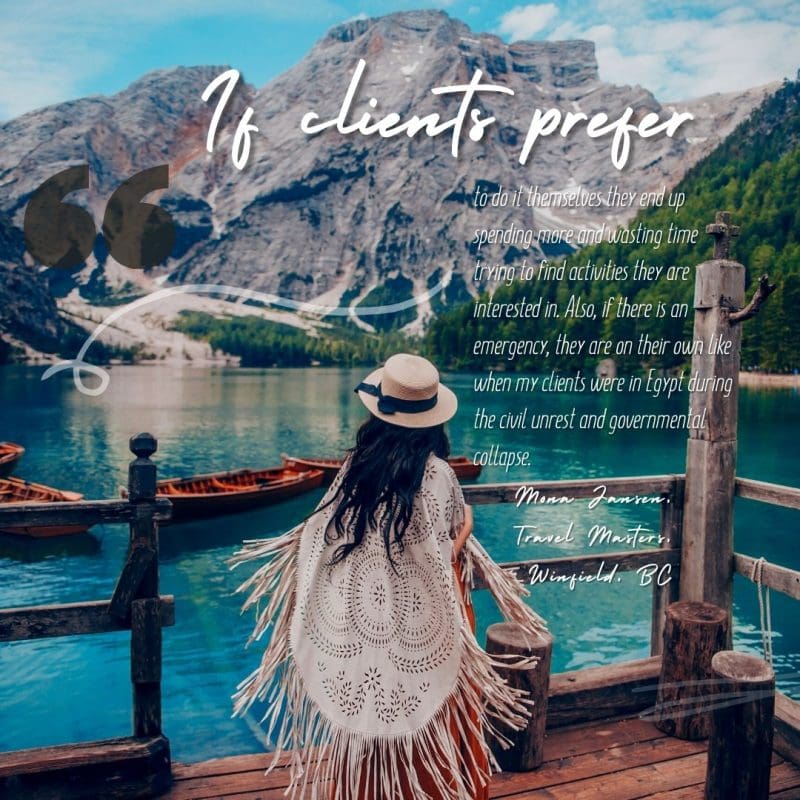 Beyond the pandemic, she says the personal care agents give extends to getting clients home in the event of an emergency or an unexpected reason to have to cut a trip short, which can happen at any given time.
"I'm calling all the suppliers and making it happen, taking the worry away for the clients," she explains. "Especially if they have little internet or phone access where they are."
On that same note, Chris Styles with Expedia Cruises of North Vancouver, talked a client out of booking a trip as a non refundable, non cancellable package as it was over a year away.
"They ended up breaking their leg and had to cancel," he says. "They got 75% back and 25% in resort credit for a future booking. If they hadn't followed my advice, they would have gotten nothing as they refused travel insurance."
Meanwhile, Shari Tucker of Love the Way You Travel in Halifax, says she's even caught a number of mistakes among clients who booked their own flights because they had air credits to use.
"I've caught everything from over night stays that they needed a hotel to arriving too late for the embarkation of their ship or the start of their tour," she says. "I've had families wanting to travel but having no idea they had to have PCR testing on the return at $100 plus per person [while travel bans were still in place] or that they would need to quarantine and couldn't go to work on their return. This has happened multiple times and if they booked on their own they would have been in trouble."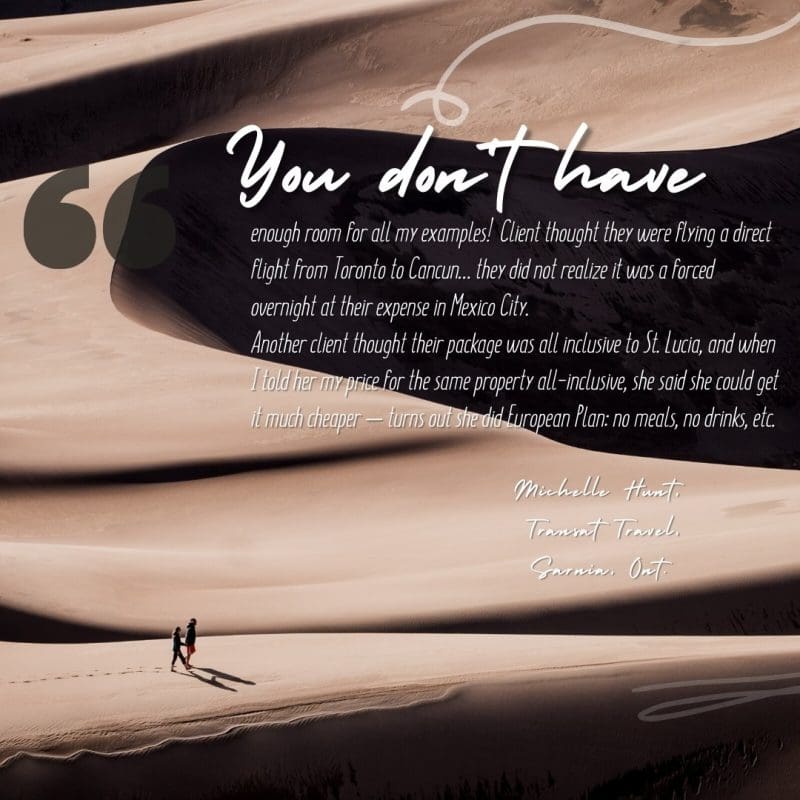 Other times where the value of a travel agent comes to the forefront comes down to the invaluable expertise they provide such as destination or hotel specific information.
"My clients were going to New Zealand and wanted to stay in Fiji for a few days on the way back," says Jessica Abramyk of Jesa Travel in Airdrie, Alta. "They were going to book two one-way tickets, but instead I booked them a multi-destination ticket, which saved them a lot of money and made them so grateful."
In another situation, Lindsay Kirkham with The Travel Agent Next Door in Prince George, B.C., quickly highlighted that the relaxing vibes clients were seeking wouldn't be found in an area that was actually known for its party scene.
"I had two older ladies who were looking at a specific region based on its beauty and attractiveness, not realizing it was a surfer/party destination at night," she says. "I have also been able to offer honeymooners some options through suppliers they did not know existed, giving them a honeymoon package, rather than a regular all inclusive destination."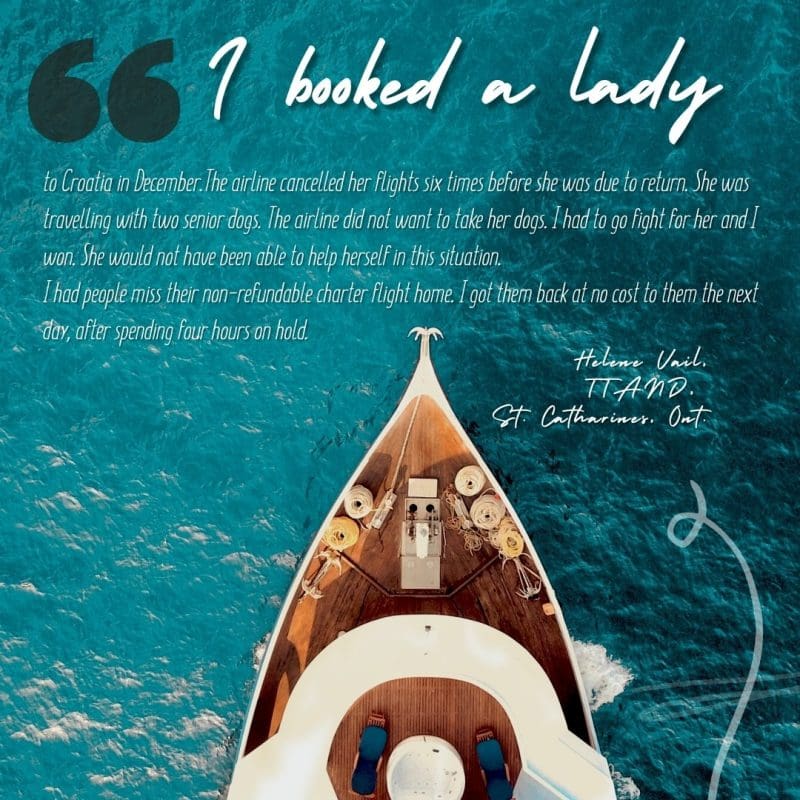 Meanwhile, Sue Hawkes with Expedia Cruises, has taught clients that the cheapest room isn't always the best value for their money.
"Some clients will pick only the cheapest resort, but I recommend a resort that I think will give them an exceptional experience; saving clients time on hold with tour operators; getting answers to specific resort questions/requests that otherwise they couldn't get online themselves," she says.
For Jennifer Arsenault with TravelOnly in Quispamsis, N.B., money also comes into play along with having someone to stay on top of ever-changing entry and testing requirements.
"I've saved them time and money by watching for sales and applying them to their booking when available," she says. "I think travelling without the advice and guidance of a travel advisor can easily become the cause of major financial hardship. I constantly monitor travel restrictions and requirements in this ever-changing world for my clients and take the stress out of the vacation details in regards to insurance as well."