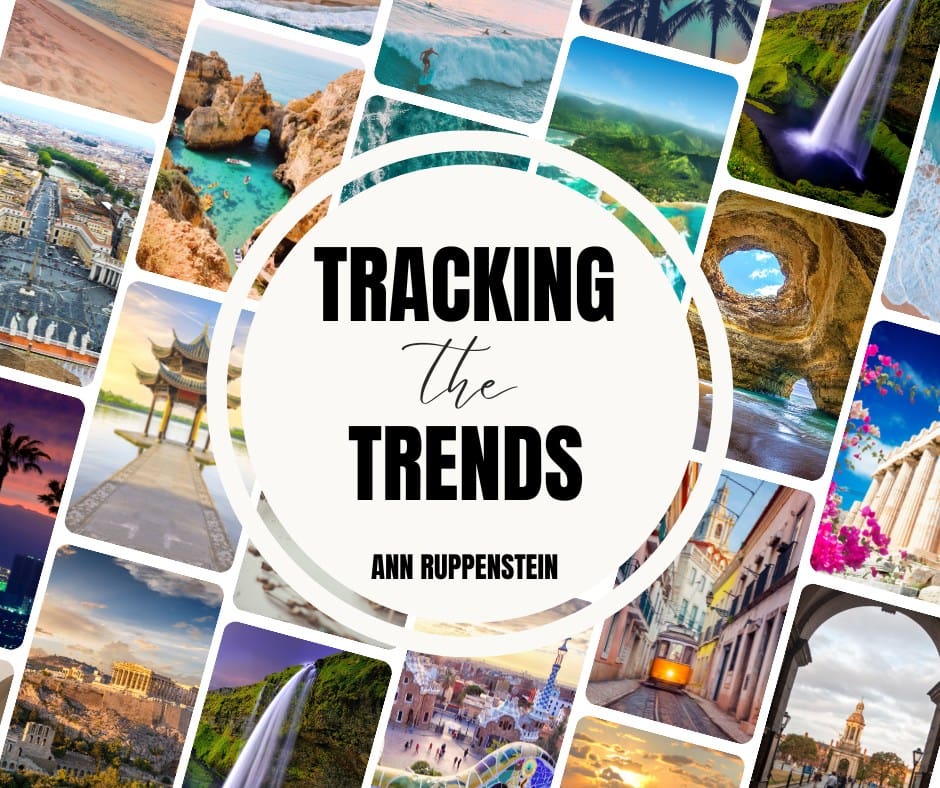 The latest Google travel trends and search insights reveal that Canadians are prioritizing travel beyond the boom that took place when borders first reopened and travel restrictions lifted.
"We're all very much familiar with the term revenge travel. Coming out of COVID, not being able to travel the past two, three years has propelled Canadians to rethink their values overall — understanding that travel really is an important part of people's lives," Matt Smith, Head of Travel Industry at Google Canada, tells Travel Courier. "Travel was at the top of the list and continues to be at the top of that list [of how Canadians are spending their savings]. What I'm seeing now is the question of is it really revenge travel anymore? Or is this just a new way of Canadians expressing their values? Are we expecting travel to continue at a much higher level than we've seen in the past? And all the data that we're showing here is definitely giving us that message."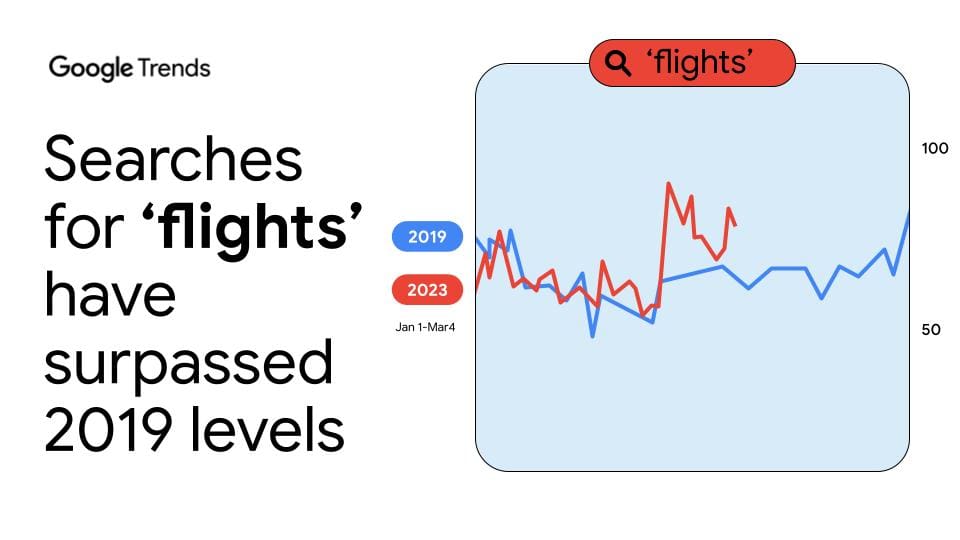 In fact, Canadian searches for flights have now surpassed 2019 levels, which is seen as the benchmark year for pre-pandemic travel.
"The really exciting thing this year, which I know travel suppliers have been waiting for and anticipating, is that shift back to international travel, and we're seeing that in terms of the destinations that Canadians are searching both for spring break, but also looking for their early bookings for summer getaways as well," Smith says. "Really going back to how people were behaving pre pandemic."
During the winter and continuing into spring, Smith says Canadians were looking to escape the cold to sun destinations.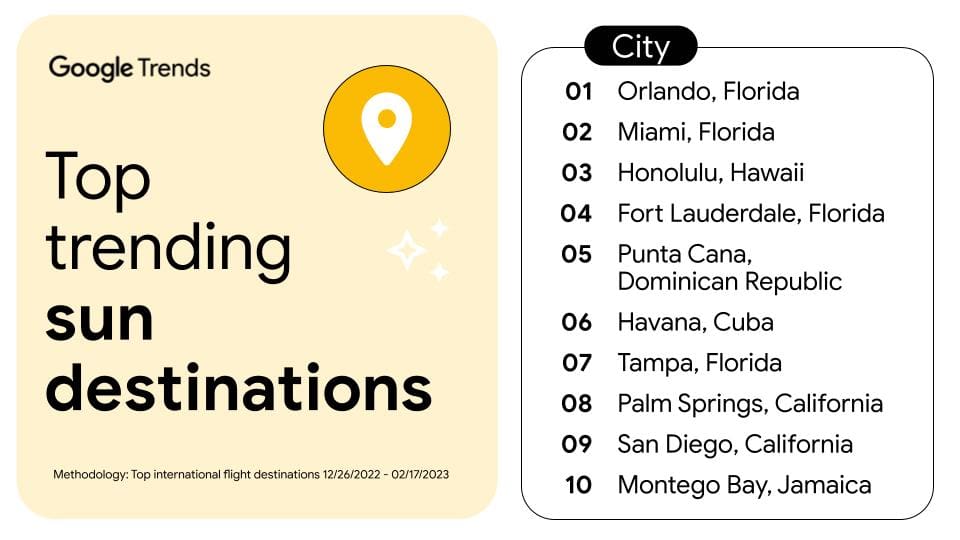 "From the sun destination perspective, we're seeing some of the typical players like Orlando, Miami, really anywhere in Florida. Fort Lauderdale continues to be a big destination for Canadians," he says. "Hawaii is popping and then of course, you're looking at places like Dominican and Jamaica."
Notably, Canadians are no longer sticking closer to home and are opting for European and Asian destinations for summer. Smith says this is a big shift from the discover your own backyard trend over the last few years. 
"We're actually seeing that complete shift back to 2019 and prior behaviours where Europe travel and Asia travel right now is definitely top of mind," he shares. "When we think about the summer months, we're seeing triple digit growth for those destinations right now over the last seven days."
Along with Beijing and Shanghai, China, top trending international destinations include Rome, Italy; Athens, Greece;  Lisbon, Portugal; Dublin, Ireland; Reykjavic, Iceland and Barcelona, Spain.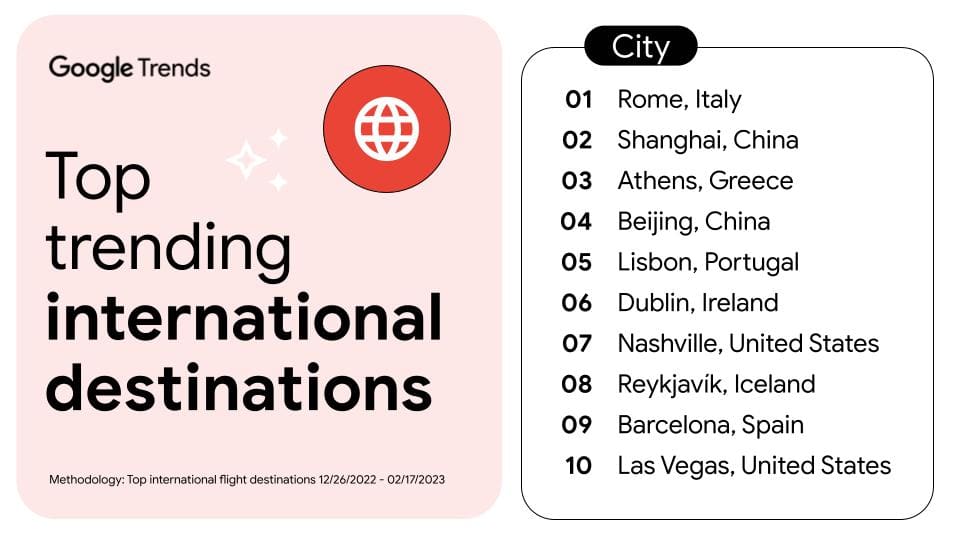 While a lot of Canadians were previously booking flights on a more last minute basis due to uncertainties during the pandemic, he says longer booking windows are now also coming back.
"We're starting to see those longer booking windows so the actual booking to departure window start to lengthen out a little bit and become much more of what they looked like before the pandemic even started," he shares.
Interestingly, he says although Canadians are eager to travel — they're open to suggestions about where to go.
"People are very much still undecided so ready to be influenced. Searches like where to travel continue to pop and are seeing significant growth on Google," Smith says. "Although people, back to pre COVID, may have had plans ready to go or were already thinking about those destinations, they're really open to exploring new places to travel."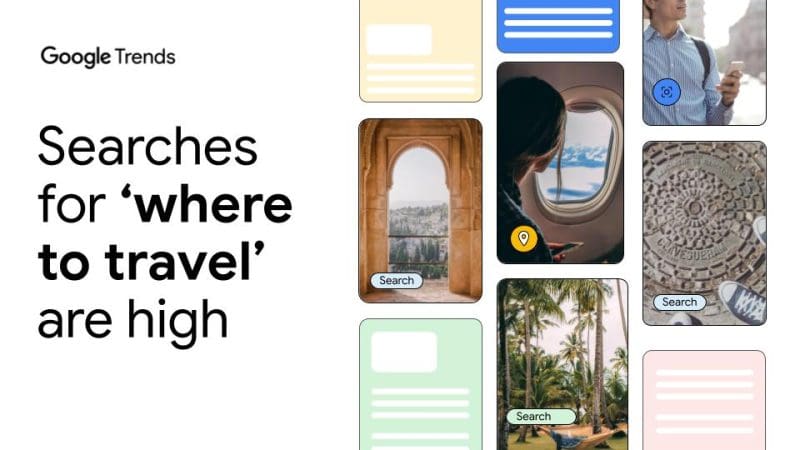 Graphics courtesy of Google Trends