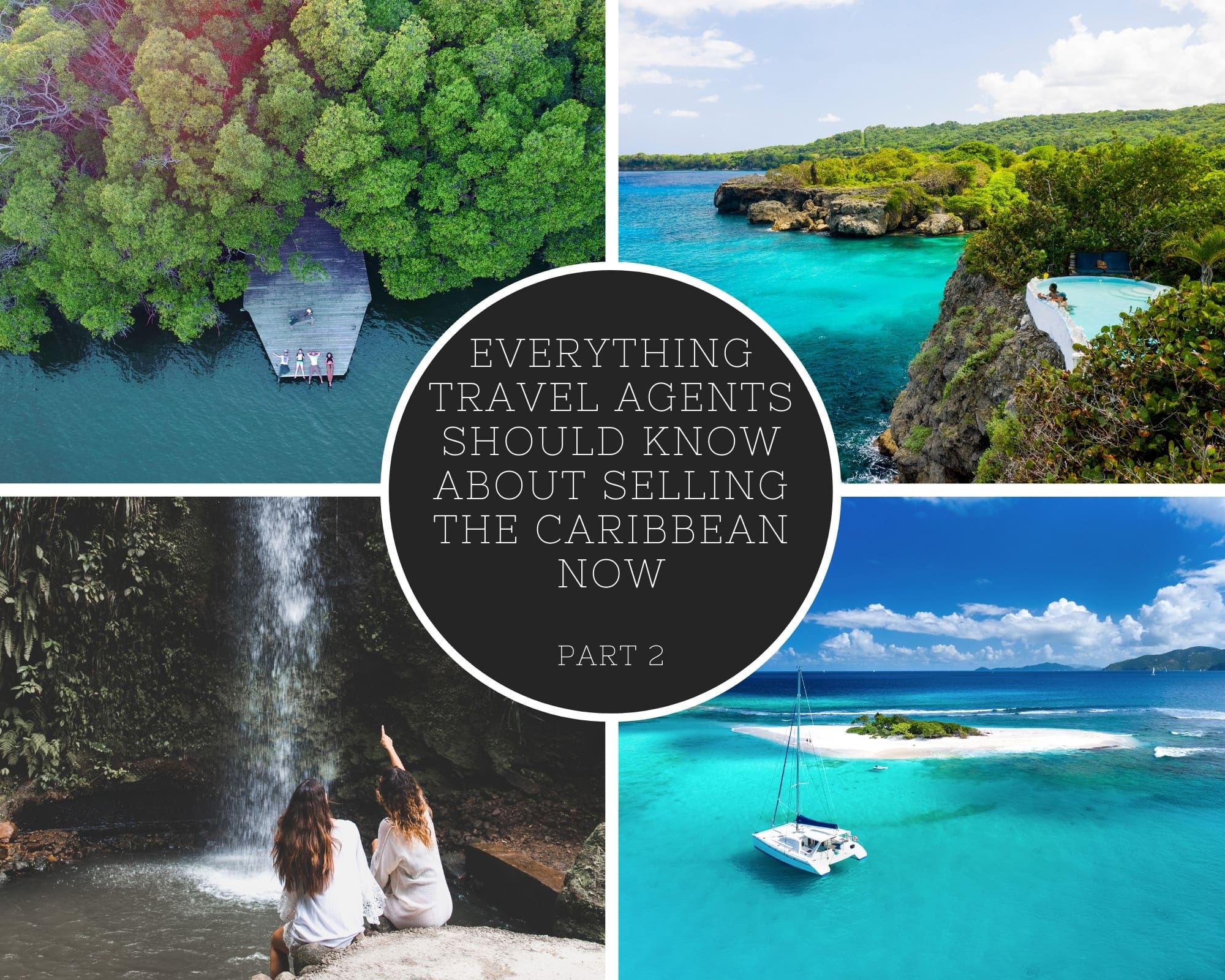 From hot new hotel openings to innovative destination experiences, here's round two of the latest news and updates from Caribbean tourism officials. Get the scoop from St. Lucia, Antigua & Barbuda, Tobago, Turks & Caicos, Nevis, Jamaica and the British Virgin Islands.
It's clear that Canadian travellers love St. Lucia. In fact, due to such strong demand, Air Canada's nonstop service to St. Lucia debuted on Oct. 9 — earlier than it was initially scheduled.
"We are proud to announce the return of Air Canada," says Lorine Charles-St. Jules, the CEO of the Saint Lucia Tourism Authority. "Initially we were told it would be November but because of the demand for the destination, we now have three weekly flights." 
Service will ramp up to five flights per week on Dec. 12, increasing to six flights a week on Dec. 19. Additionally, WestJet takes off this month with a weekly Toronto flight, moving up to twice weekly Nov. 17, and Sunwing is set to launch weekly service Nov. 5.
"We are seeing some growth [with the Canadian market]," she says. "As a matter of fact, in July, we had the highest number of arrivals from Canada since the pandemic."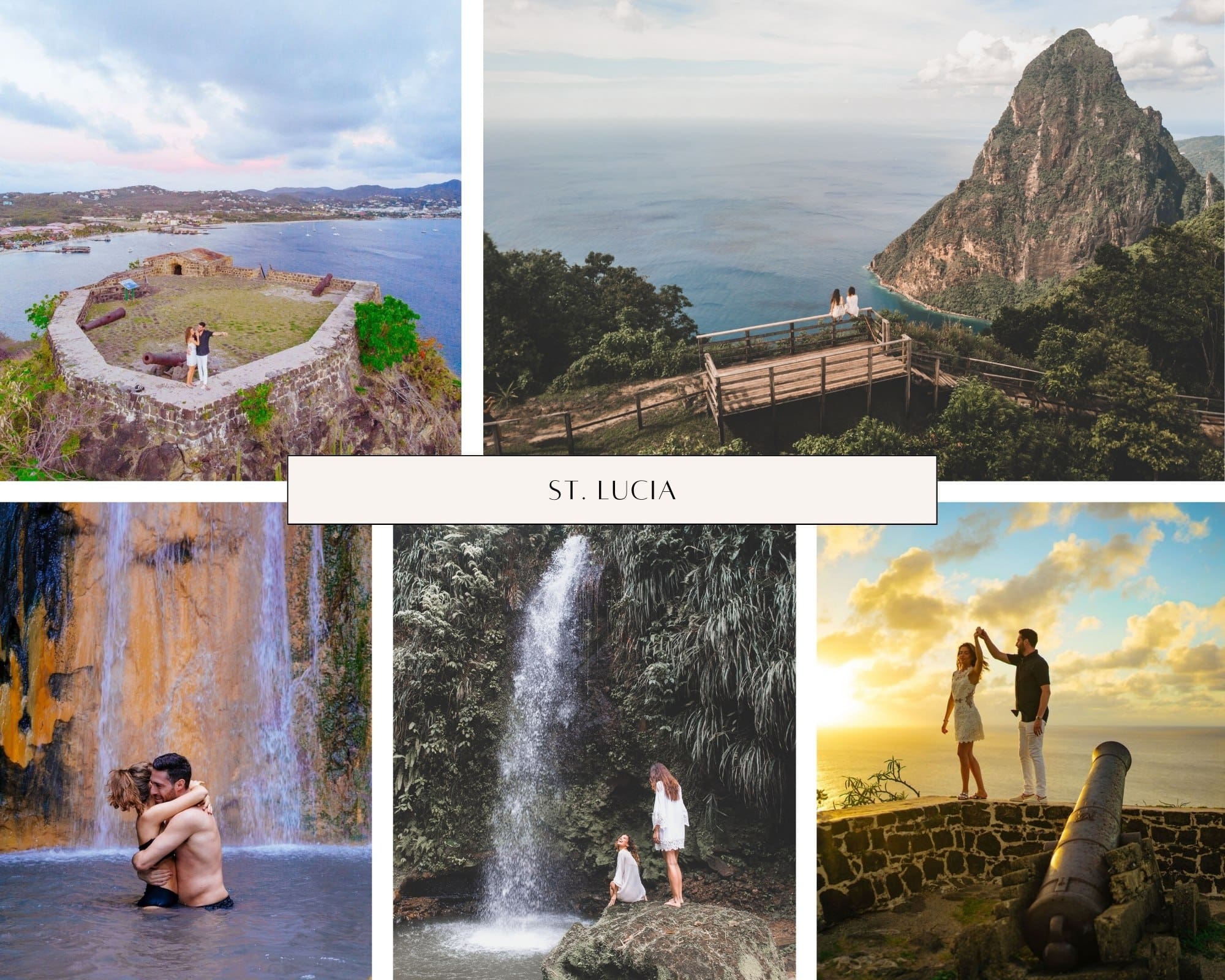 Overall, Ernest Hilaire, deputy prime minister and minister of tourism for St. Lucia, says the destination had a record breaking tourism season for 2022 and airlift shows 58% more seats than in 2021. For five out of the seven months from January to July this year, arrivals even topped 2019 levels.
Describing St. Lucia as a "hotspot for hotel growth," Hilaire noted that several luxury hotel brands are coming online.
"Zoetry Marigot Bay St. Lucia has been reimagined as a luxury all inclusive and will open on Dec. 1 2022," he says. "It is the first AMR Collection resort to open in St. Lucia."
Another AMR property in the works is the rebranding of Saint James Club Morgan Bay into an upscale all inclusive Secrets resort and is development Saint Lucia Canelles Resort into a Dreams and a Secrets. This summer Dream Hotel Group announced that the 90-key Cas en Bas Beach Resort will open in 2023. Sandals Halcyon Beach is debuting 25 new rooms in Feb. 2023 and Sandals Regency La Toc will debut new Rondoval suites.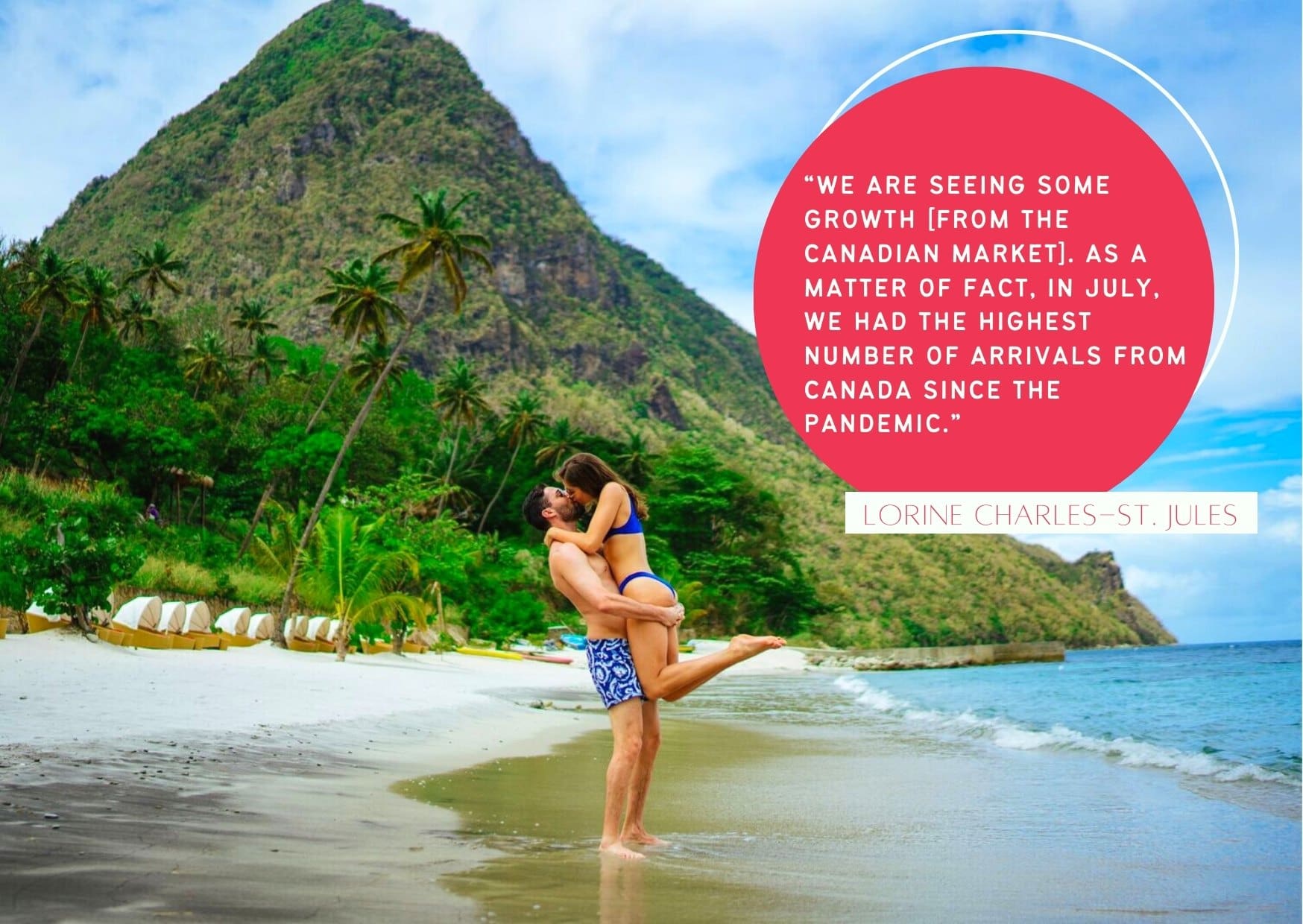 "A Courtyard Marriott Hotel is scheduled for completion in 2023 at Pointe Seraphine in Castries, adjacent to the Duty-Free shopping complex," he says. "Hytatt will build a 345-room luxury Grand Hyatt on the southwestern coast of the island in Choiseul with views of the Pitons."
East Winds resort is also undergoing an expansion and renovation, and discussions are taking place for a Planet Hollywood in the Rodney Bay area.
Placing an emphasis on community tourism showcasing "St. Lucia's authentic and all encompassing experiences," the island is also focusing on more intimate accommodations, unique dining options, and compelling sights and attractions. One new initiative is the Kabawé Krawl, a trail of authentic bars across the destination.
"If you are interested in exploring St. Lucia while sipping a Piton beer or sampling a rum punch, then you will love our new local cultural experience," says Hilaire. "It's a trail of bars that we have selected around the island that give you a real flavour of our different communities. It's an opportunity to meet locals, swap stories and enjoy some more of our St. Lucian hospitality."
And for clients looking for something different, St. Lucia has linked its smaller accommodations together under the Collection de Pépites. Ranging from BnBs, boutiques, villas all 35 rooms or less, the product is described as offering "off-the-beaten path island jewels." Notably, travel agents will still be able to earn 10-15% commission on these bookings.
Last month St. Lucia removed its remaining travel protocols.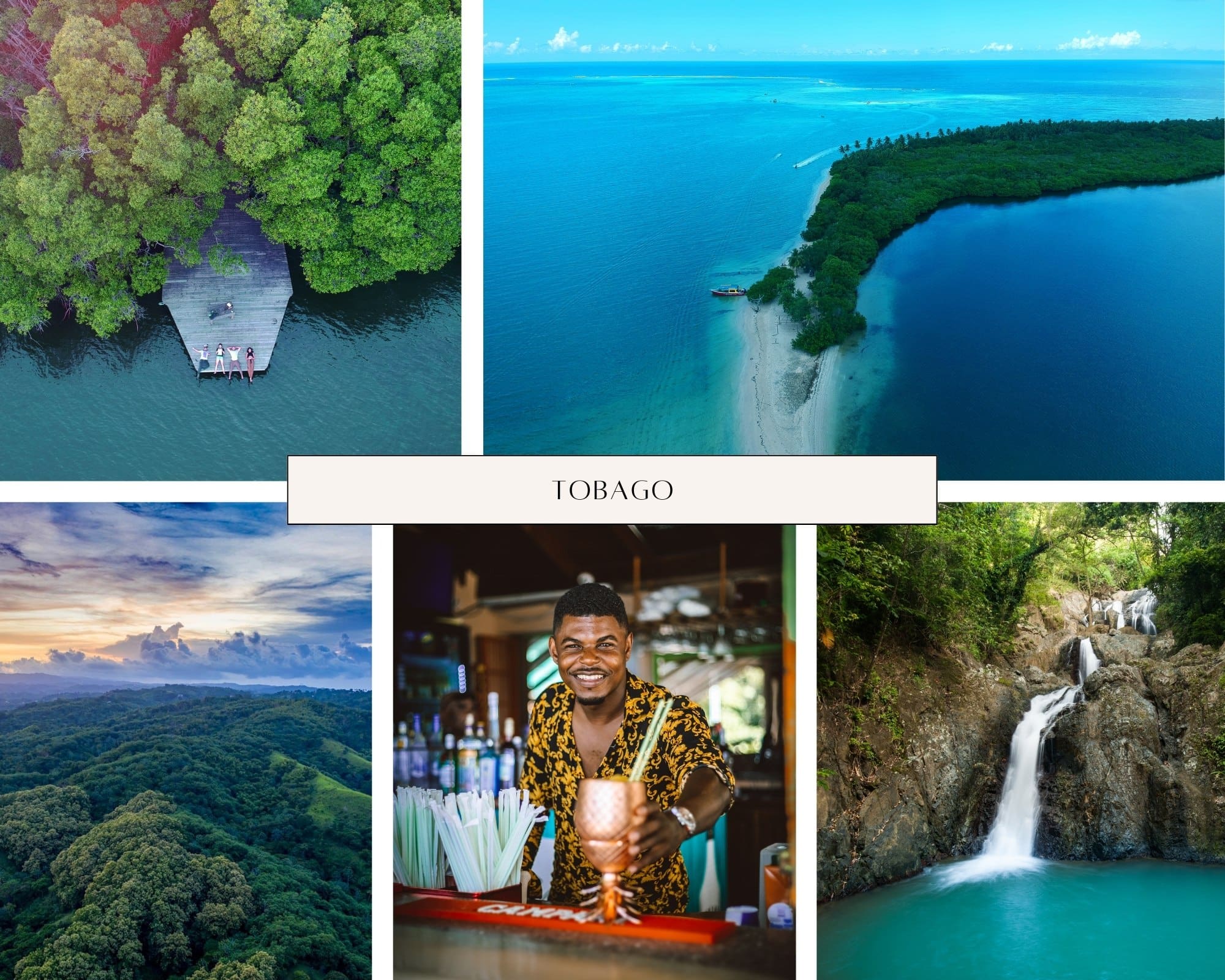 Tobago is in the process of a major airport expansion with the goal of not only raising the profile of the destination but also boosting additional international airlift.
"We are in active pursuit of airlift to reconnect us to previous markets as well as to open us up to the region and to new places in the international marketplace, places like Canada," says Korice Nancis, advisor to the Secretary of Tourism, Culture, Antiquities & Transportation, Tobago House of Assembly.
Notably, Nancis says the new Secretary for Tourism for Tobago, councillor Tasha Burris, has also set an ambitious target of reaching 100,000 visitors to the island in the shortest possible time-frame. This target represents the peak of tourism to the smaller sister island of Trinidad back to 2004/2005 levels.
"We are seeking to rebuild and re-establish our presence and get a piece of the pie," she says. "The Caribbean is absolutely beautiful we all have different stories to tell and who better to tell our stories than us as individual destinations?"
As for new development, Comfort Inn & Suites recently added 74 rooms to the island's stock and a number of new developments are also on the horizon with proposals for a 200-room Marriott Hotel in Rocky Point and an Apple Leisure Group, Hyatt Hotel Corporation and AMResorts all-inclusive development at Kilgwyn Bay.
"It will consist of two hotels: Dreams and Secrets, both of which will add 500 rooms to the island's stock," she says, noting that construction is slated to commence in June 2023.
Meanwhile, Elephant Tree Beach Club & Villas, is set to add 126villas and a 40-room hotel in 2024.
Interestingly, Tobago will also stage its inaugural stand-alone Carnival in October under the theme "Ritual, Revelry and Release." The event is set to run Oct. 28-30.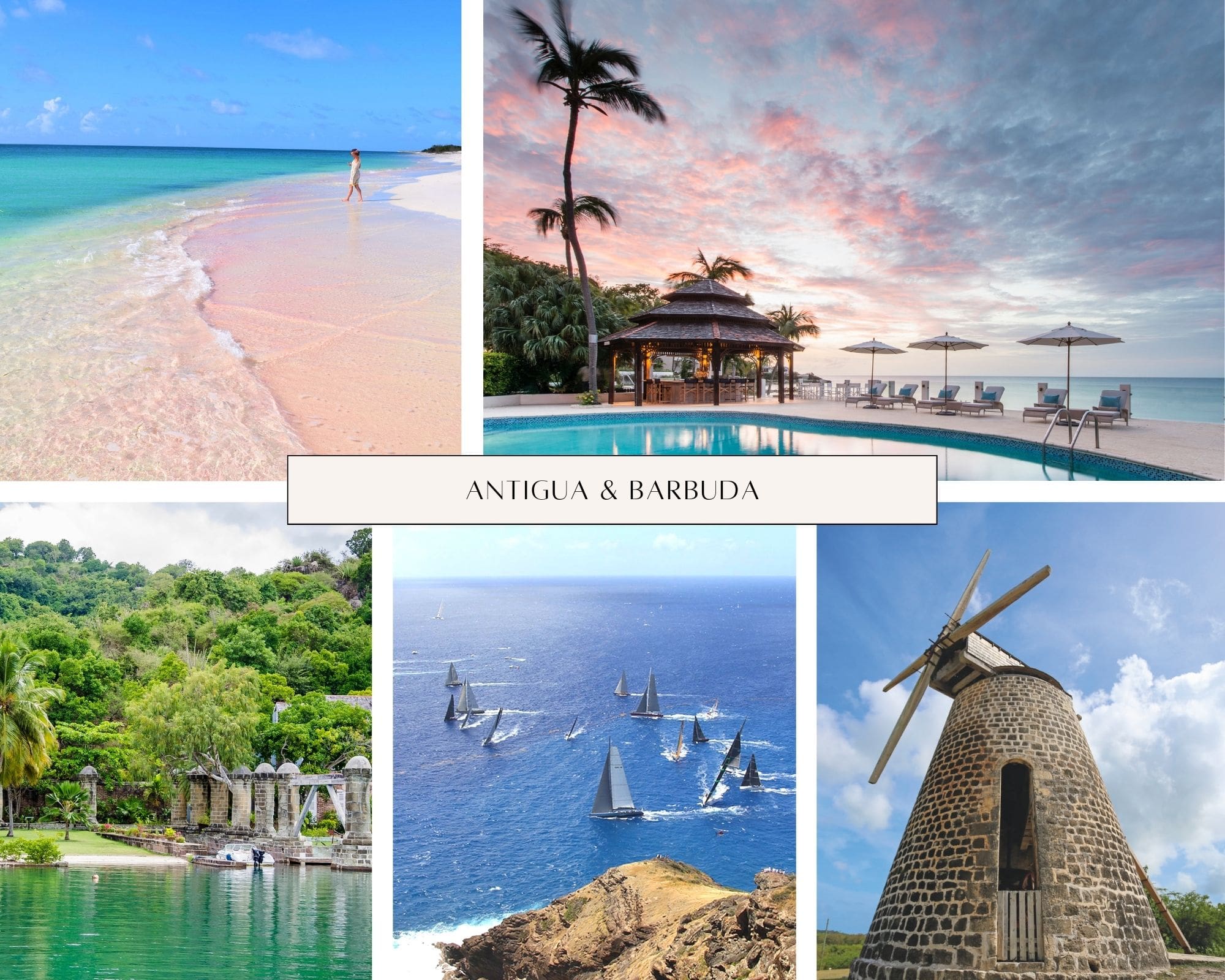 Air Canada is making it easier for Canadians to get to Antigua & Barbuda as nonstop flights resumed on Oct. 8.
"We are extremely pleased with Air Canada's decision to both resume and increase service to our shores and look forward to extending our famous Antigua and Barbuda hospitality to our Canadian visitors," says Colin James, Chief Executive Officer of The Antigua and Barbuda Tourism Authority. "We know many Canadians are more than ready for a vacation and we are equally ready to provide the relaxation and escape that Canadians have been craving."
Initially, the service kicked off with a single direct flight weekly from Toronto to St. John's, but is expected to ramp up to five weekly flights to meet the traditional demand of the holiday season. Meanwhile, once-a-week direct flights from Montreal begin Dec. 23. Next month, Sunwing will be doubling up its Toronto service along with Montreal flights and WestJet is set to go up to 2x weekly flights.
"Canada is really coming back strongly and for that we're really, really excited," he says.
Overall, Antigua and Barbuda is building on a record-breaking summer in arrivals with July and August arrivals coming in at 7% higher than 2019 levels.
Following the successful launch of Nobu restaurant, the team is investing $733 million in a new resort to be built on the abandoned K Club Resort site. Further developments include Moon Gate Antigua, a 49-suite all-inclusive boutique hotel and spa coming to Half Moon Bay. Luxury beach club Nikki Beach is coming to Antigua in 2023 and Tamarind Hill is undergoing an expansion with 43 new luxury villas.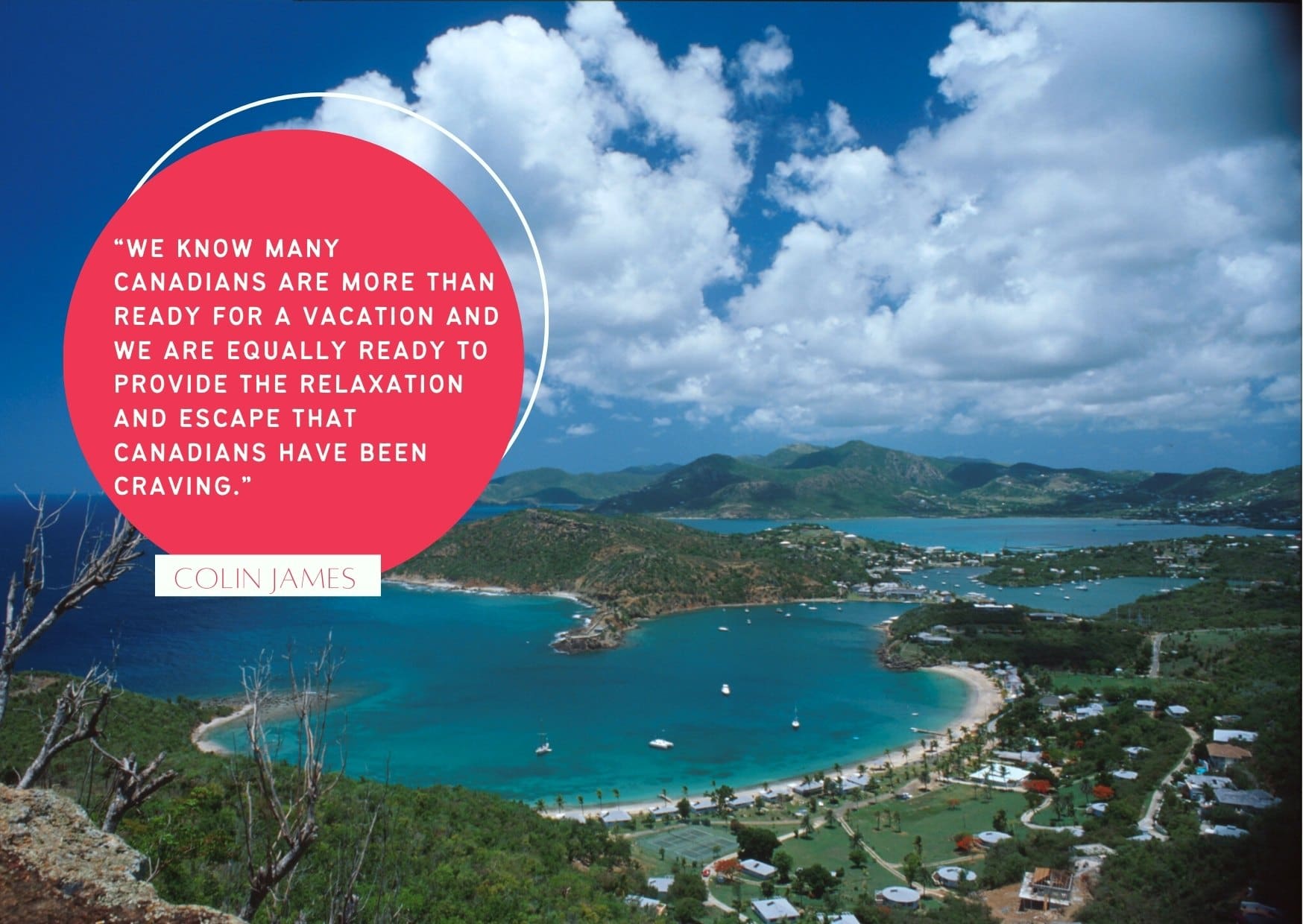 There are also lots of new experiences for clients like Sit and Sip Pedal Tours, the first pedal bar to hit the streets of Antigua. Tours focus on sightseeing by day and pub crawls by night. Another memorable option is called Pigs In Paradise, where travellers can get up close and personal with pigs on the beach. There are also Fat Tire Electric Bike Tours, the opportunity to discover the Rastafari lifestyle with Humble and Free Wadadli or for foodies, the new Eat n Lime Food Tours provide the chance to enjoy the flavours of the local culinary scene. Caribbean tourism company Chukka Adventures is looking to grow its regional footprint with a new US$5 million development at Fort Barrington.
Cruise is rebounding strongly with 163,582 passengers projected for the upcoming 2022/2023 cruise season. With the addition of a fifth birth that can accommodate large ships, James says this year will also see cruise calls from Oasis class ships. A US$30 million cruise side entertainment and shopping development is also slated over the next few years.
The dual island destination has lifted all COVID-19 restrictions for passengers arriving by air, yacht, and ferry.
"We decided that we had to open as soon as possible because our country depends on tourism to the amount of 65-70% of its GDP," he says.
Jamaica is rebounding quickly from the impacts of the pandemic. Jamaica's minister of tourism, Edmund Bartlett says the destination has earned US$5.7 billion since reopening its borders in June 2020. The data also shows that the island welcomed over 5 million visitors over the same period.
"Tourism is a key driver in the overall economic recovery for Jamaica and these numbers augur well for the economy, lives and livelihoods," Bartlett says. "To have already earned US $5.7 billion is huge given the major disruption caused by the pandemic." 
Notably, Jamaica saw more than 224,000 overnight arrivals in June, an increase over the 222,000 arrivals recorded in June 2019. Bartlett says the figures show that this past summer was "the best summer in the history of tourism in Jamaica."
The momentum also continues across the accommodation sector, with approximately 8,000 rooms slated for construction over the next two to five years. The opening of the first 1,000-rooms at the 2,000 Princess Hotel development in Hanover, the 260-room Sandals Dunn's River project in Ocho Rios and a 700-room RIU Hotel in Falmouth are all slated to come online in 2023.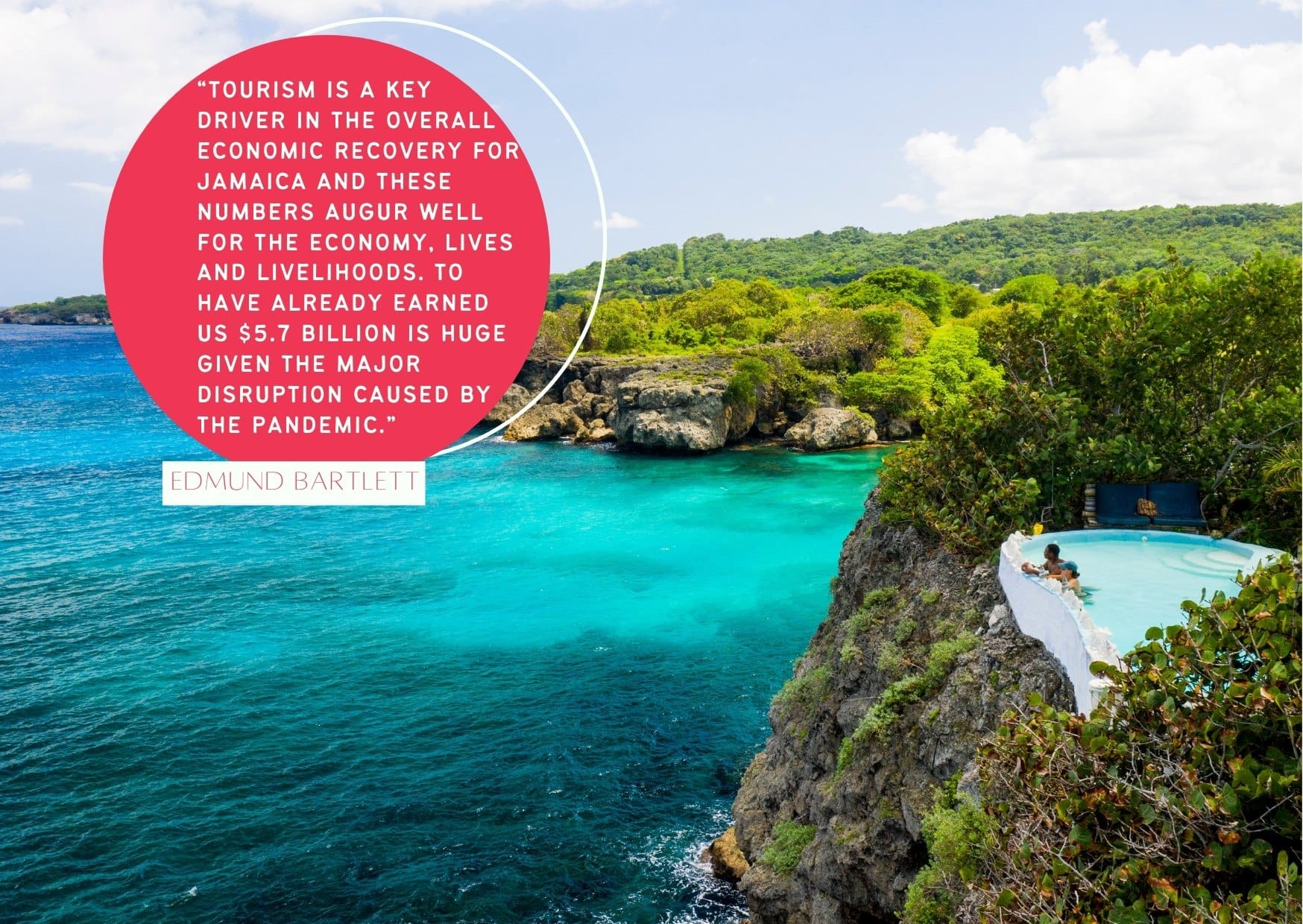 "Jamaica indeed has been leading the recovery of the travel industry in the Caribbean region," he says. "We're extremely grateful to be in this position… Jamaica's travel industry is truly resilient and on the cusp of a full recovery."
Groundbreakings are also set for several developments, among them the 2,000-room Hard Rock Hotel in St. James. Most recently, the Rok Hotel Kingston, a Tapestry by Hilton Collection property, opened in Kingston in August. Couples San Souci is undergoing renovations that are expected to be completed December 2023.
"Tourism is a key driver in the overall economic recovery for Jamaica and these numbers augur well for the economy, lives and livelihoods," he says.
Bartlett says highlighted that current travel trends are also positive indicators of visitor confidence with booking windows getting longer.

The Turks & Caicos tourist board is in the process of transitioning into a Destination Management Organization & Tourism Regulatory Authority "in order for us to manage the destination in a more modern way."
Mary Lightbourne, acting director of tourism for the tourist board, says the new structure will be in effect by March 2023 and place greater emphasis on destination development, tourism intelligence and research.
Also of note, a new airport terminal in Providenciales will be breaking ground in Feb. 2023.
"It will provide our visitors with the world class airport experience that guests expect when they come to the Turks and Caicos islands," she says.
Meanwhile, construction is already underway on the terminal at South Caicos, which has a targeted completion of June 2023.
"We are also making improvements to our cruise industry. A $25 million investment has been projected into the cruise industry," she says.
The Grand Turk upgrades in partnership with Carnival Corporation include the construction of a floating dock for water sport operations and a dock extension to accommodate larger class ships. Since reopening in December, the destination has welcomed over 350,000 cruise passengers.
As for room stock, Lightbourne says there are four significant property developments that have recently opened or are in the pipeline. There's the Rock House which opened in spring, South Bank, which is set to open this winter and properties by both Andaz and The Strand set to debut in 2023.
"There's a lot of development going on at the moment," she says. "We are increasing our room capacity with these new investments."
Currently visitors must still be vaccinated in order to visit without travel restrictions.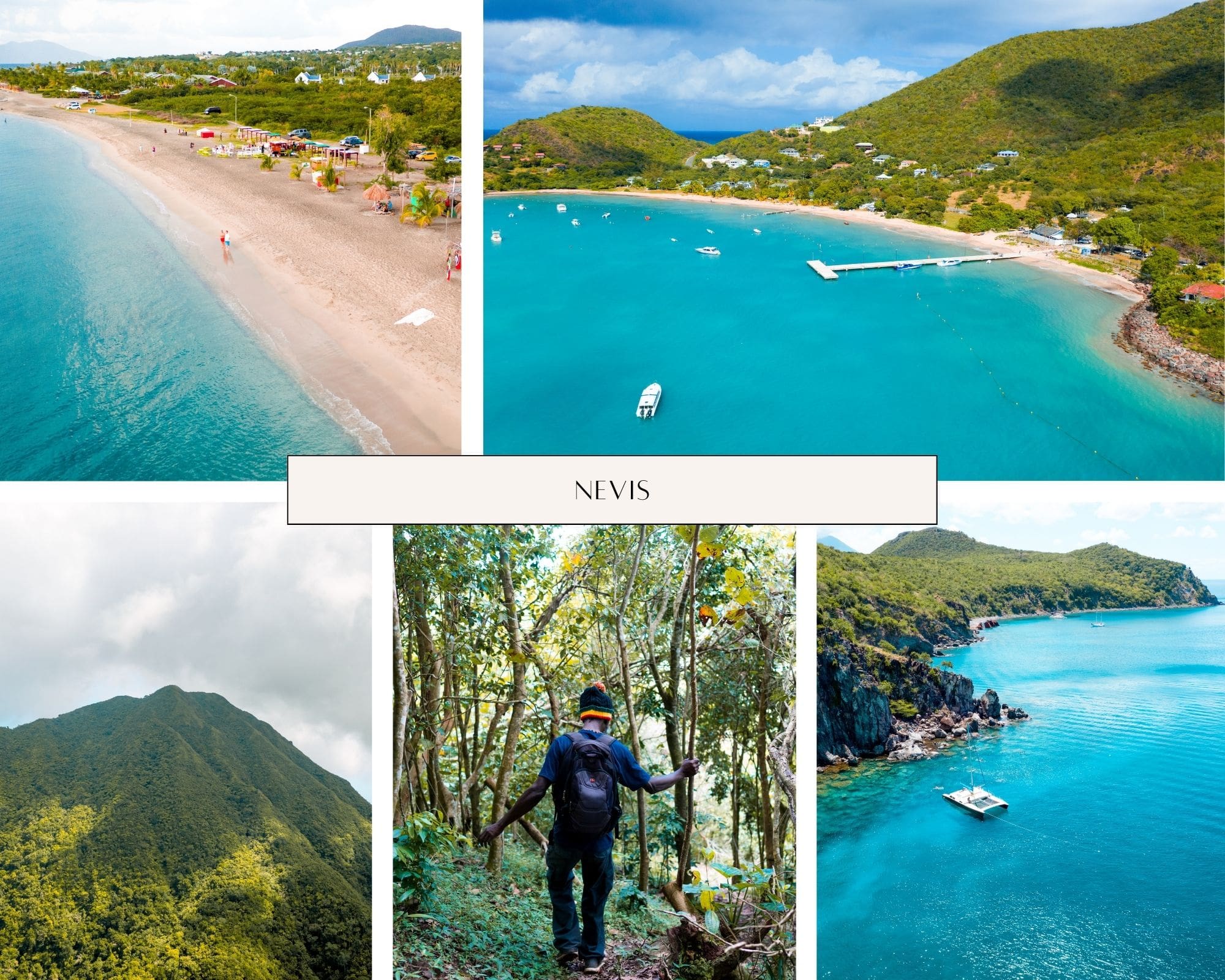 Nevis may be the smaller of the sister islands that make up St. Kitts and Nevis, but the CEO of Nevis Tourism Authority jokes it's arguably "the nicer one!"
With a small inventory of 450 hotel rooms, Devon Liburd describes Nevis as "one of the world's best kept secrets."
Since this past August, all covid related travel protocols have been lifted.
"You're no longer required to present a negative covid test, you're no longer required to be vaccinated and you are no longer required to quarantine when you get to the island," he shares, encouraging travellers to fill out the online immigration and customs form.
As for the Canadian market, he says it accounts for 8-10% of arrivals.
"Currently, we are seeing arrivals trending upwards for 2022," he says. "We're certainly back to the stage of recovery."
Throughout the pandemic, Liburd says major developments were taking place including Belmount Gardens, which has a new restaurant, and the grand opening Malcolm Guishard Park, 10 acres of prime beachfront with an amphitheater, a walking path, beach bars and more.
For travellers looking for the perfect selfie spot, Clive McCoy, director of tourism for the British Virgin Islands says the destination has erected four island signs across four of its most popular islands.
"We had them painted by local artists to depict what each island is all about," he says. "They have certainly been a hit, especially for cruise guests who like to take pictures in the areas that they are visiting."
Although 2021 was a challenging year, he says they registered 133,715 visitors.
"However, what we noticed was that during the latter part of 2021, the numbers started rising and that's what we are finding very encouraging," he says.
Looking ahead to the first quarter of 2023, he says occupancy rates are soaring.
"We haven't seen these types of bookings in the destination — ever," he says, adding that charter bookings are also strong. "We're very excited about it."
As for accommodation news, one of the newest options is Moskito Island, the sister property to Nekker island. Another opening on the villa side is Villa Cornucopia on Little Trunk Bay and the Aerial BVI Buck island also reopened.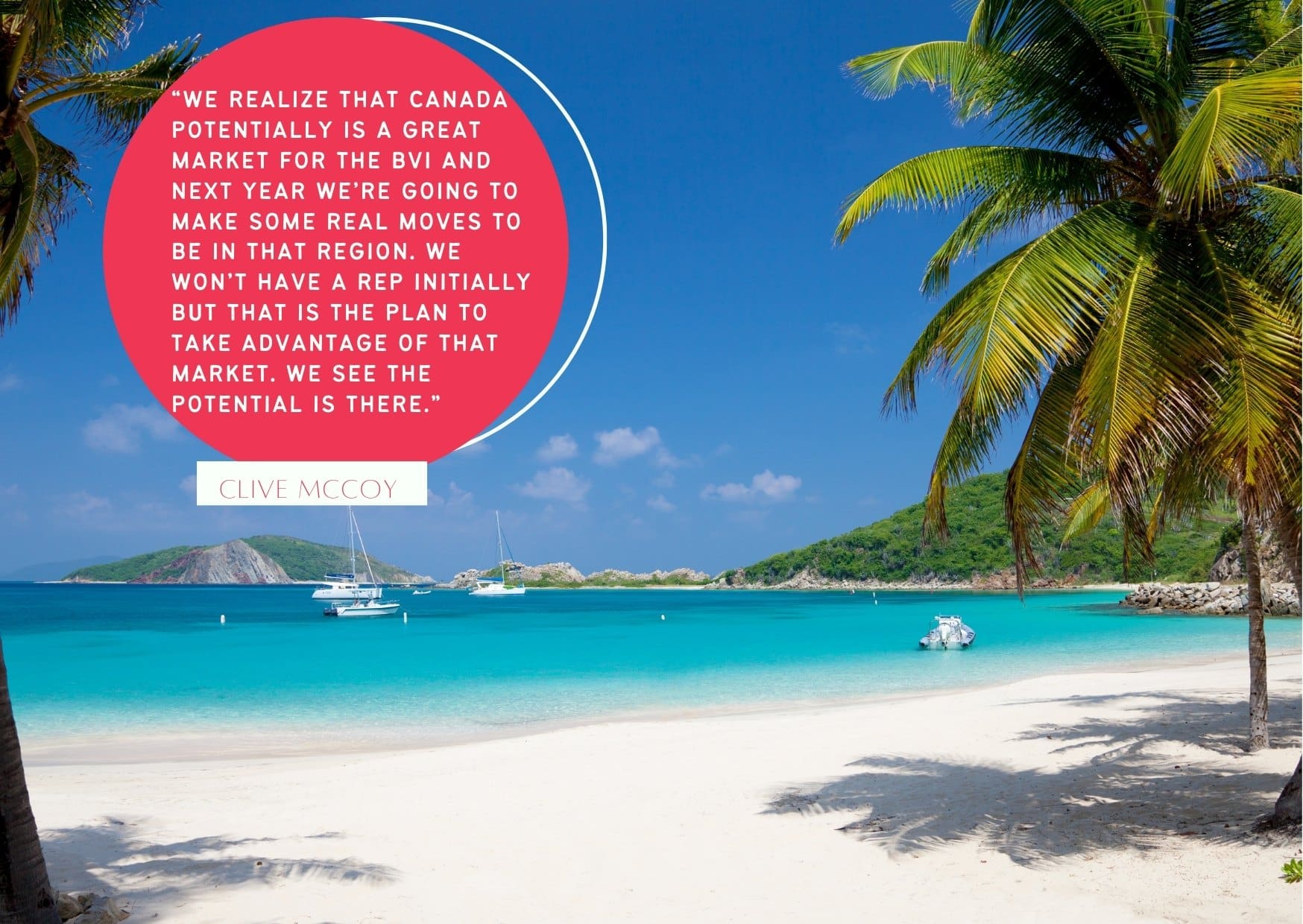 "We have the most private island resorts in the Caribbean," he says.
Bitter End Yacht Club, which was destroyed by Hurricane Irma in 2017, is reopening Oct. 18.
McCoy says there are also no travel protocols left and that the destination didn't remain stagnant throughout the pandemic by staying in close contact with the trade through virtual events.
McCoy says the BVI are the undisputed sailing capital of the world.
"There's no other place in the world like it. It's often imitated but can't be duplicated," he says. "Sailing is our bread and butter."
In terms of events, the 10th anniversary of the Anegada Lobster Festival will take place Nov. 25-27. Of course, he says visitors would be remised not to drink a painkiller during their stay, which is the official drink of the BVI. There are also new lookout spots across the popular BVI destinations.
Notably, he says Canada will be a big priority in 2023.
"We realize that Canada potentially is a great market for the BVI and next year we're going to make some real moves to be in that region. We won't have a rep initially but that is the plan to take advantage of that market. We see the potential is there."