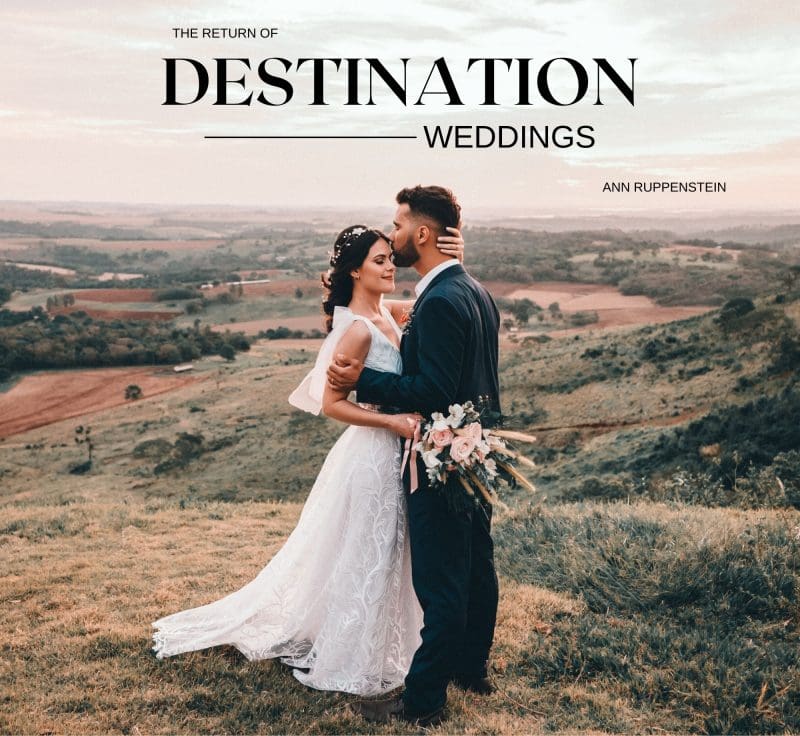 As travel restrictions ease and couples are eager to travel again, 2022 is set to be a pretty massive year for destination weddings. According to a survey of vendors and consumers by the Wedding Report, roughly 2.5 million couples will tie the knot this year.
"AMR Collection has experienced a steady recovery within the wedding segment with future brides planning well in advance to secure their ideal date and venue," Carolina Bellina, Senior Director of Canadian Sales and Consortia Relations, AMR Collection, tells Travel Courier. "Since the pandemic, many couples have shifted to smaller, more intimate gatherings — taking advantage of luxury all-inclusive resort brands in easy to get to destinations for the most value for their group needs."
Bellina says small to medium-sized, multi-day events in destinations like Cancun, Puerto Vallarta and the Dominican Republic are trending.
With all this pent up demand — and many postponed weddings finally taking place this year— she says, "wedding agents are encouraged to secure group space and wedding dates for their brides."
Not only are couples ready to walk down the aisle, newlyweds-to-be are also spending more money on their special day after two years of putting travel on hold.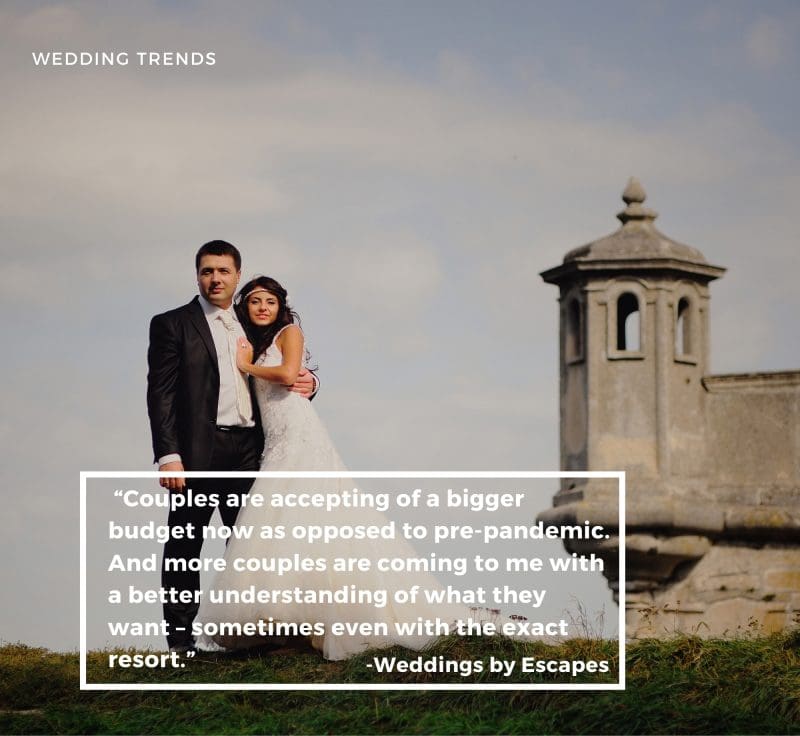 "Couples are accepting of a bigger budget now as opposed to pre-pandemic," says Pamela Walker, an award-winning destination wedding specialist with Weddings by Escapes. "More couples are coming to me with a better understanding of what they want – sometimes even with the exact resort. I think they've had so much time to research on their own over the last two years, and know they need to make these decisions quickly and decisively."
With all the uncertainties that arose during the pandemic, Walker also finds that more people are turning to travel advisors to book their destination wedding.
"This is definitely evident, and it is also something I stress in my consultations with new couples," she says. "It's a great selling point. I'm also sure to collect reviews from my newly returned couples and ask them to touch on the value of working with a professional during these times of unending change."
Because of flight availability from Western Canada, she says Cancun and the Riviera Maya is the top destination for her clients.
"We are very limited to what we have for direct flights right now, and that is one of the top must haves for most groups, especially with all the flight changes and cancellations we've been seeing of recent," she explains.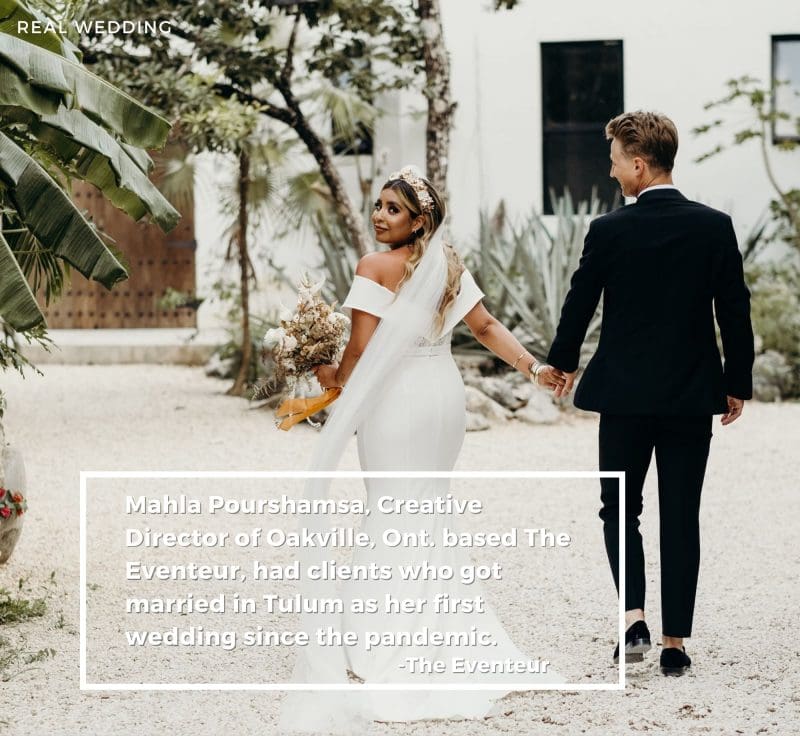 Mahla Pourshamsa, creative director of The Eventeur, which is based in Oakville, Ont., also believes more couples are turning to professionals to book destination weddings.
"Travel advisors are well versed in being solution oriented and pivoting quickly to help their clients navigate bumpy roads and unforeseen circumstances – and the pandemic was no exception," she says.
Pourshamsa says intimate weddings, micro weddings and well curated experiences continue to be trending for destination weddings.
"Combined with guest's eagerness to travel, destination weddings are becoming the preferred route for many," she says. "It is heartwarming to see travel return, especially when combined with long overdue family gatherings. And for what better reason than to celebrate love?"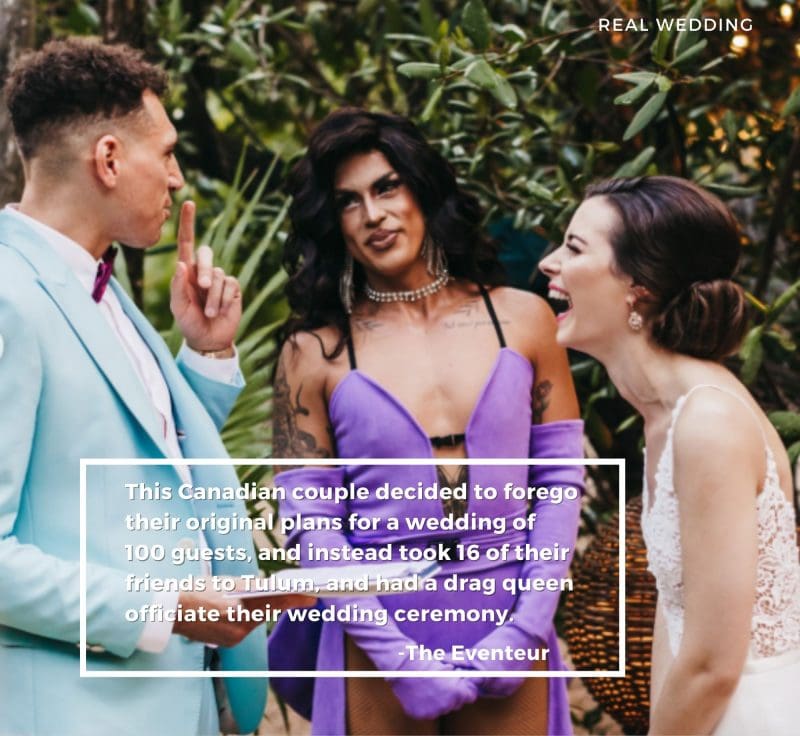 Notably, the agency has seen "a big spike" in beach destination requests.
"We noticed just before the pandemic that couples were venturing out a bit to lesser travelled destinations, but our current inquiries are very heavily sided on the more popular beach destinations," she says, noting that 60-80 guests is the most popular guest count.
Meanwhile, Alison Vanloosen, a destination wedding specialist with Kemp Travel Group, is happy to be booking weddings again instead of postponing them.
"I definitely think destination weddings are rebounding," she tells Travel Courier. "I have quite a few weddings on the go right now. I have two weddings for May 2022, and one booked for May 2023, with another in the works for May 2023."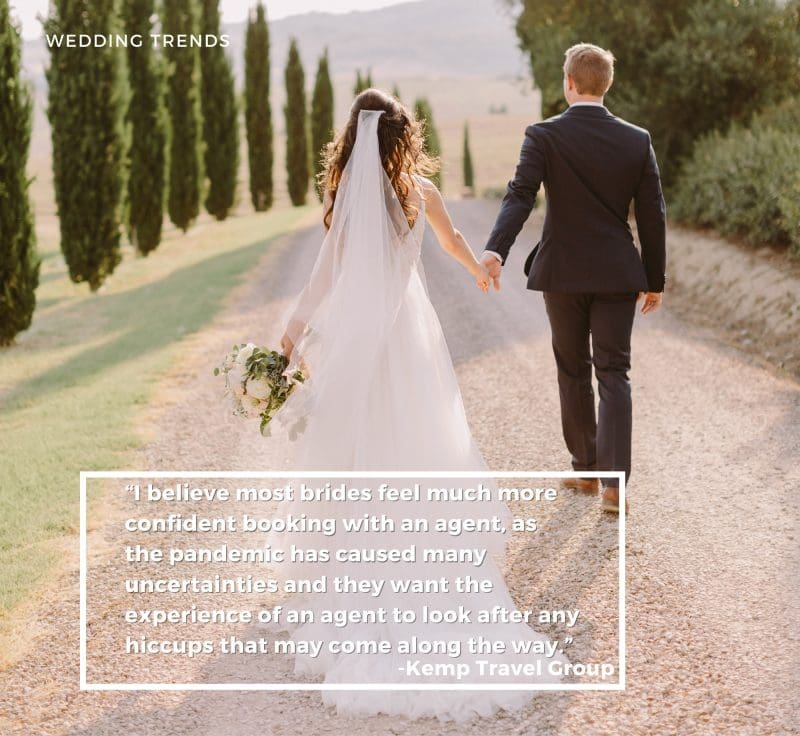 Vanloosen also believes that ever since the pandemic, more couples are using travel advisors to book their special day.
"I believe most brides feel much more confident booking with an agent, as the pandemic has caused many uncertainties and they want the experience of an agent to look after any hiccups that may come along the way," she says.
Interestingly, she points out that the size of the wedding groups has changed.
"I find that my groups keep getting larger as more and more people want to travel," she says. "Moving forward the groups have been about 50+ guests."
As for popular locations, she says all the weddings she has on the books are for Punta Cana, Dominican Republic.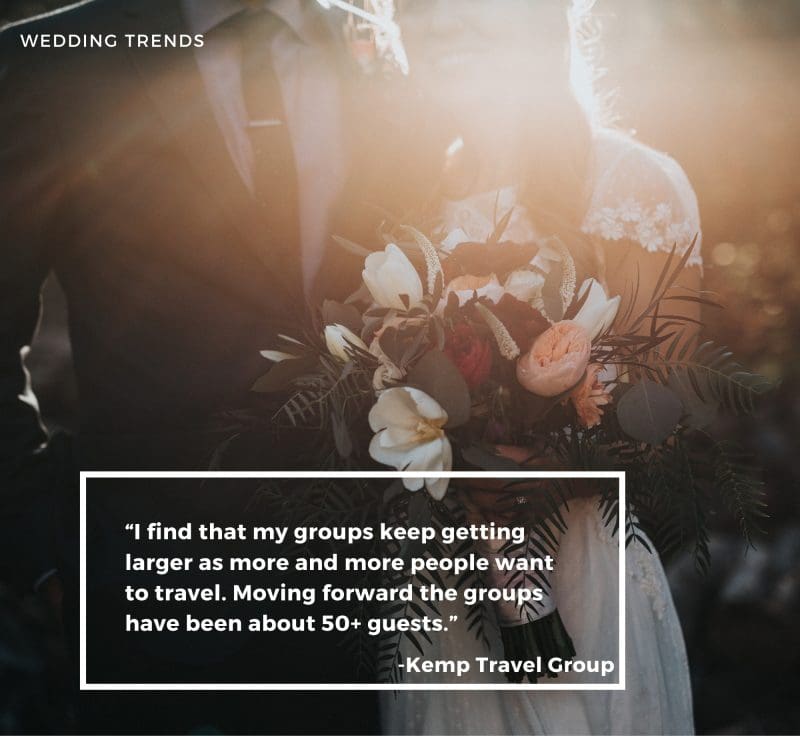 Over the last six month, Walker says new enquiries for destination weddings have been ramping up — although each new COVID wave does cause bookings to slow again.
"As provincial COVID restrictions relax across the country and federal travel restrictions start to ease, there's been an uptick in new bookings and enquiries," she says. "I'm hopeful business will soon pick up to where it was pre-pandemic."
As for the size of the wedding parties, couples who were set to get married during the pandemic are now smaller in size — sometimes half the amount of the original booking.
"However, many couples enquiring recently for their future weddings have larger guest lists, anticipating a return to travel normalcy and better attendance," she adds.
After a long two years of "emotional ups and downs," she's happy to see the industry rebounding again.
"Once I had groups start to travel again in the new year and followed up with the wedding couples on their return, immersing myself in their love stories and photos, I felt my mojo coming back," she says. "After 20+ years in the business, I wasn't sure I was going to continue on or even how I could continue on after taking such a big hit both financially and emotionally. But honestly, love does win. My clients have saved me from uncertainty with their beautiful words and photographs, and I can't thank them enough."