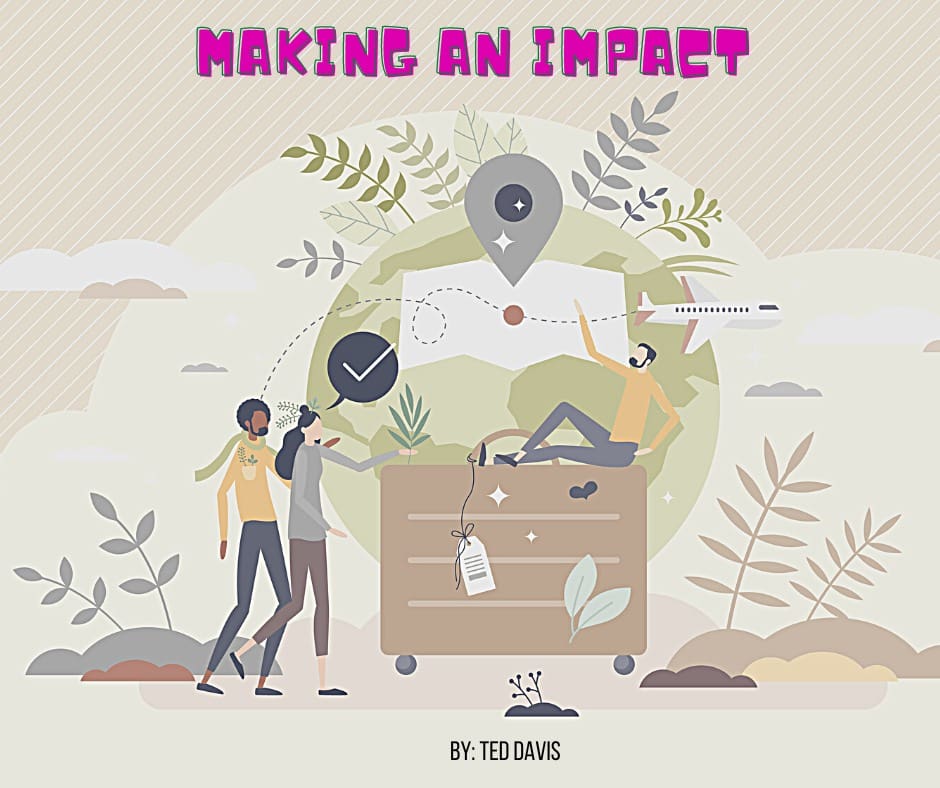 Sustainable tourism conference tables solutions to climate change
The growing awareness and acceptance of climate change as undeniable fact continues to push the agenda of problem solvers across all sectors, but especially in the tourism industry.
In oft-repeated phrasing, tourism is on the front line of climate change, both in terms of causes and effects. The ongoing, increasing damage caused by climate change, and the contrasting work to find and develop inventive solutions, were once again the imperatives driving the IMPACT Sustainability Travel and Tourism Conference recently.
This was the sixth edition of the conference, which was again held in Victoria. Lead speaker Robert Sanford, senior policy advisor on climate change for Simon Fraser University, set the tone with insightful observations about both perspectives. For instance, even the most mundane activity, such as using a car, is fraught with potential consequences, he said.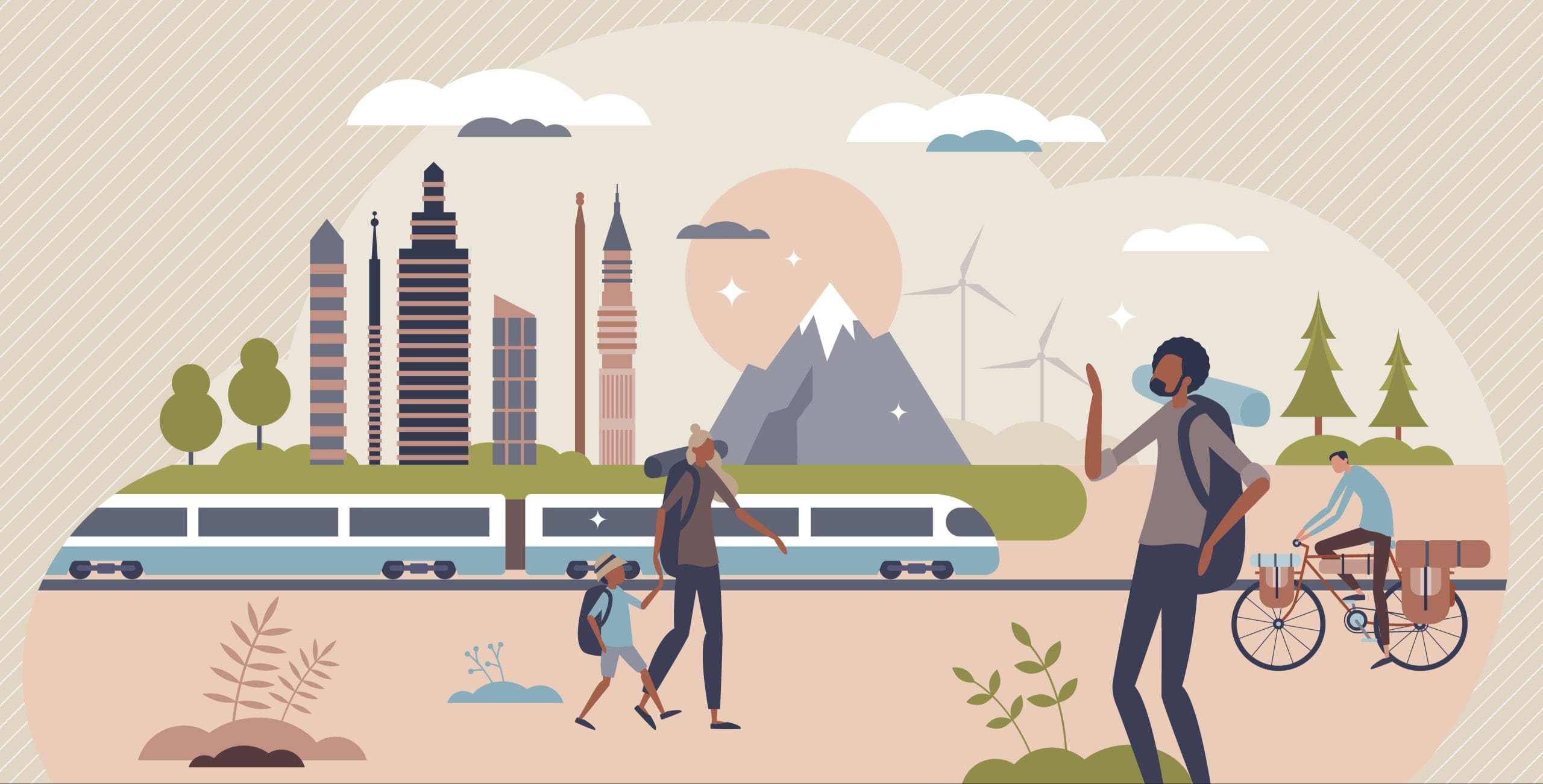 "Even driving can be seen as betraying the future," said Sanford. "It's hard to justify driving, let alone flying."
On the other hand, there is great hope in the work being done by climate scientists and technicians to tackle the scourge of climate change. Some of them came to the IMPACT  conference and described their work, as part of a presentation process called PechaKucha.
This is a story-telling format that requires presenters to meet a short time limit while delivering lots of facts and visuals. It was devised in Japan and has gained acceptance across all manner of gatherings – including IMPACT, where it has been used with great success.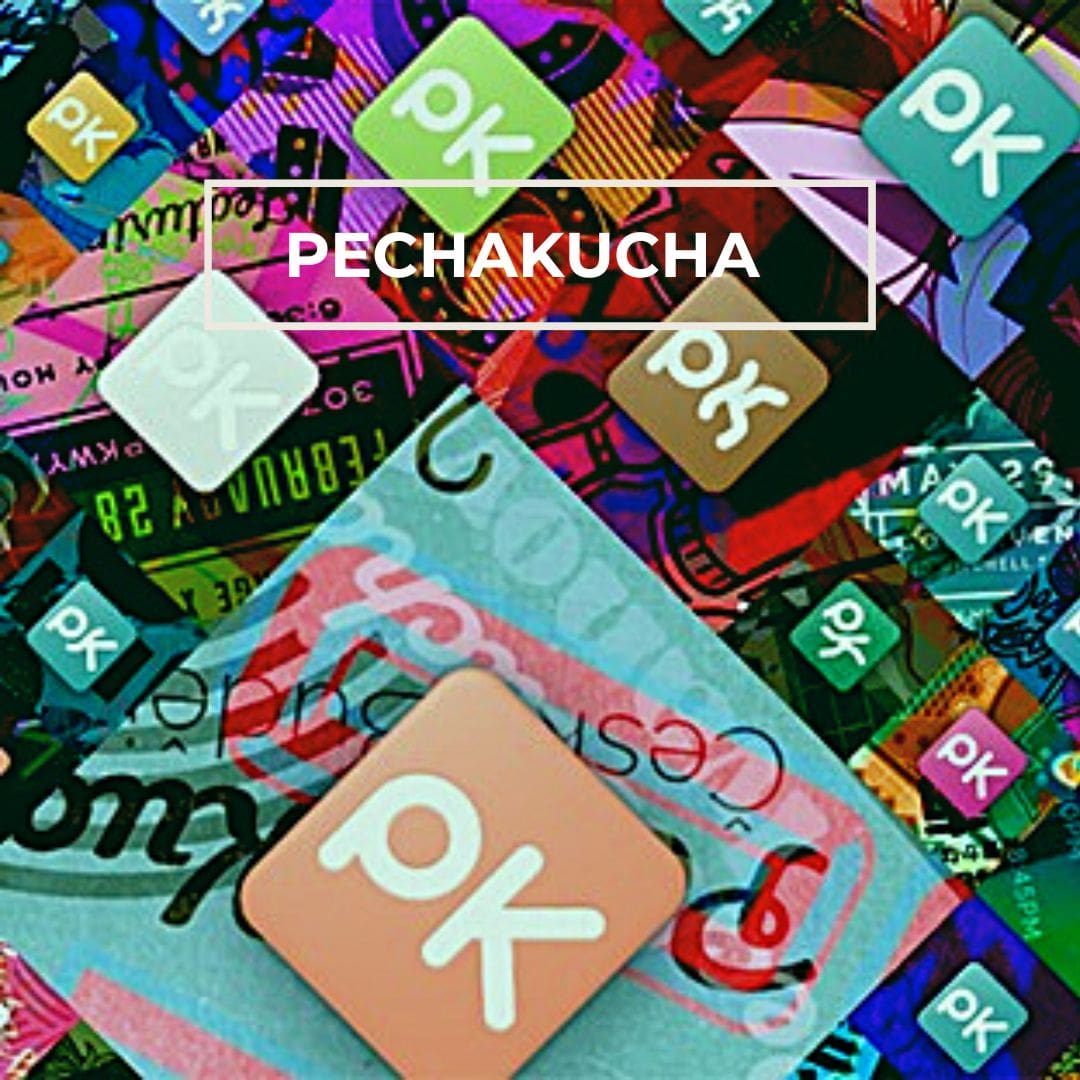 At this most recent mid-January edition of IMPACT, the degree of innovation demonstrated by the individual presenters during the PechaKucha session was impressive, as usual.
And, in keeping with the unique formula that defines this particular PechaKucha, some of the presenters had no connection with the tourism industry.
They were, instead, invited to the conference because IMPACT organizers perceived that these companies could have a product or concept that could or would be very useful as a tourism application or in a tourism environment or enterprise. Others had already found their place in the tourism economy. Examples of both are described below.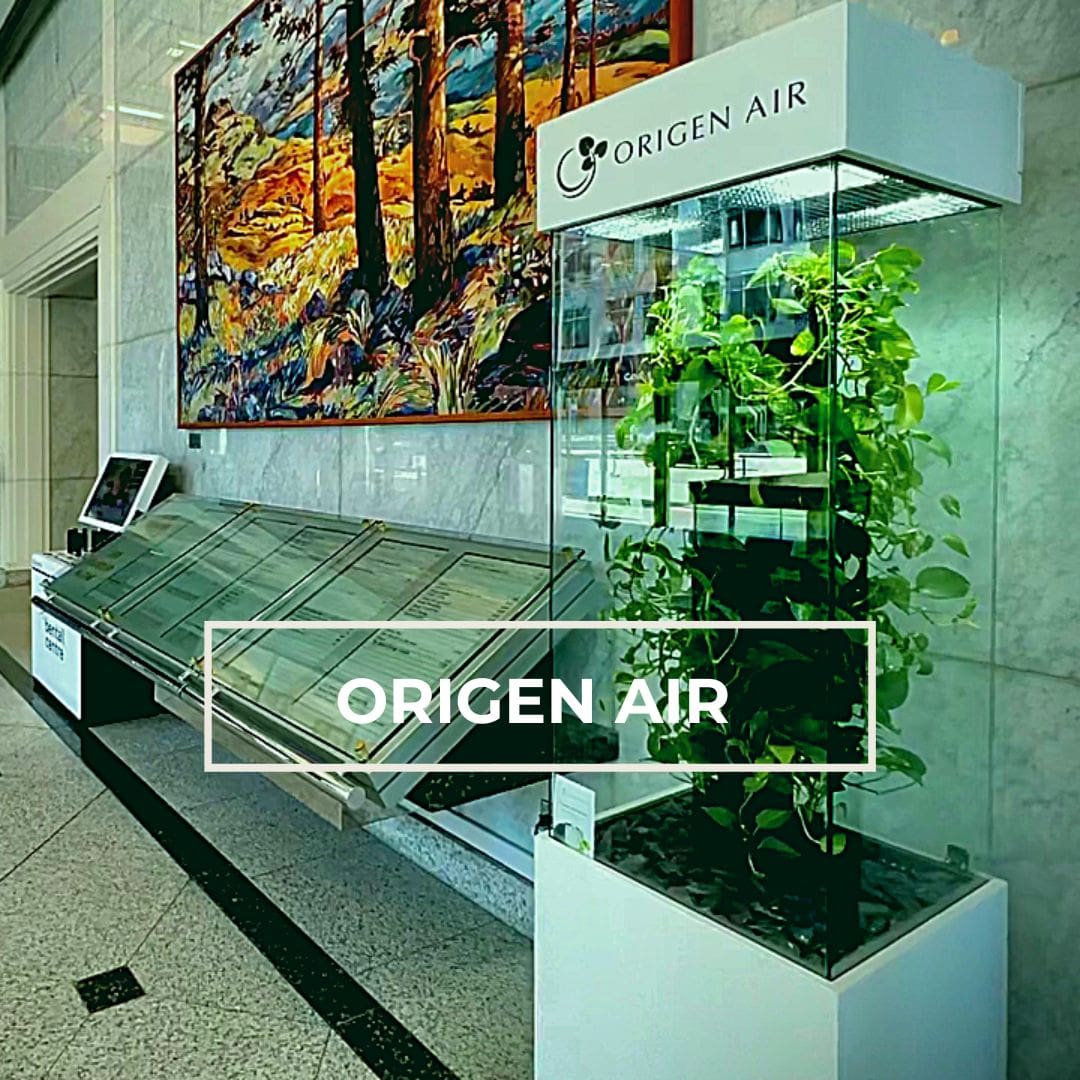 The benefits of truly clean air quality in the workplace, in hotels, homes and virtually any building are being touted by Canadian innovator Origen Air, which has designed a plant-based, leading edge solution.
By using sustainably sourced, locally made air purifiers, Origen Air is revolutionizing methods to generate clean, healthy air. It does so with The Pinnacle, a transparent tower housing specific plants that purify and protect commercial indoor air quality,
The Pinnacle uses bioengineered plants that are proven to reduce VOCs (volatile organic compounds) better than other plant filters that remove fine particulate matter from the air. The active reduction of these elements improves human wellness and performance, says the company.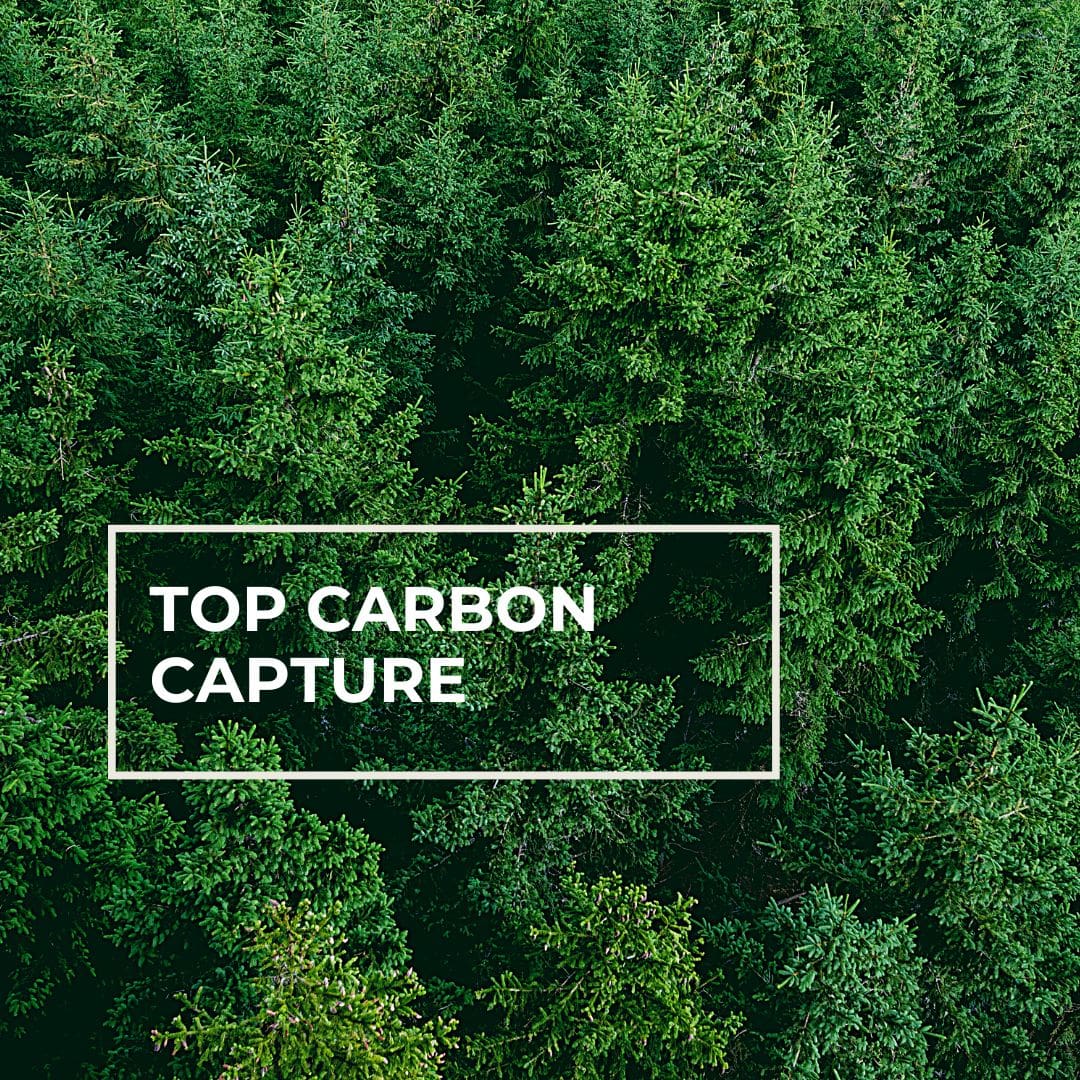 Building constructors, including hoteliers, may be keen to know that an alternative building material that is sustainable, affordable and usable across many applications is available for consideration.
Top Carbon Capture is a net zero building materials manufacturer that relies on hemp as its primary component. Its vision is to be a supplier of net zero circular housing solutions, using Hempcrete building materials and powered by hemp.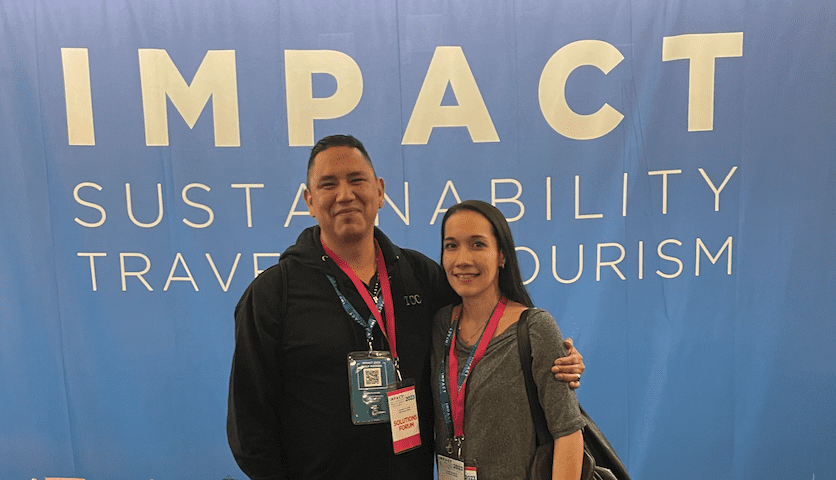 Joel Marriott, chair of the board at Top Carbon Capture, and Mary Mason, president of the company, attended the recent IMPACT conference.
Photo: IMPACT/Jessica Harcombe Fleming
"We have the only commercial level production facility, capable of scaling to meet the demands of net-zero building materials in North America," says Joel Marriott, chair of the company. "Over the next two years we will be producing building materials out of our plant in Arizona to fulfill orders in the United States." 
With this technology, the company is offering to start conversations on how to help companies join the goals of a carbon negative Canada by 2030.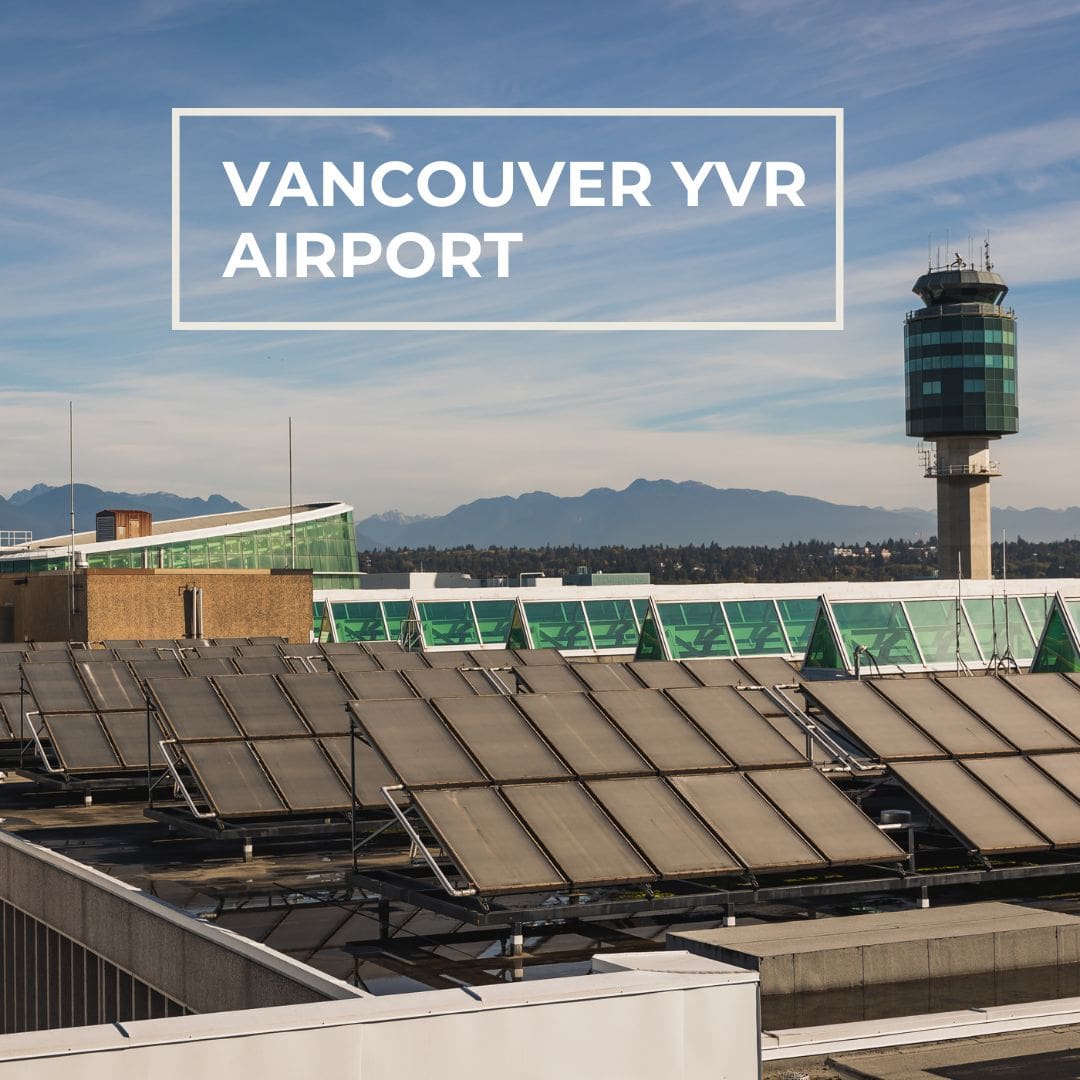 A working operational showcase of sustainable technologies and systems, combining forces to achieve a net-zero energy goal, can be found at Vancouver YVR Airport.
YVR's Environmental Management Plan and Roadmap to Net Zero is creating innovative approaches to deliver on environmental targets. It is a world leader in implementing environmental management systems that address energy generation/creation, waste and water management and climate change mitigation.
YVR had initially set a goal of having a net-zero energy consumption status by 2050. But a sense of climate change urgency during the pandemic years encouraged YVR to shorten the deadline for that goal by 20 years.
"We are committed to having our operations become net zero by 2030" said Wendy Avis, acting director of climate and environment at YVR. indicating the four decarbonization pathways that are required to achieve net zero emissions. These are:
Green fleets, with vehicles that match operational requirements with electrification and renewable fuels for mobile equipment.

Building conservation and electrification, meeting YVR's operational requirements with less energy for heating/cooling, cooking, lighting and other electrical loads.

Renewable fuels, with investments in green electricity and on-site solar, renewable natural gas and renewable diesel.

Closing the gap, by purchasing carbon offsets and assessing business travel.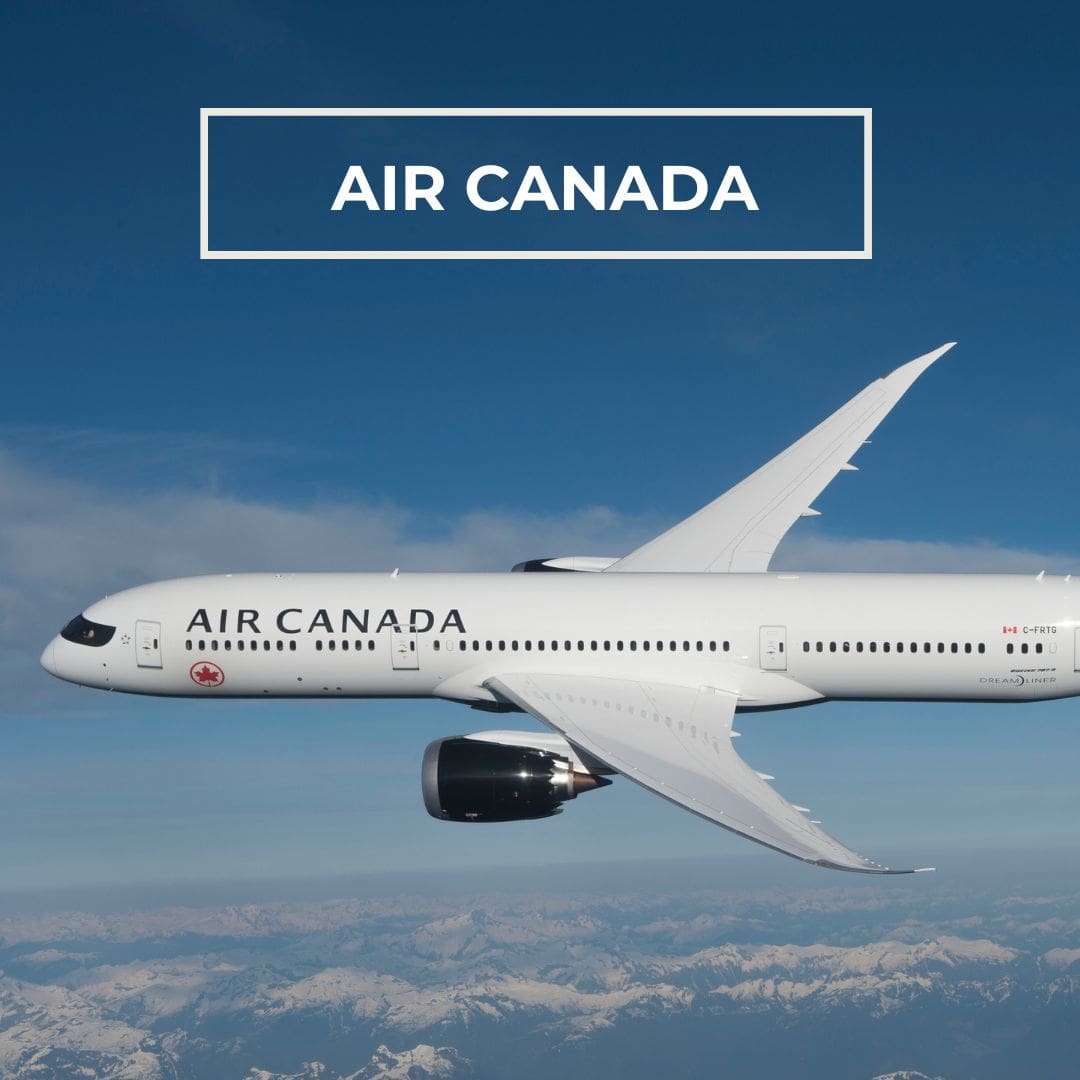 Commercial jet aircraft are usually demonized for being on the wrong side of the sustainability proposition, given their reliance on highly processed fossil fuels.
Amongst those airlines working to reverse that status is Air Canada, which has an environmental affairs team on the job. Shaving off crucial kilos of weight is a one key way to reduce fuel consumption, and to that end Air Canada has taken on the job of complete redesigns of its cabins.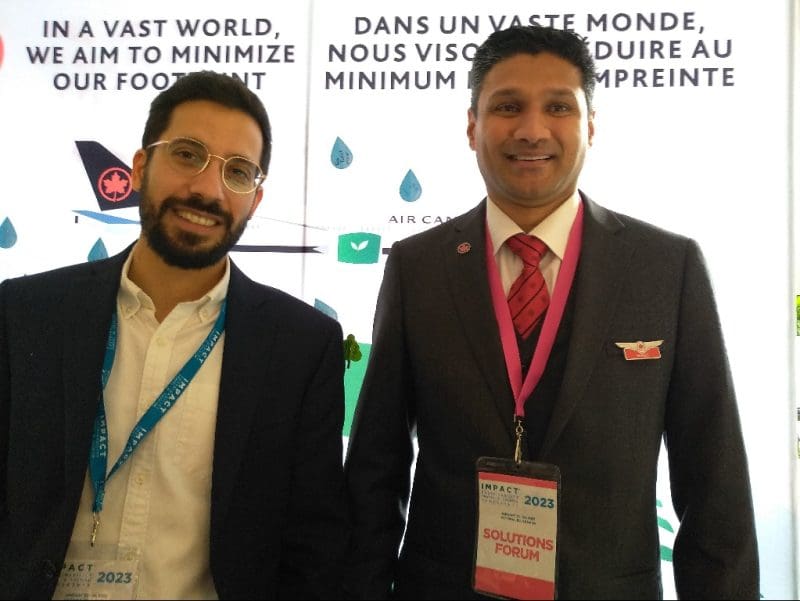 Air Canada's manager of environmental processes and programs Mohamed Haj Ali and Vancouver-based flight attendant Nafees Durrani met IMPACT attendees in Victoria.
A simpler, but more immediately relevant and effective effort was the Air Canada solution to a sudden shortage of uniforms, when the end of the pandemic signaled a rush of new employees to the airline. Air Canada found, cleaned and redistributed lightly used uniforms to its new staff, greatly reducing the number of uniforms that would have been recycled or ended up in landfills.
The weight of recycled/land-filled uniforms decreased from 1,700 kg. In 2021 to 1,000 kg. In 2022, there was an 85% redistribution rate of the uniforms. "We design out waste as much as possible," said Mohamed Haj Ali, the manager of environmental processes and programs at Air Canada.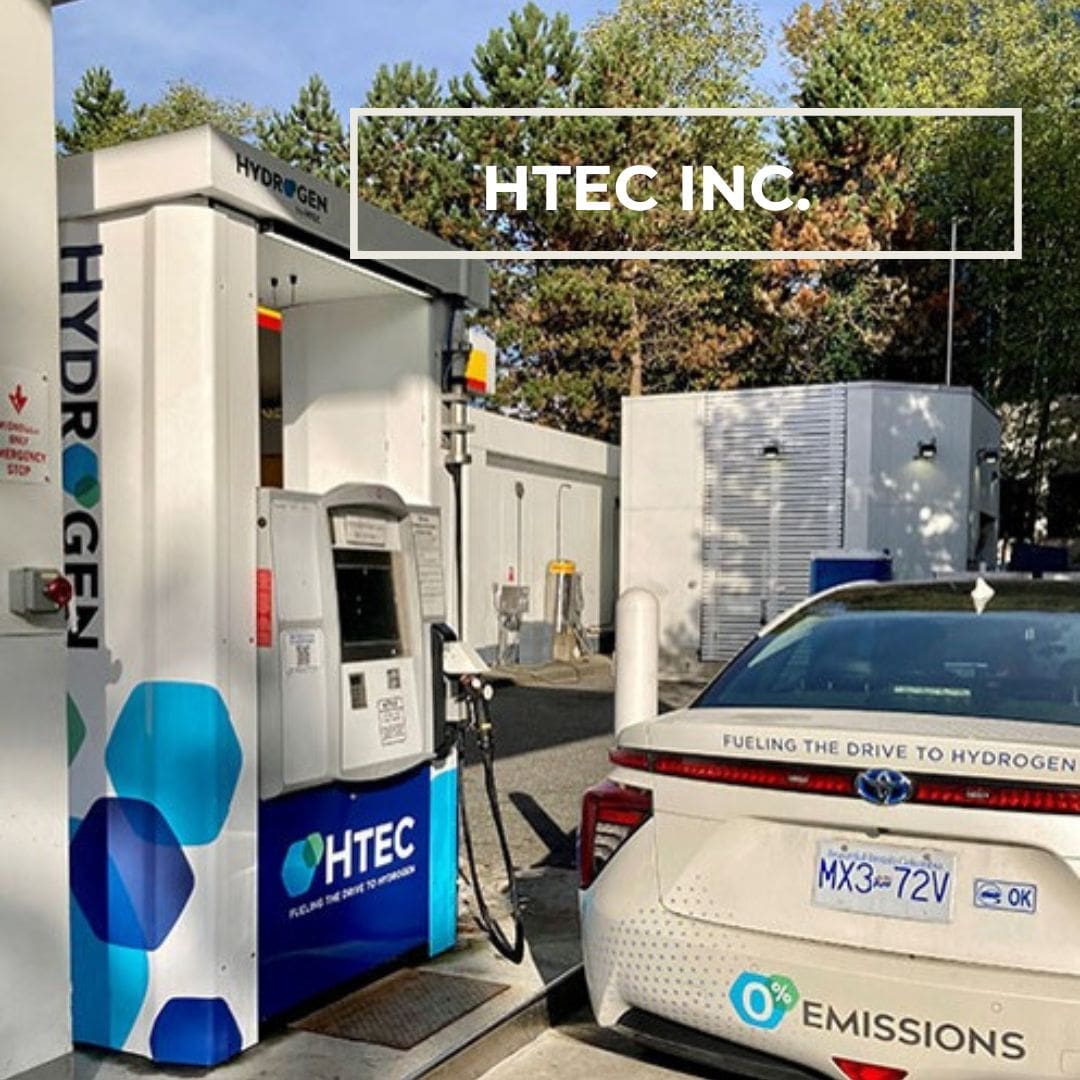 A leading supplier of technology and system solutions in the sustainable energy sector can be found on Vancouver Island, at HTEC Inc. It is the first company to establish and operate a hydrogen refueling station network in Canada.
Guiding strategies at HTEC is Jeff Grant, VP of transportation solutions. He oversees fleet transition planning, transportation project development and execution, and vehicle leasing for heavy-duty fleet partners. In doing so, it supports the operation of 190 hydrogen vehicles across British Columbia.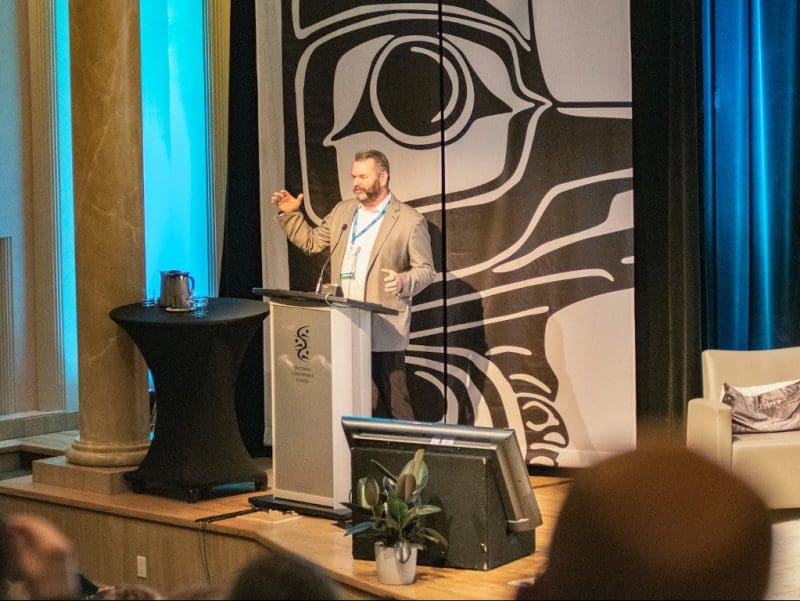 Jeff Grant, VP of transportation solutions at HTEC, describes the work by HTEC to the delegates at the IMPACT conference.
Photo: IMPACT/Jessica Harcombe Fleming 
HTEC is also planning three more hydrogen refueling stations in the province. There are currently five in BC. And it is planning the construction of the first hydrogen fuel production facility in the province.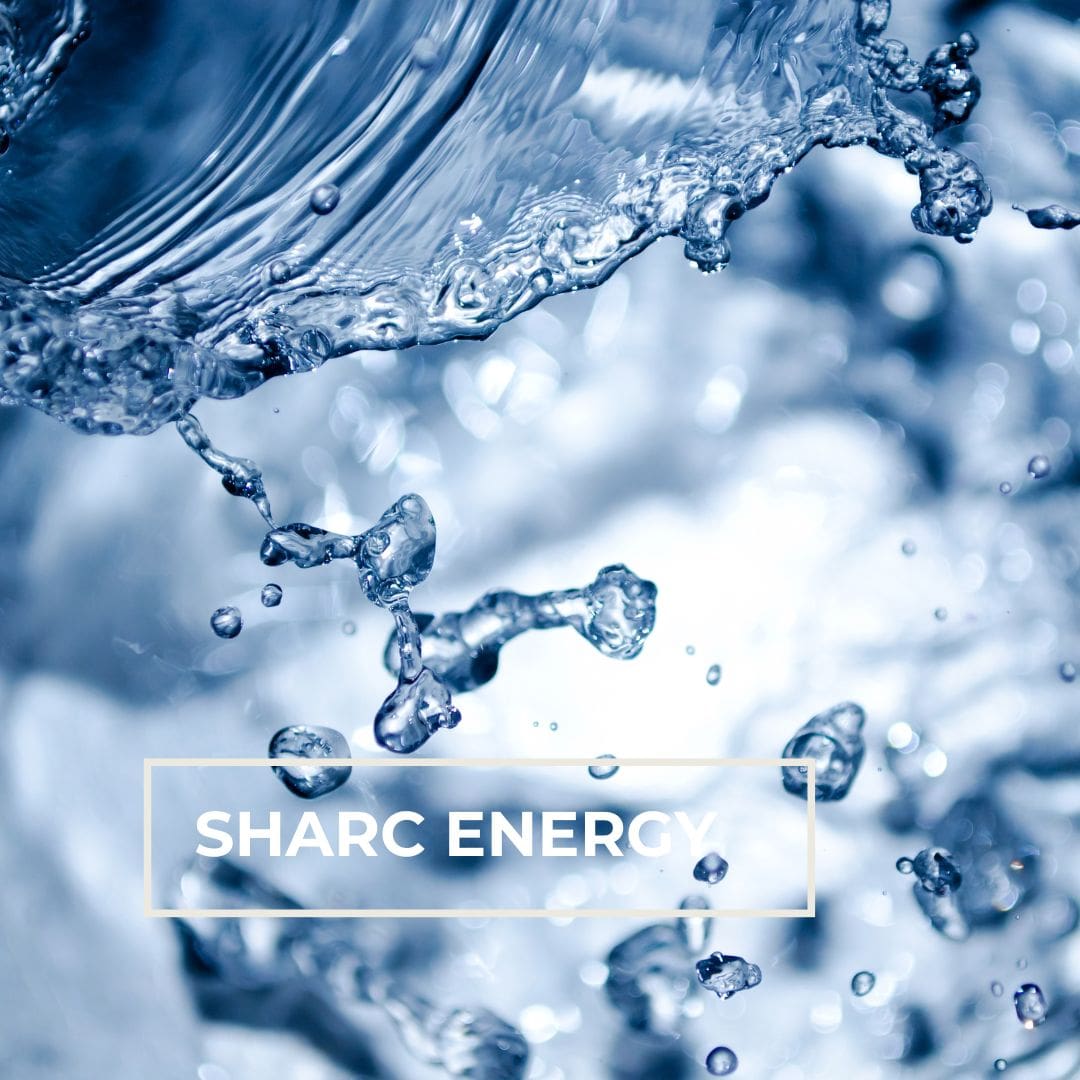 It's not the most savoury subject, but the fact is that sewage has consistently warm temperature characteristics, making it an ideal resource to achieve sustainability in HVAC climate control in buildings. Hoteliers take note.
SHARC Energy says sewage is a more reliable source of energy than, for example, solar power or wind power. All cities have sewers and the source material stays at a consistent 20C year-round, says the company. The company has designed and built systems that extract this heat and use it for HVAC applications. The hospitality market is recognized as one of the key areas of focus for 2023 as brands look for high impact clean energy solutions, says SHARC Energy.