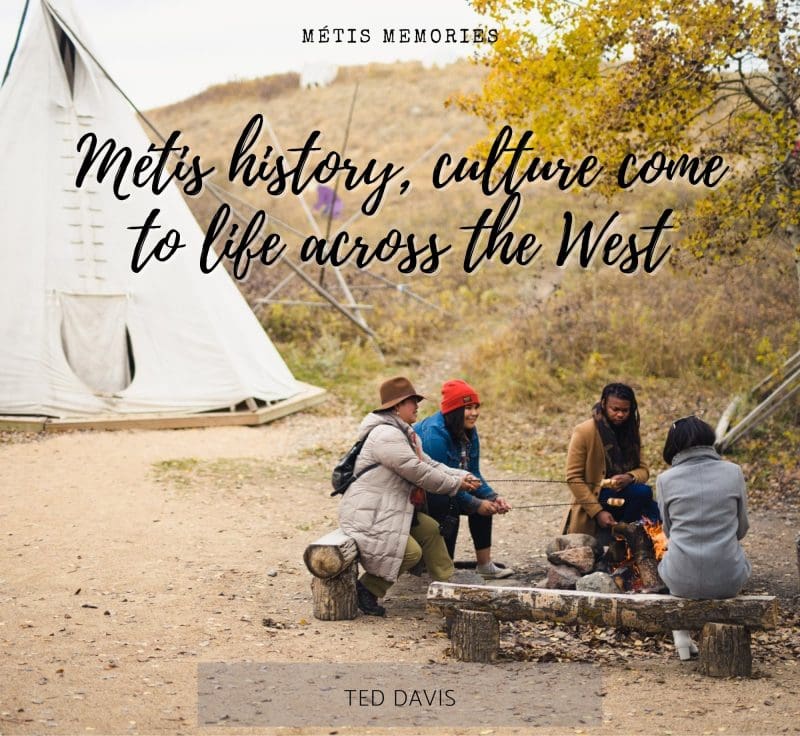 Photos courtesy of Wanuskewin Heritage Park
Sometimes lost in the history of Canadian Indigenous and Inuit nations are the stories of the Métis, whose presence was established only after the French and Scottish colonizers had come to these shores.
That was in the 1700s, after the European pioneers had established business relationships — and more personal connections — with Indigenous and Inuit populations across Canada. While Indigenous and Inuit peoples had roamed the Canadian wilderness for over 6,000 years, the Métis were comparatively recent arrivals.
In a commonly shared theme, the Métis have sometimes found their narrative to be marginalized in Canadian lore. But some Métis tourism stakeholders are now making moves to ensure that the stories of the Métis are front and centre in the tourist products and programs that they offer.
A case in point is Métis Crossing in Alberta. It re-inhabits a stretch of the North Saskatchewan River that was once occupied by Métis settlers in the late 1800s, near the town of Smoky Lake about 115 km. northeast from Edmonton.
Built on the original Métis river lots, Métis Crossing is home to Alberta's first Métis cultural interpretive centre. Visitors can drop in for a cultural tour or even camp in a replica fur trapper tent.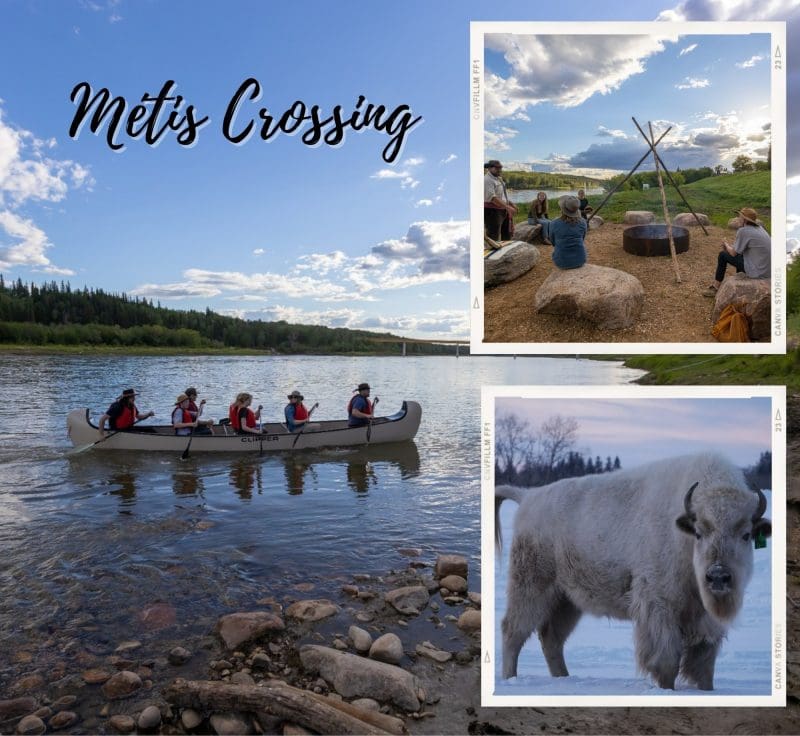 Photos courtesy of Metis Crossing & Ted Davis
Or they can book a stay at the brand new Lodge at Métis Crossing that opened this spring. The rooms in the two-storey, 40-room hotel are modern and comfortable, and offer scenic views of the North Saskatchewan River. There is a main floor Bistro with coffee and express breakfast to start the day, and a second floor lounge offering great nightscapes through floor to ceiling windows.
During their stay, guests can book the Victoria Trail Voyageur Experience, an interactive tour that includes learning how to set a beaver trap, sampling dried bison, dancing a Red River jig, weaving a Métis sash on a loom and paddling in a voyageur canoe on the river. Winter season programs include guided snowshoeing tours, but those are transitioning to traditional spring workshops, while summer programming will start after the May long weekend. 
One of the most popular activities is to visit the Visions, Hopes and Dreams at Métis Crossing Wildlife Park. That's where heritage creatures like wood bison, plains bison, white bison, elk and white elk have taken up residence, thereby recreating a natural habitat that hasn't hosted bison since about 1865. Visitors to Métis Crossing now have the opportunity to experience these animals through interpretive tours.
Métis Crossing is working with a growing number of tour operators such as Jonview, said Juanita Marois, CEO of the company. A set of wholesale rates for the travel trade and travel agents is available, she said.
"Métis Crossing has so much potential, and we believe it will become known as an Indigenous destination," said Marois, who characterized the cultural centre and lodge as unparalleled in Alberta and one of the best in Canada.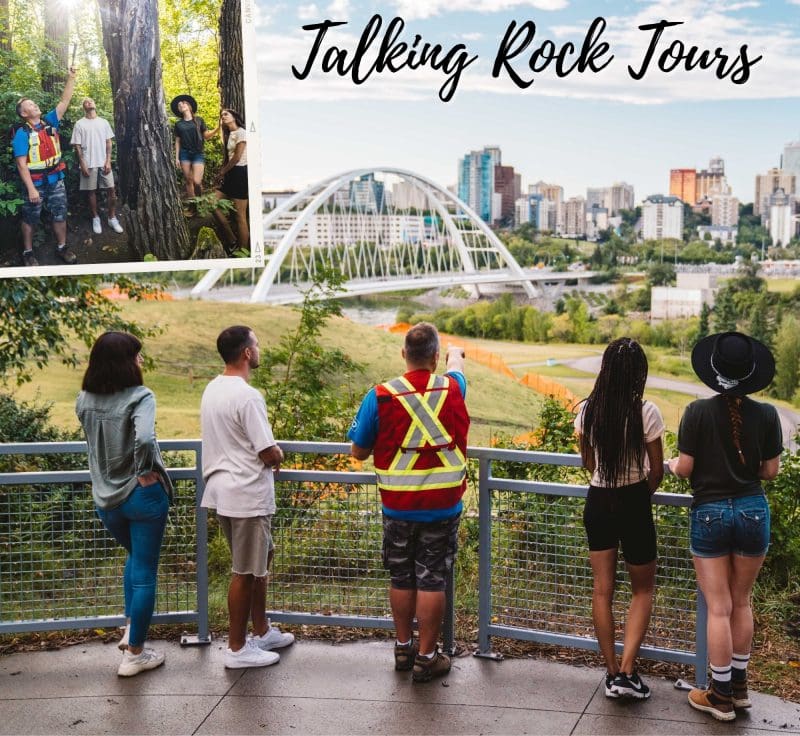 Photos courtesy of Talking Rock Tours
Bison are also a highlight sight at Elk Island National Park, located about 48 km. east from Edmonton. It is one of Canada's smallest national parks, with an area of 194 sq. km. that is completely fenced, and has both forest and grazing land. Elk Island was created as a reservation for elk, then bison, starting in 1906 in response to the alarming decline in wildlife. 
Intensive resource management techniques have been used to maintain a mosaic of aspen and mixed-wood forests, meadows and wetlands, providing habitat for moose, elk, mule deer, over 600 plains bison, 375 wood bison and many birds, including re-introduced trumpeter swans.
This environment is the setting for snowshoe hikes and explorations by Talking Rock Tours, a geo-educational hiking and sightseeing adventure company for small group experiences. Founder Keith Diakiw is of Métis descent, and he relates natural and cultural histories through an Indigenous lens.
In the case of Elk Island, that means learning that Indigenous populations once inhabited the area, some of whom sustained themselves through the trade of beaver pelts. The prosperous fur trade was primarily driven by beavers and, in the view of Diakiw, the humble beaver deserves national symbol status and more representation on Canadian currency.
Spring/summer programming runs from the May long weekend to the last weekend in October, and that's when Talking Rock also starts operating walking tours in the Edmonton River Valley, as well as hikes in Elk Island park. The Edmonton tour brings to life the history of Indigenous populations that inhabited this sacred area over thousands of years, including Blackfoot, Cree, Dene, Nakota Sioux, Iroquois, Ojibwe, Inuit and others.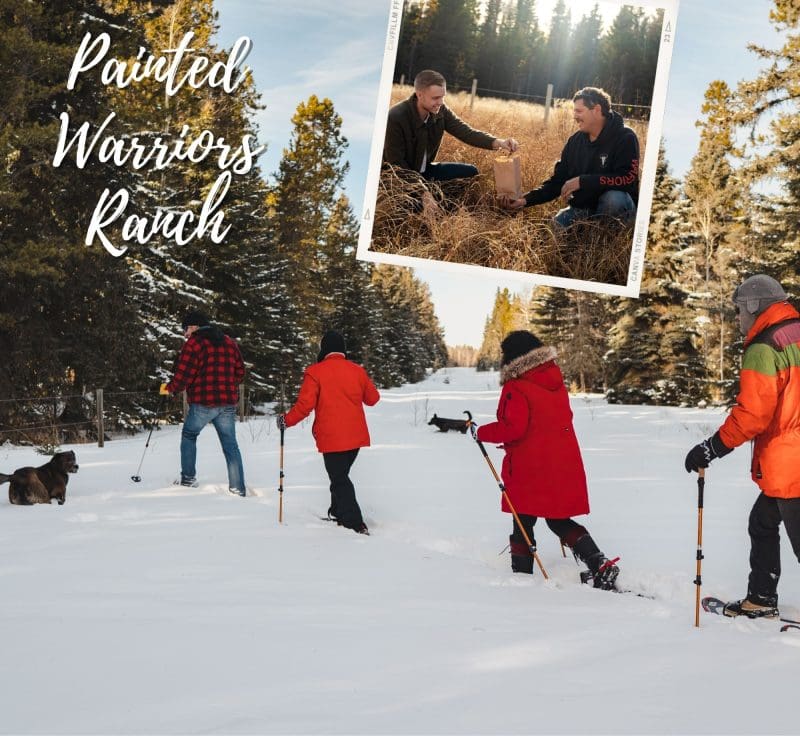 Photos courtesy of Painted Warriors Ranch
Painted Warriors Ranch, about 100 km. north of Calgary, adds more variety to the Indigenous experience with the option of activities like archery and horseback riding.
Riding horses with the guides from Painted Warriors opens up scenic vistas of the wilderness in the foothills of the Rocky Mountains. "No matter what season, there's stunning natural beauty to explore on horseback," says Tracey Klettl, co-owner of the ranch, and a registered member of the Alberta Métis Nation.
Their herd has horses for every kind of visitor, from casual to expert riders. Skills taught include natural navigation, geology, animal tracking and medicinal plant identification and backcountry basics – all woven together with unique Indigenous stories and perspective.
The same approach applies to the archery experience at Painted Warrior, where bow and arrow traditions are shared. Visitors progress through a series of lessons on how to hold and use a bow, learn proper form and progress to target shooting.
Overnight stays are possible in well-appointed tents, and this "glamping" option is available for individuals, families or larger groups during all four seasons. In colder weather, the tents are outfitted with wood-burning stoves to ensure warm overnight stays. Winter programs run from mid November until mid March, while spring/summer/fall programs start in April through to mid October.
Tour operators, travel agents and group customers who want to sample Painted Warriors' programming can book 90-minute experiences specifically for groups. These are available as stand-alone offers for a short visit to the ranch, or can be combined for a longer stay, including an Indigenous-inspired meal.
"Indigneous tourism instills a sense of pride and reconnection to Indigneous operators and staff, and provides a very connected experience for tourists," said Klettl. "In terms of reconciliation, Indigenous tourism provide a view of the world through an Indigneous lens. This is truly the way forward for all cultures."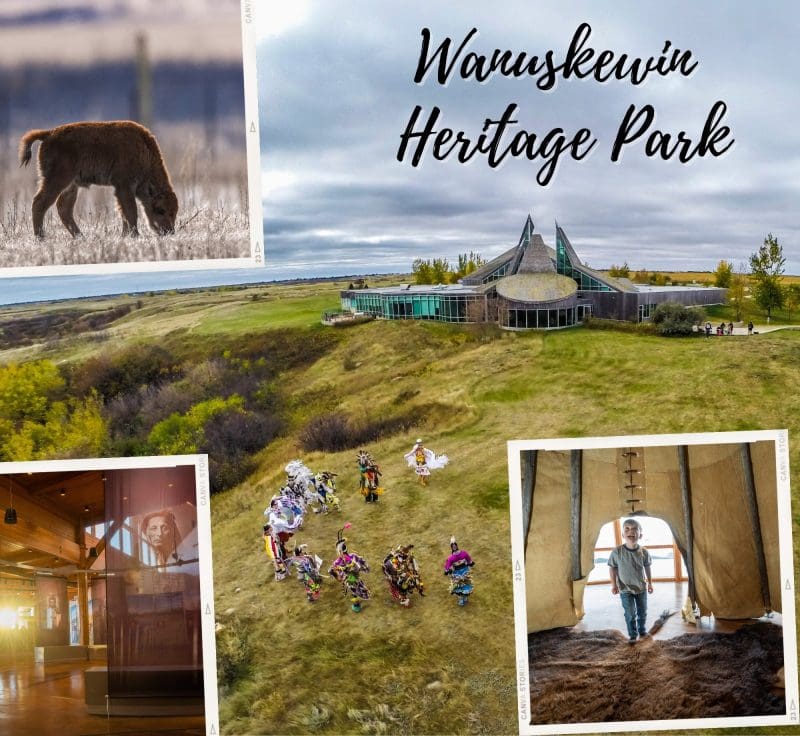 Photos courtesy of Wanuskewin Heritage Park
Often the most dominant stories about the Métis in Canada is one of rebellion and the battle for survival on the great plains of Saskatchewan. That is the location of Batoche, where a community of Métis settlers, led by Louis Riel, faced off against a well-armed force of Mounties in 1885. The Battle of Batoche is probably the most well known Métis reference point for many Canadians.
But recent archeological finds on the Indigenous and Métis lands of Saskatchewan may change all that. At Wanuskewin Heritage Park, archaeologists have found 1,000-year-old petroglyphs and the tool that was used to carve them.
These were made by Northern Plains Indigenous peoples who gathered there for over 6,400 years. And the bison that had been recently reintroduced to this area had a role in finding the petroglyphs.
That is, bison activity like wallowing in the grass and dust pits had uncovered a submerged boulder, on which were inscribed the petroglyphs. Had the bison not been reintroduced to their traditional lands in 2019, the ancient rock art would not have been found, experts say. The carved images are estimated to be about 1,000 years old, and the first stone discovered is now on display. 
Wanuskewin is a National Historic Site, and is situated on Treaty Six Territory and homelands of the Métis Nation. Other archaeological finds in recent decades include bison jumps, ancient campsites, tipi rings and the northernmost medicine wheel in the world.
In spring this year, visitors will be able to see the first born baby bison of a new herd of direct descendants from the original herds that once roamed here, which have not been in the area for over 150 years.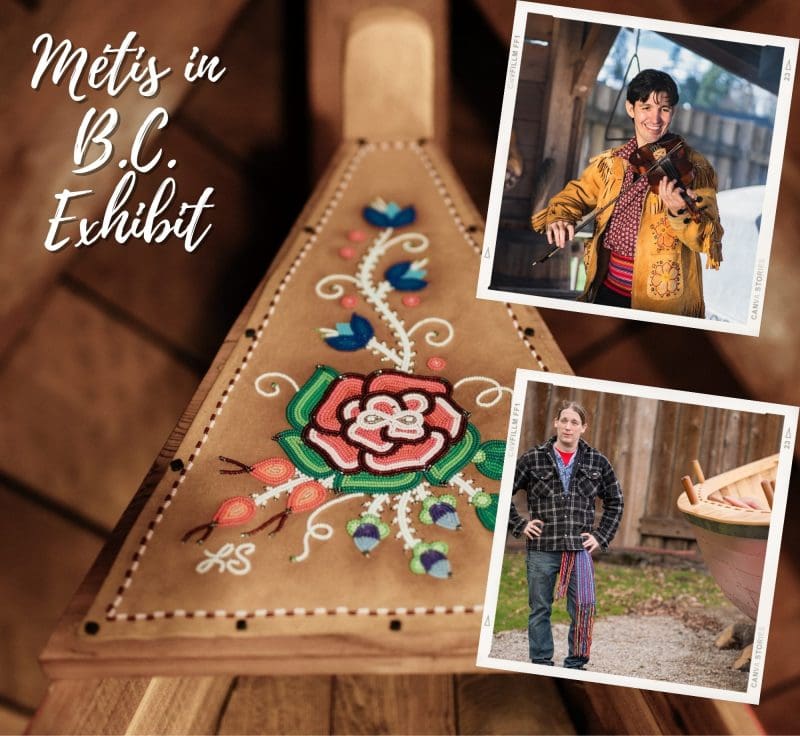 Photos courtesy of Métis in BC exhibit
The Métis populations of Canada had their roots in Manitoba, but their numbers have stretched west across four provinces, to the west coast of B.C. This summer, those far-west Métis are being recognized and celebrated at a new exhibit near the town of Langley, at the Fort Langley National Historic Site.
The "Métis in BC" exhibit and video series is being presented by Métis Nation British Columbia (MNBC) at the preserved and restored fort, which sits on the traditional unceded territories of the Katzie, Kwantlen, Matsqui and Semiahmoo First Nations, about 50 km. east of Vancouver. MNBC partnered with Parks Canada to produce the exhibit.
While the physical exhibit will open this summer, a video series is now available for watching online. It includes an introduction to Métis history and segments on Métis music and dance, traditional craftsmanship, beadwork, connections to the land and knowledge carriers and keepers. The videos feature Métis artists, craftsmen, historians and elders who each share their knowledge and experiences of being Métis in BC.
"Every person in the province and Canada should be aware of who the Métis are, but there is a severe gap for educational resources," says Debra Fisher, BC minister of education. "This project aims to be a place where anyone can find art, music and cultural programming, diversifying the educational material that is currently available and offered."