Sheila Gallant-Halloran describes her job as a travel advisor as being "at least three times more complicated than it was before COVID."
Why? The owner Lush Life Travel, an affiliate of Vision Travel, explains that among other things she now has to guide clients through constantly shifting requirements before proceeding with a single booking.
"It's wild, but as a travel advisor, I have to check not only my clients' passports, but also their vaccine records right now," Gallant-Halloran tells Travel Courier. "I have to check and recheck entry requirements for countries with tools like Sherpa and IATA Timatic, and cross reference and check against each country's specific rules. I also have to check not just that my clients are vaccinated, but also which vaccines they have. Many Canadians have AstraZeneca or a mixed dose regimen of vaccines… and the rules of entry can differ for countries or cruise lines as to whether those with AstraZeneca or a mixed dose are considered fully vaccinated."
The Virtuoso travel advisor believes a universally accepted vaccine passport for travellers would go along way — but is realistic that it won't come soon enough — and fully supports the industry shift towards vaccination requirements for travel.
"I am fully supportive about requiring travellers to be fully vaccinated to travel, and my clients are too, whether it's a tour operator, an airline, a rail company, a river cruise company — everyone," she says. "I honestly don't think I'd recommend any unvaccinated passengers to travel internationally right now. Else, they'd run the risk of rules changing either before they go, or after they got to where they were and get stuck, or quarantined."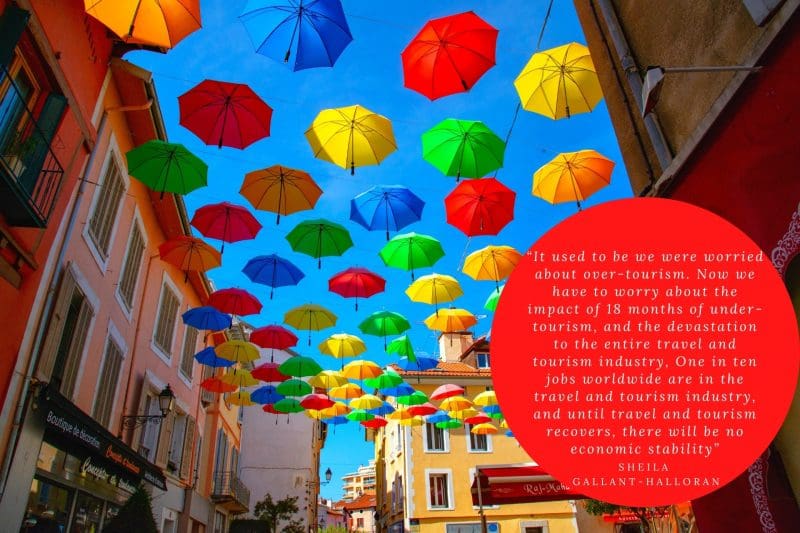 Although bookings started to increase back in March and April as Canada's vaccine rates started to climb, she says they've hit a plateau again since the news of the onset of the Delta variant and cases mounting in the US.
"I'm still cancelling and rebooking trips, which is exhausting. Sometimes, travel advisors, especially ITAs, can feel like we have a bit of PTSD. It was not fun to have some world cruises and polar trips cancel again recently," she says. "But, I am seeing more of my clients start to book, and hearing from some clients I hadn't booked in five plus years. Some are venturing to Europe now, either on river cruises, or I'm customizing FITs to visit one or two countries. Some are travelling across Canada with summer or fall bookings to Newfoundland, and the Rocky Mountaineer, as well as some Northern Lights trips in the spring."
However, Gallant-Halloran notes that 85% of her current client bookings are spread out over 2022 and 2023.
"It used to be we were worried about over-tourism," she says. "Now we have to worry about the impact of 18 months of under-tourism, and the devastation to the entire travel and tourism industry," she says. "One in ten jobs worldwide are in the travel and tourism industry, and until travel and tourism recovers, there will be no economic stability. Every piece of our travel and tourism industry has been severely impacted. We need more government protections and funding for the travel and tourism sector in Canada (and not just all inbound initiatives). And we all have to all work together to rebuild, and ensure we do it sustainably. Re-generative travel will be key for all of us. We have to build a new normal together."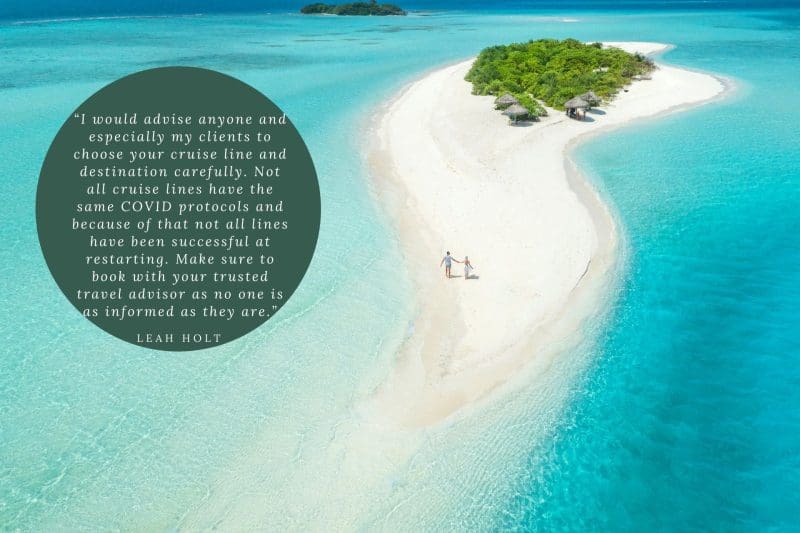 Travel advisor Leah Holt of Go Travel With Leah recently returned from sailing around Bermuda aboard the Viking Orion.
"This cruise also included a tour of the various cabin types and travel advisor training with Viking reps onboard," Holt tells Travel Courier. "It was so refreshing to be able to hop on a plane again with the anticipation of a vacation around the corner."
However, the trip entailed a lot more pre-planning with requirements for a PCR test within 72 hours of departure, the Bermuda Travel Authorization form approval, proof of vaccination and a PCR test upon arrival.
"Viking did an amazing job with their COVID protocols," she says. "Every day started with a COVID spit test, a quick health survey and then at your first visit to the restaurant each day you would have your temperature checked. We wore a contact tracer on a lanyard around our neck which we put on when we left our rooms and were diligent in washing our hands and wearing our masks when indoors. The best part was that Viking actually has their own lab onboard and even provides you with free COVID test results for your return flight home."