On his first post pandemic trip, Wolf Paunic discovered there's no place like home.
"I decided to go back to my roots, to revisit and emotionally re-live a selection of my most favourite places in the two very trendy and inspiring European countries: Croatia and Montenegro," the president of Trafalgar, Costsaver and Brendan Vacations Canada tells Travel Courier. "I realized how much the pandemic changed my own travel pattern; in the super hectic pre-pandemic world, I was looking to add new countries and places of renown, as if I was trying to complete a task. Post-pandemic, I realized I enjoyed soaking in every moment of my travel: enjoying a landscape, taking a leisurely walk, deepening my understanding of the local history and people. Really enjoying slow travel."
Although the coast of Croatia is increasingly popular for Canadians looking to soak up the vast diversity of landscapes from the North (Istria) to the South (Dalmatia), Paunic says there's lots to see and discover that's not as well known.
"The city of Opatija in Kvarner region was developed by Austro-Hungarian entrepreneurs who wanted to create their own Riviera, easily accessible by train from Vienna," he says. "And so, Opatija grew into a spellbinding, old-world European resort, inclusive of a 14km long Lungomare promenade along the sea named after the famous emperor Franz Josef. A walk not to be missed, especially at sunset."
Next to Opatija, there is the small historical fishing town of Volosko, which he describes as a precursor to its better-known neighbour.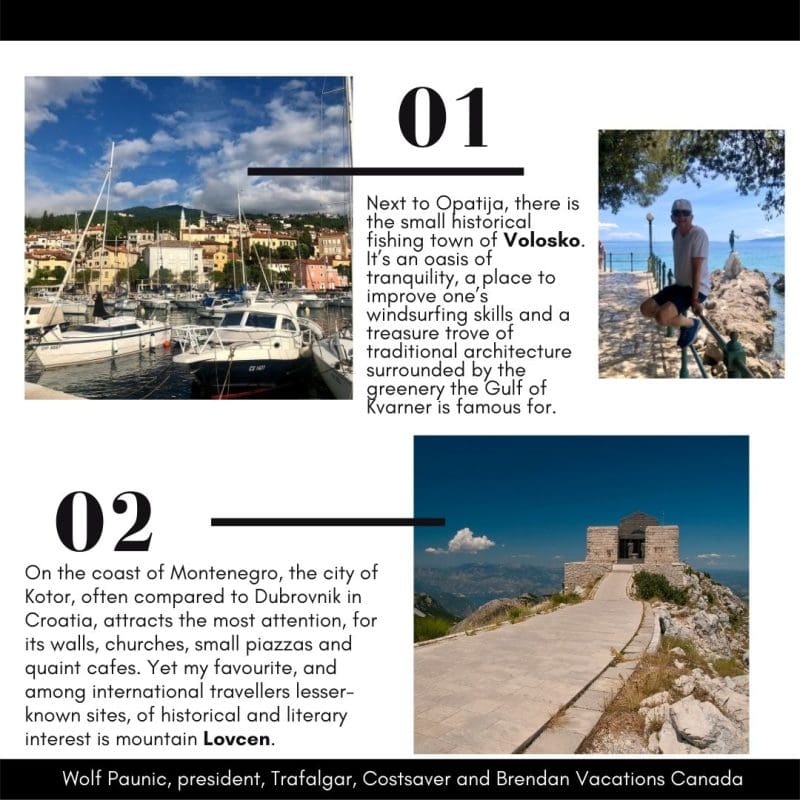 "Old stone houses hugging the bay, with a small port, cute cafes and several excellent seafood restaurants, one of which has achieved Michelin star fame," he says. "A total of three streets, two beaches and a starting point to the beautiful Lungomare promenade, Volosko is an oasis of tranquility, a place to improve one's windsurfing skills and a treasure trove of traditional architecture surrounded by the greenery the Gulf of Kvarner is famous for."
A Trafalgar itinerary to consider for clients looking to have these experiences is the 11 day Best of Croatia and Slovenia tour from Zagreb to Dubrovnik. 
Meanwhile, Paunic says Montenegro is known for having a dynamic combination of mountain chains with peaks close to 3,000 m., and "a beautiful coast dotted with historical fishing towns and modern resorts."
"On the coast, the city of Kotor, often compared to Dubrovnik in Croatia, attracts the most attention, for its walls, churches, small piazzas and quaint cafes. One needs at least a day of relaxed exploration to soak in the beaty of Kotor, which guests can discover with a Local Specialist on Trafalgar's Balkan Delight tour," he says. "Yet my favourite, and lesser-known sites among international travellers, of historical and literary interest is mountain Lovcen, with a mausoleum dedicated to the founder of the Montenegrin state independent of the Ottoman Empire, Petar II Petrovic – Njegos, Prince-Bishop, poet and philosopher. In order to visit my favourite poet and philosopher, I enjoyed driving a manual transmission Renault Megane along one of the most dangerous (and scenic) roads in the world: from Kotor to Cetinje, a narrow serpentine road with stunning views of the Bay of Kotor."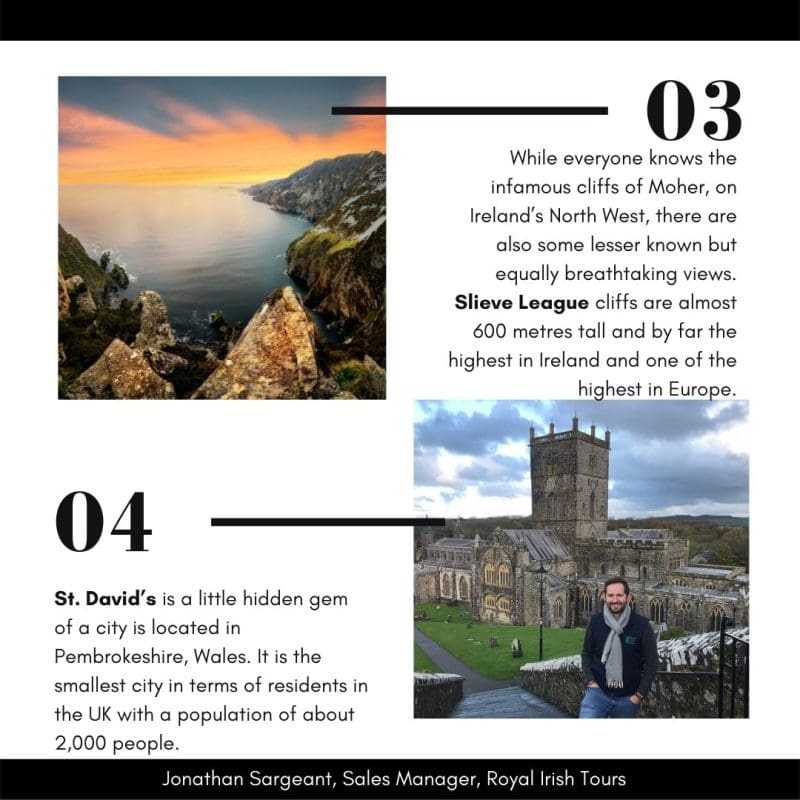 While Ireland is home to many world famous landmarks and attractions such as the picturesque Cliffs of Moher, Jonathan Sargeant says his homeland boasts some equally breathtaking views that aren't as renowned.
"Slieve League cliffs are almost 600 metres tall and are by far the highest in Ireland and one of the highest in Europe," says the sales manager for Royal Irish Tours. "They are located in Donegal in Ireland's Northwest. They are really off-the-beaten track and a wonderful place for hikers, bikers or those who want a more rural Irish experience."
To enjoy a night in St. David's, he suggests RIT's Elegant Wales eight-day driving holiday.
Another hidden gem travellers can discover is St. David's in Pembrokeshire, Wales.
"It is the smallest city in terms of residents in the UK with a population of about 2,000 people. To be considered a city in the UK, you must have a cathedral, and St. David's Cathedral is one of the finest in the UK, hidden in a valley on the river Alun. It is also the resting place of Wales Patron Saint," he says. "We stayed a night here on a fam in 2019 in the beautiful boutique hotel, Twr y Felin, and it was definitely a highlight of the trip. Despite having city status, it is really just a quaint little village with a couple of great local pubs and restaurants."
Clients can visit Slieve League cliffs on the Town & Country driving holiday.