After enduring numerous lockdowns and travel restrictions, Canadians are increasingly looking to hit the beach and soak up the sun.
"The desire to escape on a relaxing sun and beach vacation is set to rise," Gus Gardner, Associate Travel and Tourism Analyst at GlobalData, tells Travel Courier. "The attractiveness of sitting on a warm beach after so long, especially during the cooler winter months in Canada, will result in high demand for holidays to warm beach destinations."
Cuba, Mexico, and the Dominican Republic are among the top destinations set to "benefit from the increased desire by Canadian travellers to take a relaxing break in a warmer climate."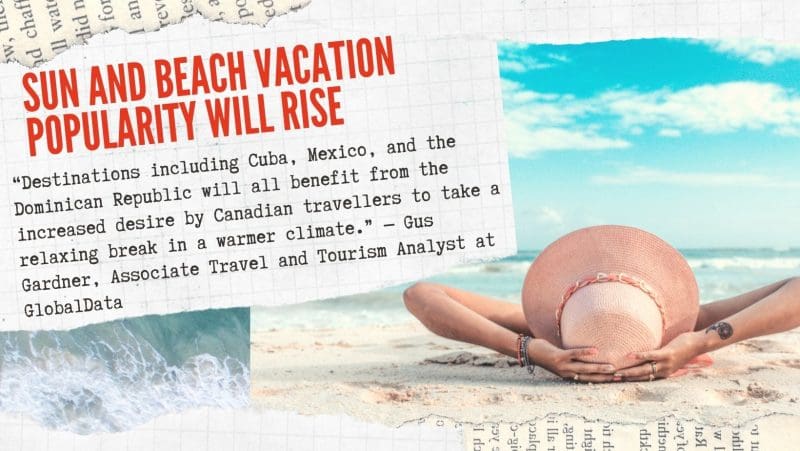 All three destinations ranked in the top 10 destinations for outbound Canadian trips in 2019, according to GlobalData, and this is on trend for 2021 and 2022 as well.
"The familiarity of these destinations could see them become hotspots for Canadians and once restrictions allow, pent-up demand is set to be high," Gardner says.
For more insights into what the future of travel holds, Travel Courier spoke with Paul Melhus, CEO and co-founder of ToursByLocals; Amir Eylon, President & CEO of Longwoods International; Julie Kyse, VP, Global Air Partnerships with Expedia Group and Gardner. Here's what's in store: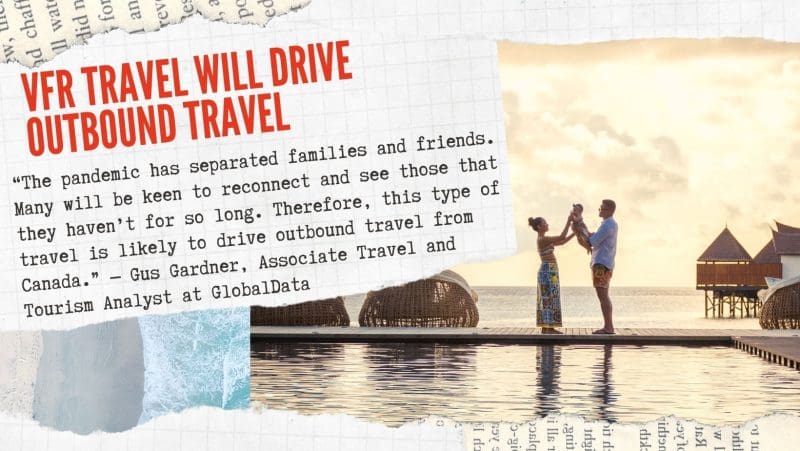 Since the pandemic separated friends and families, Gardner predicts many Canadians will be keen to reconnect and see those that they haven't been able to spend time with for so long.
"Travelling to visit friends and relatives is set to drive outbound travel from Canada during the initial COVID-19 recovery period," he says. "GlobalData's Q3 2021 consumer survey revealed that 47% of Canadian respondents typically take a vacation to visit friends and relatives, the top vacation type typically undertaken… this type of travel is likely to drive outbound travel from Canada."
According to Julie Kyse, VP, Global Air Partnerships with Expedia Group, there are several additional factors helping to fuel the recovery within the Canadian market.
"There has been a positive shift in travel sentiment across Canada as vaccination rates continue to climb, the U.S.-Canada land border officially reopens on November 8, and the Federal Government officially put an end to the non-essential travel ban," she says. "These steps in the right direction, paired with pent up demand, is ultimately paving the road to recovery for the industry."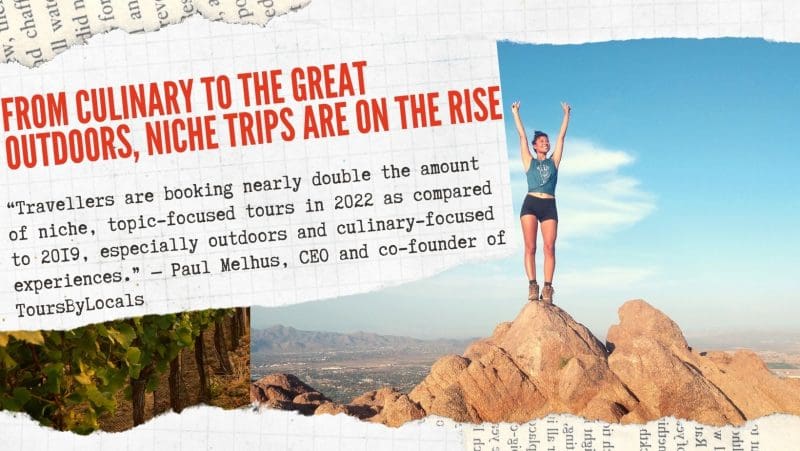 Meanwhile, Paul Melhus, CEO and co-founder of ToursByLocals, points out that travellers are booking nearly double the amount of niche, topic-focused tours in 2022 as compared to 2019. Among the top trips being booked are outdoor and culinary-focused experiences.
Their booking data shows that exploring the outdoors, including day trips away from city centres, accounts for nearly 15% of 2022 bookings; compared to 7% of 2019 bookings. Meanwhile culinary experiences make up nearly 8% of 2022 bookings, compared to 3.5% of 2019 bookings.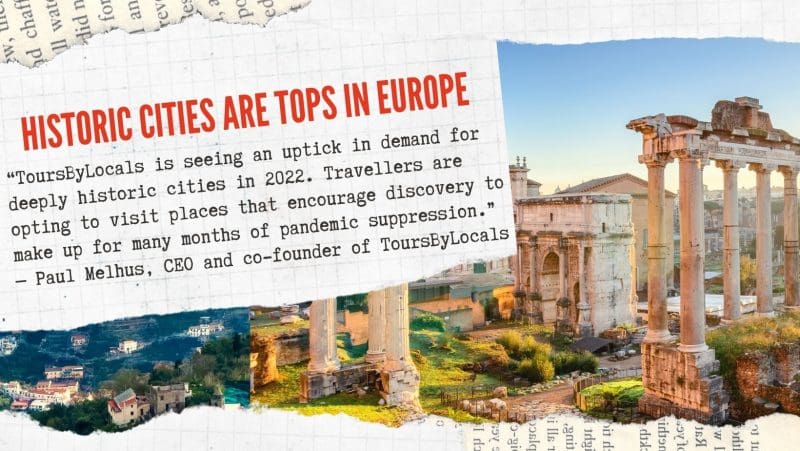 Across Europe, ToursByLocals is also seeing an uptick in demand for historic cities in 2022.
"Travellers are opting to visit places that encourage discovery to make up for many months of pandemic suppression," says Melhus.
The top 10 European destinations booked for 2022 overall are: Rome, Italy; Amsterdam, Netherlands; Athens, Greece; Paris, France; London, United Kingdom; Amalfi Coast, Italy; Lisbon, Portugal; Barcelona, Spain; Santorini, Greece and Venice, Italy.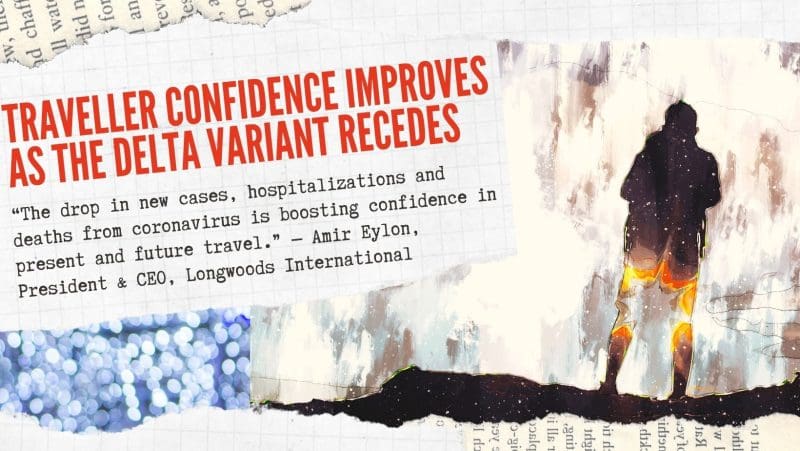 Citing the latest Longwoods International tracking study of American travellers, President & CEO Amir Eylon is optimistic about the future as the results show a sudden and strong improvement in overall travel sentiment as the delta variant subsides in the U.S. and vaccinations rates improve.
"Pent-up demand is still high, actual summer travel performance domestically was very strong in many traditional tourism destinations," he says. "Fewer people are changing travel plans at the moment, and we have seen a decline in just the past two months from 33% to just over 25% in those Americans who are shifting away from international travel plans to domestic ones instead. This is the first significant decline in this data point… it has held steady around 1/3 throughout the pandemic."
Notably, just over one in four (27%) of American travellers currently say that COVID-19 will greatly impact their decision to travel in the next six months, down from 36% in early September.
"Also, helpful to the Canadian market are Americans taking longer trips, still seeking many outdoor experiences, and still near record levels of pent up demand to travel."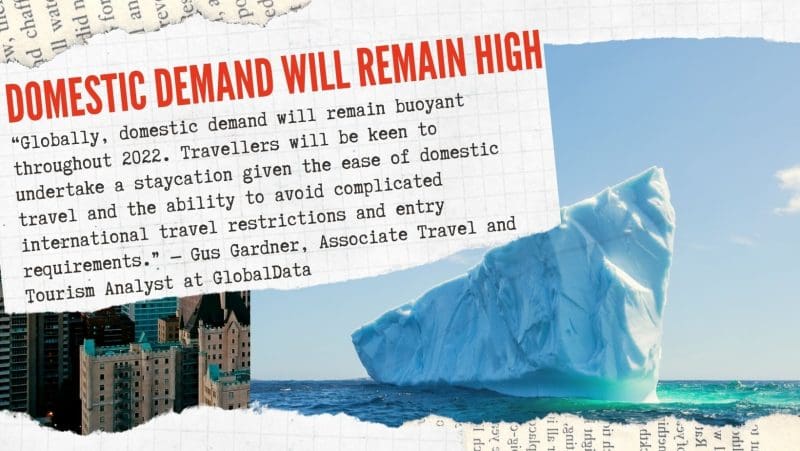 Gus Gardner, Associate Travel and Tourism Analyst at GlobalData, says that domestic demand will remain buoyant throughout 2022 on a global level.
"Travellers will be keen to undertake a staycation given the ease of domestic travel and the ability to avoid complicated international travel restrictions and entry requirements," he says. "Despite Canada's borders being closed for such a long period, travelling locally will be perceivably safer and easier to undertake."
In terms of the market in Canada, GlobalData forecasts Canadian domestic trips will exceed pre-COVID levels by the end of 2022 reaching 95.2 million trips, highlighting the pent-up demand for domestic vacations.
"Until international travel becomes simpler and testing requirements easy, travellers will prefer to vacation within Canada," he adds.
Although Canadians are booking international trips later in 2022, Paul Melhus, CEO and co-founder of ToursByLocals, says they're booking tours closer to home in the short term.
"The most popular Canadian destinations for Canadians this fall are: Montreal, Quebec City, St John's, Victoria and Halifax," he says. "Now that the borders have opened, Americans are also booking more fall tours in Canada, with the most popular destinations being Montreal and Quebec City – perfect places for leaf peeping."
Meanwhile, Julie Kyse, VP, Global Air Partnerships, notes that Expedia Group air search data on Expedia.ca between August and September 2021 "shows that there was a 210% growth in air searches year-on-year, fuelled largely by the interest in domestic travel."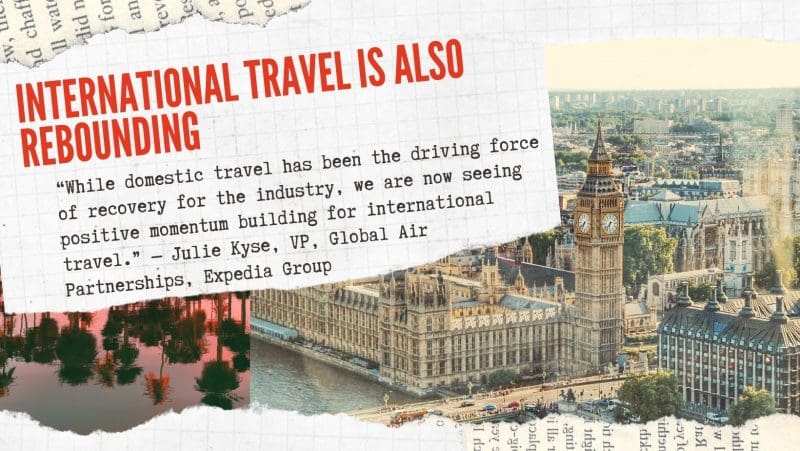 While domestic travel has been the driving force of recovery for the industry, Julie Kyse, VP, Global Air Partnerships with Expedia Group, says they are now seeing positive momentum building for international travel as well.
"Compared to 2020, for example, ARC's global airline sales data and Expedia Group Canadian search data for 2021 has already shown a steady rise in interest in international destinations, like London, Delhi, and Las Vegas, with August 2021 showing a 66% increase in the percentage of international short haul flights since February 2021," she says.
ToursByLocals is also seeing notable trends in 2022 bookings that diverge from 2021 patterns, "showcasing that travellers are getting out of their comfort zones and exploring the world again," says Melhus.
For example, bookings are up significantly for bookings across South America.
"Trending destinations include Quito, Ecuador; Santiago, Chile; Buenos Aires, Argentina; Cartagena, Colombia," he says. "In Asia, bookings are quickly returning too. ToursByLocals sees small but significant numbers of tours booked for 2022 in Japan, Singapore and Bali."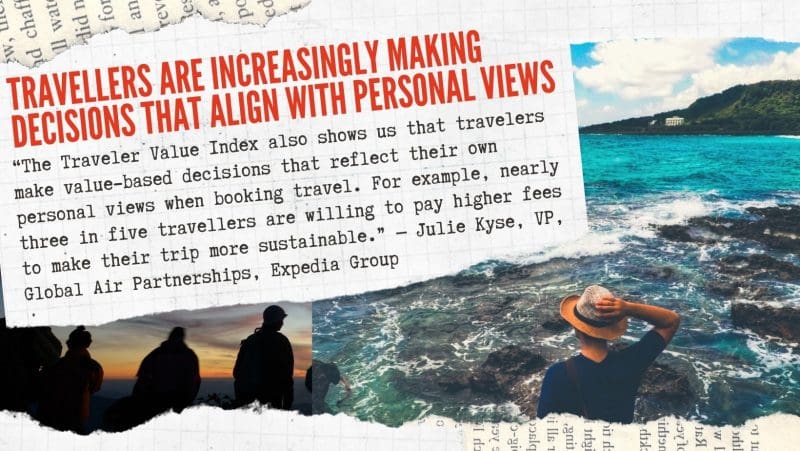 Interestingly, Kyse says travellers are increasingly looking to align their bookings with their personal views, which was evident in their recently launched Traveller Value Index report.
"Travellers make value-based decisions that reflect their own personal views when booking travel," says the VP, Global Air Partnerships with Expedia Group. "For example, nearly three in five travellers are willing to pay higher fees to make their trip more sustainable."
The report also found that three-quarters of the travellers surveyed are looking to visit a travel destination they have never been to before, and nearly one-quarter of the surveyed travellers are looking for a once-in-a-lifetime experience on their next trip.
"Additionally, we are seeing a majority of travellers are more likely to book with travel providers with inclusive policies, including properties that are owned by women and/or people of colour, that are welcoming to the LGBTQIA+ community, and those that are supportive of people with disabilities," she says.