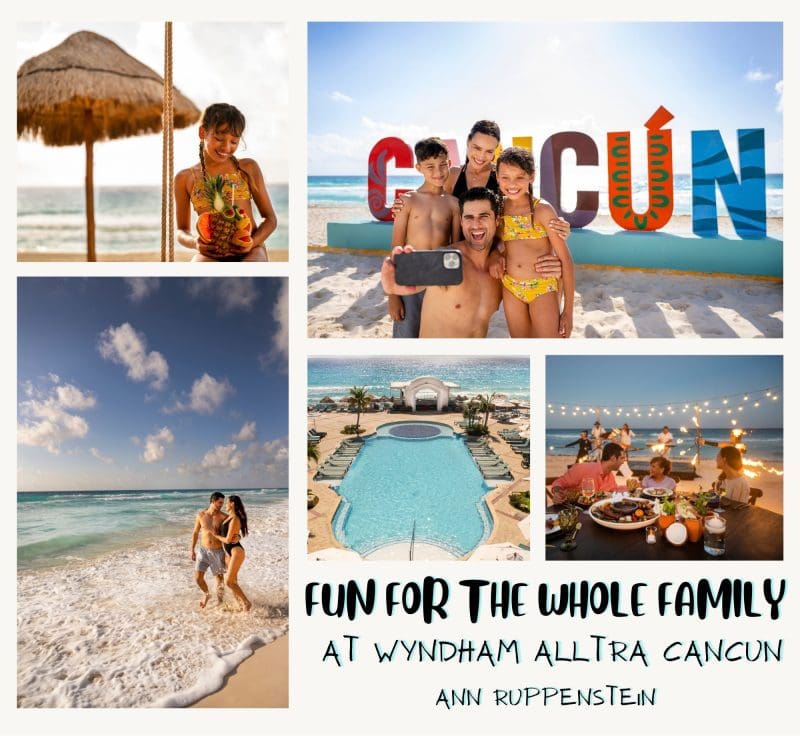 In the thick of the pandemic, Playa Hotels & Resorts was planning ahead for brighter days in the travel industry. Fresh off launching a new partnership with Wyndham Hotels & Resorts, Sr. VP of sales and marketing Dean Sullivan says those efforts are now paying off.
"At the height of COVID when pretty much everything was shut down, we're developing a brand because we knew this day would come," Sullivan told Travel Courier following the ribbon cutting ceremony for the newly-launched Wyndham Alltra Cancun. "We got through it and quite frankly we flourished."
The concept behind the new Wyndham Alltra brand is all about delivering "All-Inclusive Travel for All." Debuting with the 458-room family friendly Wyndham Alltra Cancun and the 287-room adults only Wyndham Alltra Playa del Carmen — previously Panama Jack properties — the goal is to expand to other destinations as well.
"These two properties are the launching pad for what will be an all-inclusive brand that caters to a completely different niche of consumers," he says. "Those that are loyal to the Wyndham brand, there's a tone that percentage-wise have never considered all inclusive but now that Wyndham is at play, they're here or will be. From a travel agent perspective, it's an incremental opportunity in terms of an all inclusive."
According to a recent survey commissioned by Wyndham and conducted by OnePoll, 75% of travellers believe the best way to travel is to book an all-inclusive trip and 77% believe that an all-inclusive vacation is the least stressful way to travel.
"If you look at Playa's not really secret sauce but formula for success if you will, it's been our relationship with global hospitality brands," he says. "It was really based on our looking into the future and looking where we thought the all inclusive was going to go or needed to go coming out of COVID."
Value of the trade
The main advantage for agents is to target consumers who are new to the all-inclusive segment.
"There is real opportunity from their perspective — a new client," he says. "It's a consumer that knows the Wyndham brand and I think travel agents as a whole have an opportunity now of not competing against the marketshare of a consumer that was already going to go on an all inclusive, it's now recognizing that they have opportunity for a consumer that's never experienced all inclusive."
Showcasing its commitment to the trade, several North American travel advisors were on location for the launch of the new brand in Cancun, which he described as "proof positive of the significance of travel advisors to our business."
Sullivan says a brand like Wyndham Alltra needs the expertise in distribution of travel advisors.
"As it relates to the Caribbean, Mexico, the role of the travel advisor is much more important… We haven't seen the percentages of travel advisor business decline," he says. "We've seen some shift of the travel agent direct. We're still dedicated to the tour operators and make sure they get what they need but our focus is the travel advisor and the closer we get to that relationship, the better."
What's new on location
More updates will be announced but some upgrades have already gone into the properties in the transformation from Panama Jack to Wyndham Alltra resorts. At Wyndham Alltra Cancun, the lobby bar was renovated as well as the lobby area with new furniture and more seating spaces. There were also landscaping improvements. A beachfront bar with Instagrammable swings — fun for adults and kids alike — were also added since it first launched as a Panama Jack.
Meanwhile, at Wyndham Alltra Playa del Carmen aside from the conversion from an all ages to an adults only property, updates include landscape improvements, a pool bar renovation, a new pizza bar station, lobby upgrades, an expansion by the pool are to include more loungers and more.
Notably, the privacy sign for guests reads "we're dreaming, not sleeping" — something that could also capture Playa's approach to coming out stronger on the other side of the pandemic.