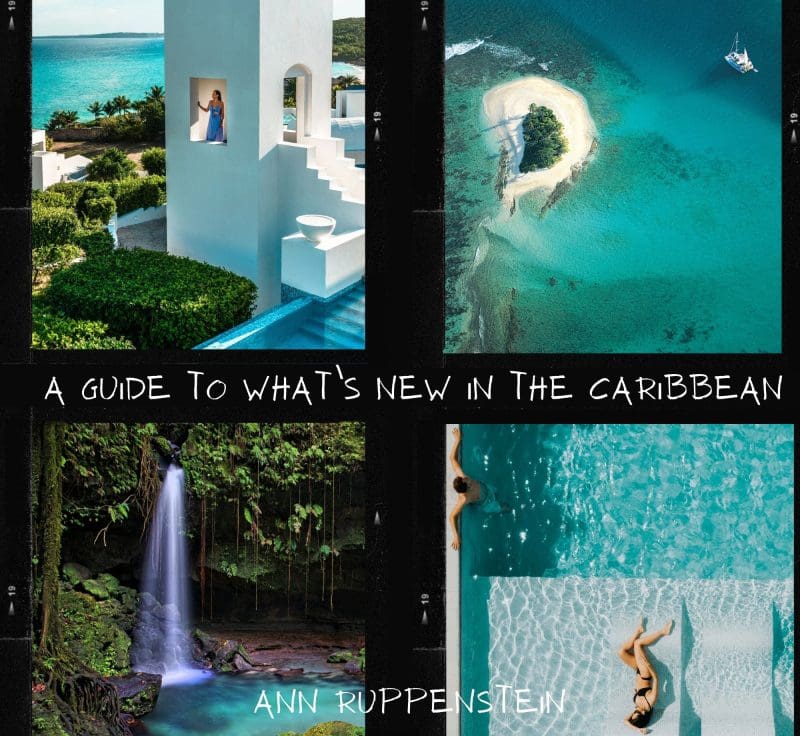 From hotel openings and fun ways to soak up the sun to the return of popular carnival festivals after a two-year hiatus, here's an overview of the latest travel news out of The Caribbean.
A new identity for Dominica
Taking colour inspiration from the island's Morne Trios Pitons; the Sisserou parrot and its Creole culture and Kalinago heritage, Dominica has launched a new brand identity complete with a new logo. The new brand is designed to better position Dominica as a competitive tourism destination.
"Dominica is frequently confused with the Dominican Republic so we needed to create a distinction in the mind of potential visitors," said the Hon. Denise Charles, Minister of Tourism, International Transport and Maritime Initiatives. 
Known for its natural, wellness, and adventure attributes, Dominica is showing signs of continued recovery in terms of visitor arrivals and cruise ship visits.
Colin Piper, CEO of Discover Dominica Authority, pointed out that the current cruise season has had 103 ports of call visits, a significant increase over 2019/20 with 85 calls.
Set among 200 acres, Coulibri Ridge is the newest property in the destination. The off-grid eco-resort features 14 units with large terraces with magnificent sea view of Martinique.
Also under construction are Anichi Resort and Spa, a 128 room property part of Marriott's exclusive Autograph Collection and Tranquility Beach Resort – Curio – A Collection by Hilton, a luxury contemporary 73 room villa and condo suites resort, with an anticipated opening in 2023.
Visitors to St. Martin and St. Maarten can now view the landing and takeoff at Princess Juliana International Airport from a new vantage point. Donuts Party Boat offers private boat rentals in the shape of a donut for up to 10 passengers to cruise along the lagoon complete with a BBQ grill. Another fun on-the- water attraction is Le Radeu Bleu (the blue raft), a floating raft on Ance Marcel Beach that can be booked for half days or full days with SUP, kayaks and other activities.
Back on land, Philipsburg, St. Maarten now boasts many colourful murals created by local artists. Escorted or self guided tours with an interactive QR code map are available online to view 12 creations by the likes of Loic Bryan and Fiel Efenio.
On the french side, a new 4-star hotel called The Beach Hotel is under construction with 156 rooms slated to debut in October 2023. On the dutch side, Divi Little Bay Beach Resorts will be welcoming guests on Feb. 19 to Oceans, a new upper tier brand.
Meanwhile, SXM entry protocols have been streamlined so passengers who are boosted are not required to have a COVID test (after 14 days.) Fully vaccinated travellers five and older (without booster) are required to present an RT-PCR test within 48 hours or antigen test taken within 24 hours of departure.
Looking ahead, 2022 projections are for 500,000 airline passengers across 3,400 flights at PJIA, and an estimated 1 million cruise passengers. Cruise arrivals are predicted to return to pre-COVID levels in 2023.
Following a focus on romance in 2021, St. Martin is emphasizing its culinary scene this year and will be hosting the second edition of its Food Festival in November. St. Maarten Carnival will be back from April 16-May 3. 
As for entry requirements, all travellers are required to take a PCR test within 72 hours of arrival into Dominica and take an antigen test on arrival.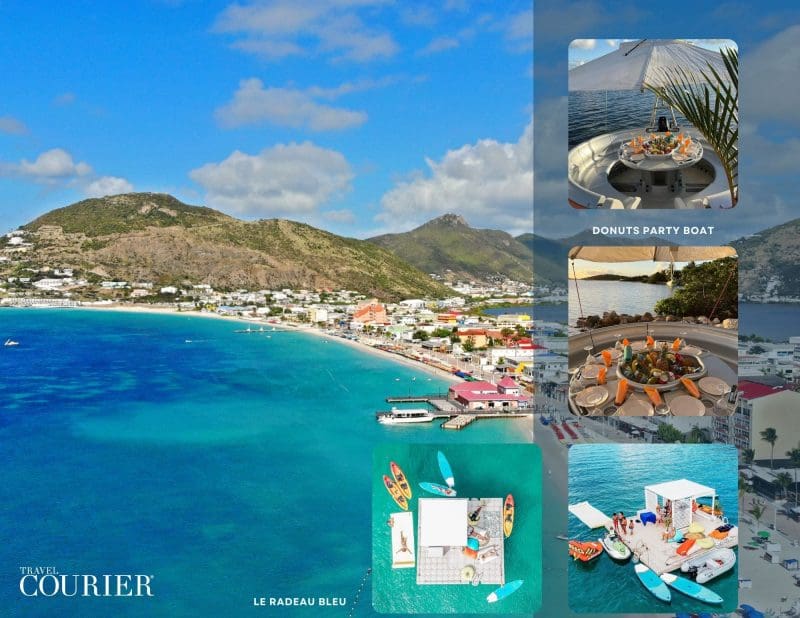 Tobago emerges with a renewed focus on tourism
Following a leadership change, Louis E. A. Lewis, CEO, Tobago Tourism Agency, says the destination has a renewed focus on the importance of tourism. At the forefront is a major expansion at ANR Robinson International Airport to boost the tourism industry in the country, whereas now it's easily accessible from Trinidad. A $50 million initiative to assist tourism related businesses severely affected by the pandemic was recently announced.
New developments are underway, including a $500 million 200-room Marriott branded hotel slated for Rocky Point with 200 rooms and 11 single family luxury villas. Construction is set to begin in 2023 with completion expected to be in 2025. Originally expected to open in 2020, Comfort Inn & Suites is planning to debut by the end of the year. The 74-room hotel will feature a spa, restaurant and more. 
As for entry requirements, travellers must apply for a TTravelPass prior to arrival and submit a negative RT-PCR test taken within 72 hours prior to arrival. Unvaccinated non-nationals are not permitted entry.
The destination is projecting to reach 75% of 2019 levels, which was a banner year, in 2022.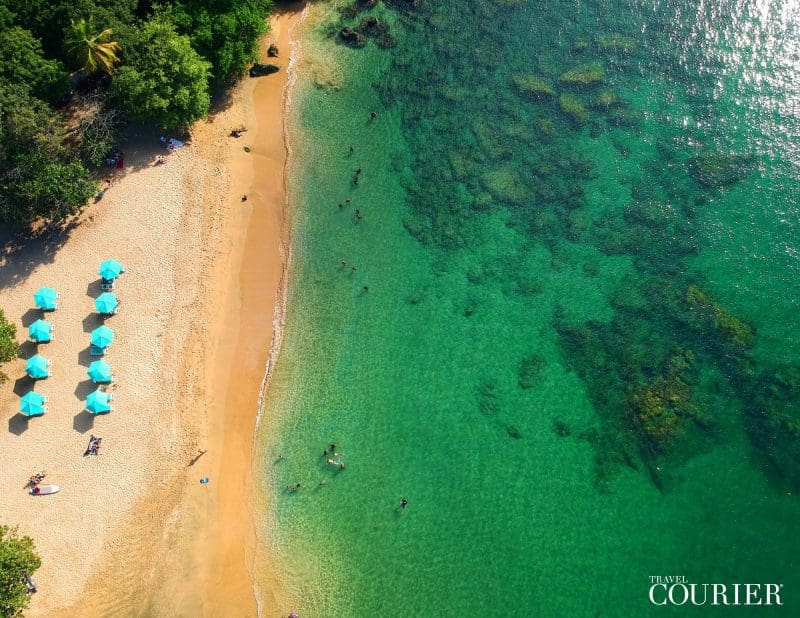 St. Kitts offering limited time incentive for agents
St. Kitts Tourism Authority's new CEO Ellison 'Tommy' Thompson is encouraging agents to register their bookings for cash bonuses. Travel advisors have until April 15 to log bookings on non-stop flights to earn a limited time offer of US$200 per booking.
With "Air Canada probably looking at a November return," he notes Canadians can travel via US gateways like Miami, Charlotte or Atlanta.
Thompson expects to get back to 70,000 stop over visitors in 2022, and forecasts getting back to 2019 levels by 2024 or 2023.
In terms of developments, a lot of work is being done to transform old sugar railway lines into hiking trails.
As for entry protocols, currently only fully vaccinated travellers are accepted who present a negative RT-PCR test taken within three days of arrival. Children under the age of 18 are allowed to accompany adults but must get tested within 24 hours and vacation in place until they get the negative results.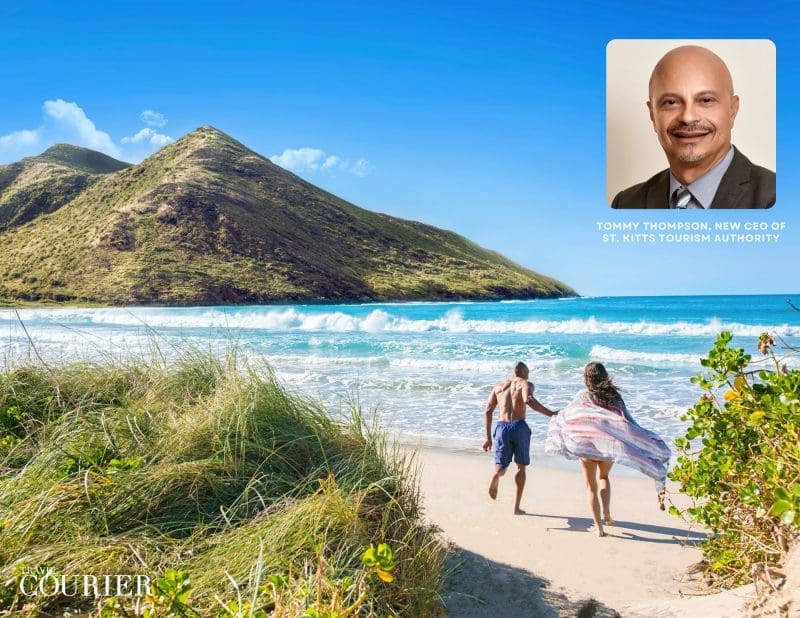 It's never been easier to get to Anguilla from US mainland
Haydn Hughes, Minister of Tourism for Anguilla, says the destination has already surpassed 2019 levels in terms of revenue with December being a historical month in terms of its surplus position. With lift access continuing to increase, the island is also on track to hit 2019 levels in terms of arrivals this year.
On Dec. 11 American Airlines launched its inaugural direct flight from Miami, which he describes as a "game changer" as the "first time in our history that we have mainland activity from the US."
The service launched with two weekly flights, quickly ramped up to three and will move to seven flights a week in April.
"There's huge demand, full flights in and out, so it makes sense to expand that," he says.
The daily public ferry service between Anguilla's Blowing Point Ferry Terminal and the Marigot Ferry Terminal on the french side of St. Martin has also resumed.
For foodies, Anguilla will present a new epicurean festival, Anguilla Culinary Experience (ACE), in May.
Hughes says the destination is hoping to finalize a proposal for a yacht marina and hotel development, as well as one for a Waldorf Astoria.
Jamaica gears up for growth
Donovan White, Director of Tourism for the Jamaica Tourist Board says the destination is projecting a return to 2019 levels by 2023. Projected arrivals for stop over visitors for 2022 are for 1.85 million plus 600,000-700,000 cruise visitors based on the current level of air seat capacity and anticipated cruises. Meanwhile early figures for 2021 reveal the island hit its projections for 1.5 million visitors.
Notably, 90% of Jamaica's pre pandemic development investments remain in place with 4,800 rooms to be added by the end of 2023, "which is a huge number."
New additions to the room inventory include the 444 room adults-only Ocean Eden Bay adjacent to the family-friendly Ocean Coral Spring. Meanwhile The Rok Hotel Kingston, part of the Tapestry Collection by Hilton, will open in May with 168 rooms on the Kingston Waterfront.
Although the Omicron variant impacted cruise visitors, White says the number of port visits are again building steadily.
Along with promoting its ties to James Bond, he says the tourist board is working to continue to increase filmmaking in the region.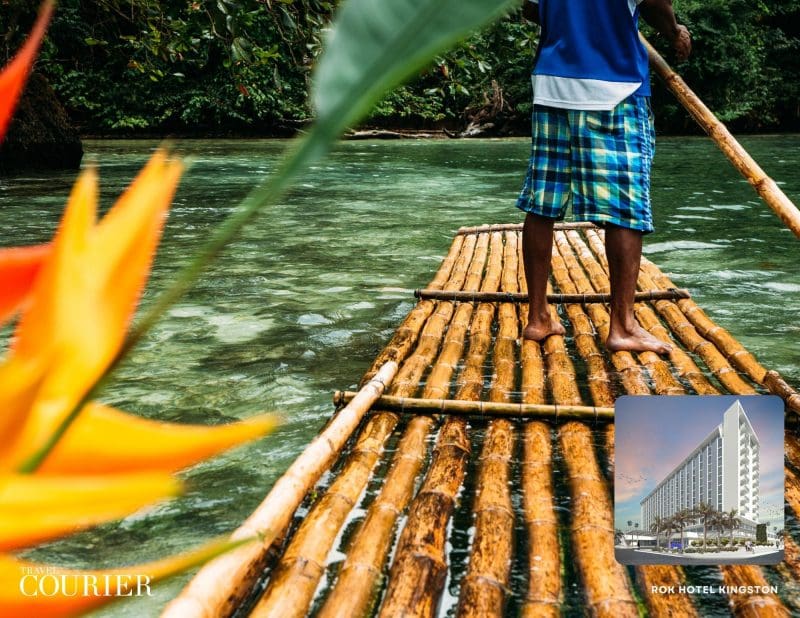 The recovery is well underway in Saint Lucia
Saint Lucia's Minister of Tourism Dr. Ernest Hilaire says the destination is continuing on a positive growth trajectory with a 52% increase in visitors recorded in 2021 compared to 2020.
"We are just about back at 2019 levels," he says. "Based on the trend that we have seen and the projections, we very well may be close to those levels, if not have surpassed them."
Although 76.4% of 2021 visitors were American and only 2.5% of visitor arrivals were from Canada, those figures are bound to increase now that service across Sunwing, Air Canada and WestJet resumed.
"All Canadian airlines servicing Saint Lucia have resumed service for this winter and spring and in some instances, through to the summer. Sunwing Airlines returned in January with new non-stop service from Toronto," he said, noting that the Sunwing flights operate on Saturdays.
In addition, Air Canada is operating three weekly flights from Toronto and WestJet service is on Sundays.
The cruise sector also strengthened tourism with 93,610 visitors across 134 port calls.
"We had 74 port calls in December alone," he said.
Saint Lucia is also poised for growth across its room inventory with significant investment in the pipeline from several international brands.
The Cabot Saint Lucia development is underway with a golf course, luxury condos and amenities, and later a 40-suite hotel to compliment.
A Courtyard Marriott Hotel is scheduled for completion in 2023 at Pointe Seraphine in Castries, adjacent to the Duty-Free shopping complex.
"Hyatt Corporation will build 345-room luxury Grand Hyatt, which is expected to open on the
southwestern corner of the island in Choiseul, with views of the Piton," he said.
Another development is Saint Lucia Canelles Resort, a luxury resort that will feature a Dreams and a Secrets in the AMR Collection. AMResorts is also in the process of rebranding Marigot Bay to a Zoetry resort with 124 rooms, 4 restaurants and 4 bars, set to launch later this year.
When asked by Travel Courier if there are plans to ease entry requirements calling for a PCR test, he responded that "it is a matter that we have reviewed. It has been placed on the table. We're still hoping that our numbers are lower… I cannot tell you when we will head into this direction but we're always looking for ways to make it easier for people to visit Saint Lucia."
In other news, after a hiatus due to the pandemic, Saint Lucia is bringing back carnival. The festival is slated for July 2022.
As of this month, the Saint Lucia Tourism Authority has a brand new CEO, Lorine Charles-St. Jules.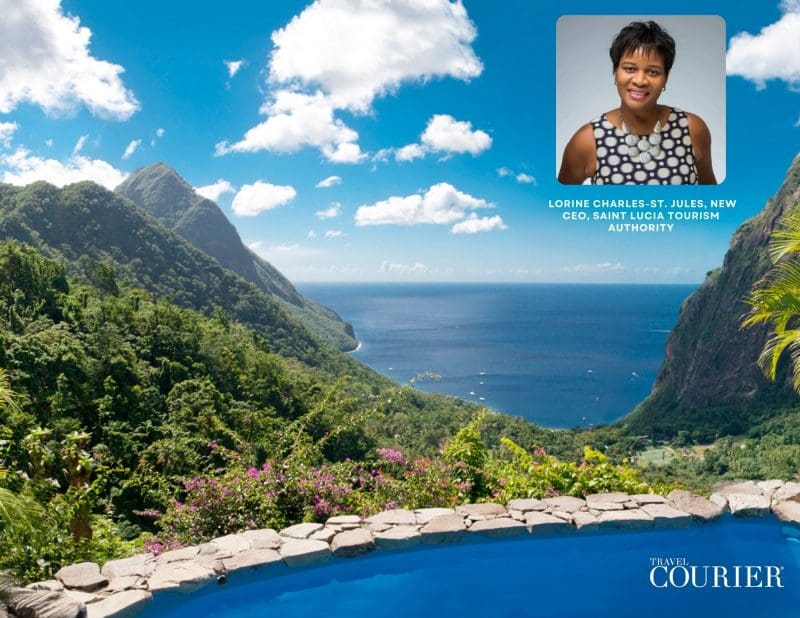 Stay tuned for more Caribbean travel updates in the next Travel Courier!