Memorable things to do in
St. Lucia
Curaçao
Jamaica
Grenada
Canadians have long been drawn to the Caribbean for its stunning beaches and turquoise waters. Today, the call to unwind is getting stronger as many travellers are eager to lock in their next vacations and winter escapes. For a little itinerary inspiration, Travel Courier got in touch with some local destination experts to share lesser known and personal favourite things to do in the places they call home.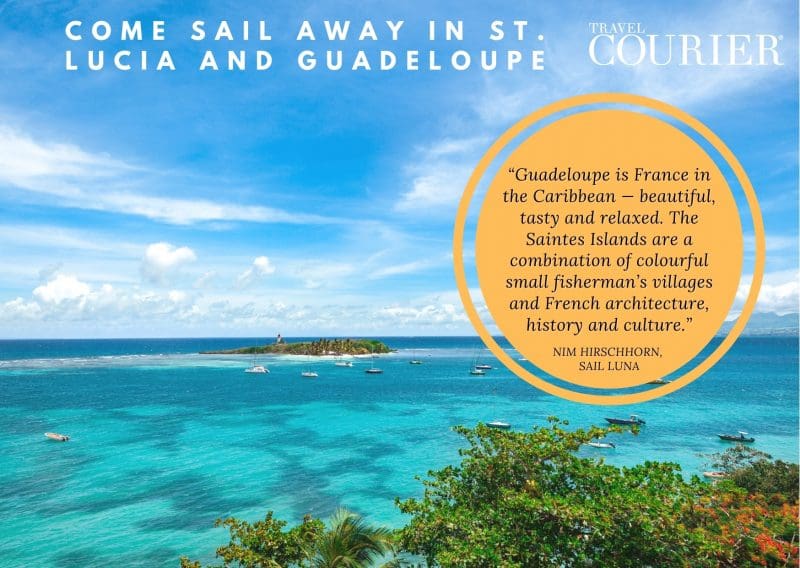 #1 Come sail away in St. Lucia and Guadeloupe
Having sailed extensively throughout the Caribbean, the captain of Sail LUNA Nim Hirschhorn​ has been captivated by multiple destinations — but his absolute favourites are St. Lucia and Guadeloupe. 
"St. Lucia has a special place in my heart and is one of my favourite Caribbean destinations. A few years ago I crossed the ocean and landed in St. Lucia for the first time," he says. "This island has a lot to offer from amazing views, mountains, green, old vs new, good restaurants and resorts, nice people, beautiful beaches and even an active volcano."
Now, he makes it a point to sail to St. Lucia every year. 
Another personal highlight is Guadeloupe, particularly its neighbouring small islands like The Saintes islands. 
"Guadeloupe is France in the Caribbean, beautiful, tasty and relaxed," he explains. "The Saintes Islands are a combination of colourful small fisherman's villages and French architecture, history and culture. We love to visit and stay there whenever we can and miss a good freshly baked baguette or croissant."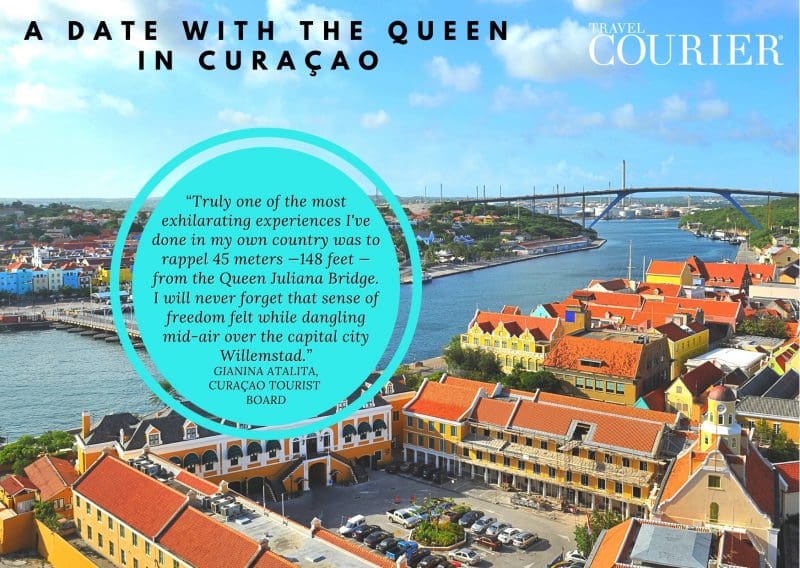 #2 A date with the queen Curaçao
Having dangled mid-air over the capital city Willemstad, Gianina Atalita can walk the talk so to speak when it comes to sharing insights into rappelling the Queen Julianna Bridge.
"If you're a thrill-seeker looking for adventure wherever you go, look no further than rappelling from the tallest bridge in the Caribbean, located in Curaçao," says Atalita, destination services manager at Curaçao Tourist Board. "Truly one of the most exhilarating experiences I've done in my own country was to rappel 45 meters —148 feet — from the Queen Juliana Bridge. I will never forget that sense of freedom felt while dangling mid-air over the capital city Willemstad."
The experience is offered by Vertical Fun Curaçao run by Albert Schoop, who is also a police officer. 
"Curaçao is also known for its beaches tucked into coves and its expansive coral reefs rich with marine life," she adds. "Another favourite activity is to explore different types of beaches. The island has over 35 registered beaches. While I grew up on the island, I have still not visited every one. The beauty of these beaches is that each has a characteristic of its own, there are sandy beaches, rocky beaches, black sand beaches and visiting them on weekdays gives you the sense of your own private beach, as it's much less busy compared to weekends."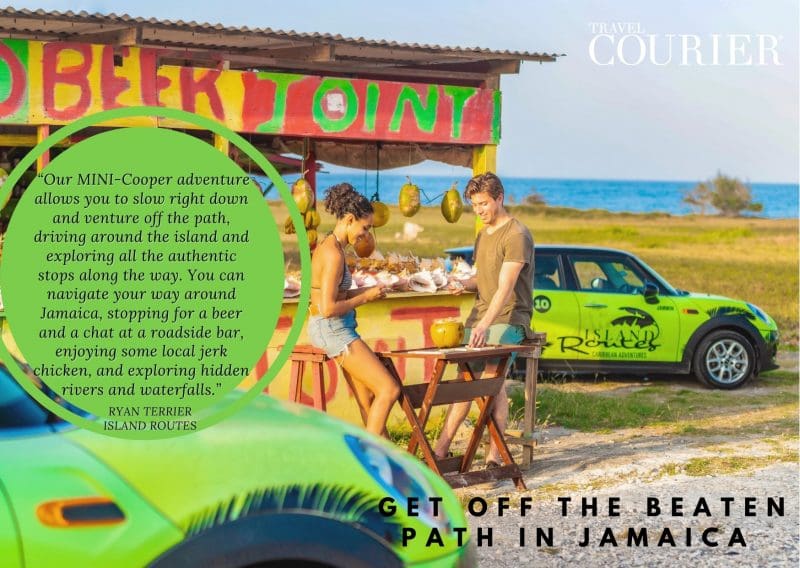 #3 Get off the beaten path in Jamaica
As a Jamaican, Ryan Terrier has discovered many awesome local adventures and off-the-beaten-path experiences. 
"Growing up, I was very active in sports, and I always needed to be on the go. Now that I'm older, I appreciate slowing down and enjoying the simpler things in life. Spending a day on the beach, playing dominoes, having a few beers under an almond tree… that's a perfect day right there. I could spend hours doing that," says the VP of Operations, Island Routes. "Our MINI-Cooper adventure allows you to slow right down and venture off the path, driving around the island and exploring all the authentic stops along the way. You can navigate your way around Jamaica — and that's an adventure just by itself — stopping for a beer and a chat at a roadside bar, enjoying some local jerk chicken, and exploring hidden rivers and waterfalls. That's a perfect way to unwind and relax to me!"
Of course, a trip to Jamaica wouldn't be complete without hitting the water, so that's in order too.
"I also love being out on the water," he says. "Hopping on one of our new powerboats for the day is absolutely amazing. It's an incredible way to see the island, stopping at some of the more isolated locations, private beaches and local seaside restaurants that are only accessible from the water. You pull right up by boat to a quaint little restaurant and it's such a nice vibe. The powerboat itself is really iconic and a first for Jamaica."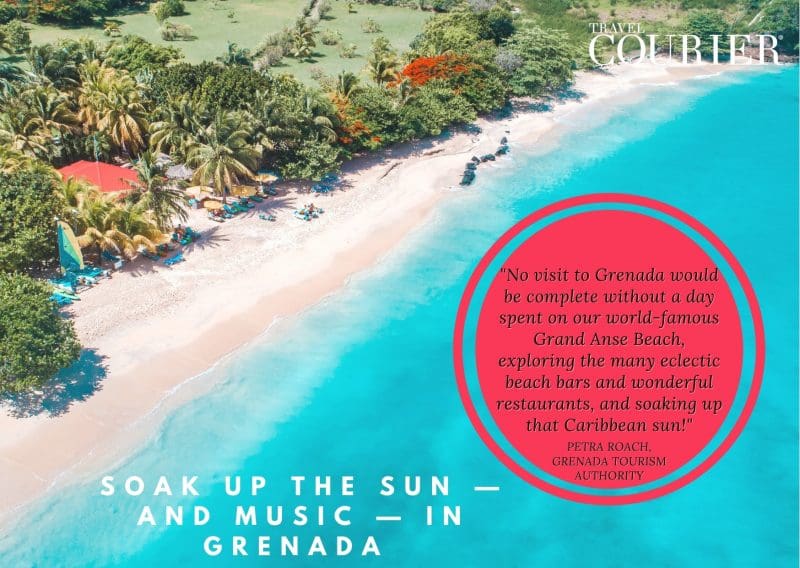 #4 Soak up the sun — and music — in Grenada
Although Petra Roach only took on the role of CEO of Grenada Tourism Authority earlier this year, she already has a list of authentic things travellers must experience in the destination. 
"Grenada truly is a special destination — not only are we comprised of three very unique islands, we are the authentic Caribbean that you're looking for, with welcoming people who will make you feel right at home," she says. "In addition to being the world's culinary capital and a place of incredibly fresh and delicious dishes, there are many things in Grenada to add to your bucket list. A concert at Sabrina's Treehouse — a beautifully intimate concert in an actual treehouse on the grounds of an eco-lodge in the mountains is a definite must. No visit to Grenada would be complete without a day spent on our world-famous Grand Anse Beach, exploring the many eclectic beach bars and wonderful restaurants, and soaking up that Caribbean sun!"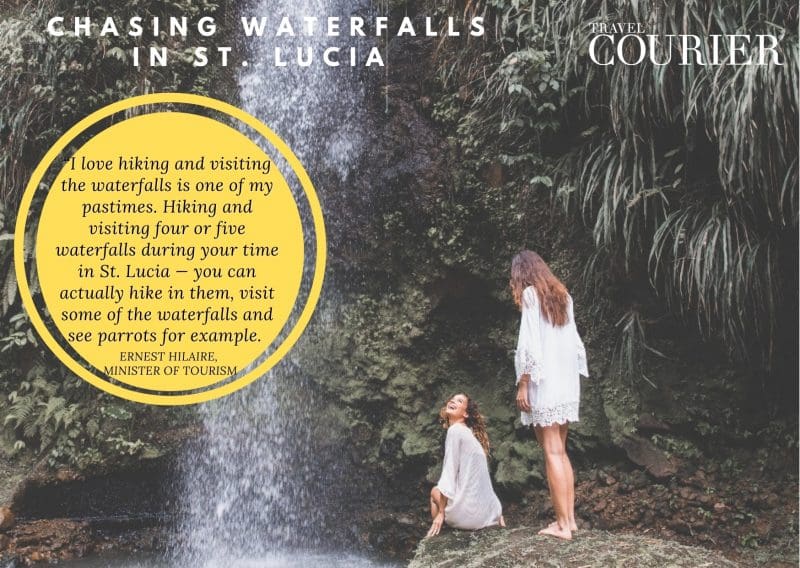 #5 Chasing Waterfalls in St. Lucia
For a local's perspective on what to do in St. Lucia, Dr. Ernest Hilaire, St. Lucia's new Minister for Tourism, Investment, Creative Industries, Culture, and Information, suggests trying the island's cuisine and getting out in nature. 
"I love hiking and visiting the waterfalls is one of my pastimes. Hiking for me is something that I would really want to encourage. Hiking and visiting four or five waterfalls during your time in St. Lucia — you can actually hike in them, visit some of the waterfalls and see parrots for example. One of my practices is hiking every Sunday morning. The beaches are important too. You can visit the rum distillery too."