Many people come from around the world to set sail on the Rhine — but did you know you could also swim in it?
In Basel, Switzerland, a unique way to cool off from the summer heat is to place your belongings into a Wickelfisch — a fish-shaped waterproof swimming bag — and then simply step into the water and hold on tight as the current takes you past the picturesque Old Town with its 1,000 year old cathedral. Better yet, some locals even choose to commute to work this way. Now, that's more refreshing than a morning cup of coffee!
"This is really a unique experience," says Christoph Bosshardt, deputy director, head of marketing and sales for Basel Tourism. "It's like a sightseeing tour through the Old Town. Then, you get out and go to a small restaurant stall called a buvette and have a drink there and you feel like you are on the Mediterranean sea."
But this thrilling activity isn't the only way to make a splash in Switzerland's third largest city.
"In summer, have a swim in the Rhine or take a bath in one of our beautiful fountains," Natascha Martin, Sales Manager for Basel Tourism, tells Travel Courier. "Yes, it is allowed, very refreshing on hot summer days — clean and free of charge!"
And for those who aren't feeling as adventurous and would prefer the comforts of their hotel room or river cruise suite to shower, fret not, "just looking at people doing it is quite spectacular, too," she says.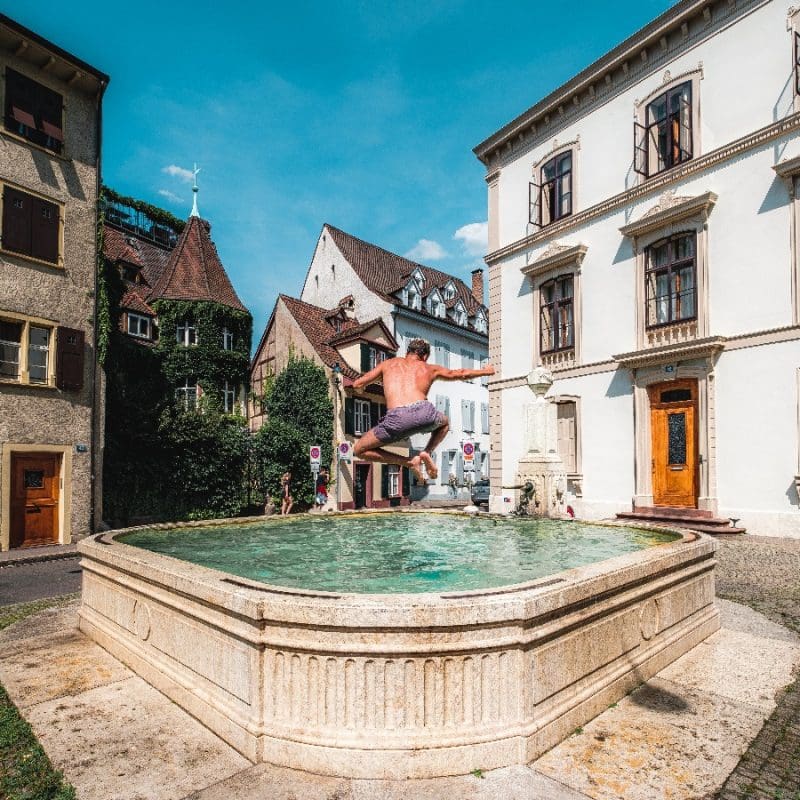 As Basel is the starting and ending point for several river cruise itineraries, it's easy to add on a few days to discover this cultural hub.
"We say often that Basel is a pocket-sized metropolis. Basel is not well known compared to maybe Zurich or Geneva," says Bosshardt. "It's more a hidden gem and that's why it's so important for us to bring people here to let them experience our city and to see that there are alternatives to destinations that are much better known in Switzerland than Basel."
One of the most magical times to visit is during Basel carnival, which takes place the Monday after Ash Wednesday.
"In the morning thousands of people are preparing and then at 4:00 a.m. all the lights are turned down. It's totally dark and you only see these lanterns," he describes. "This is a very magical moment. You get goosebumps even if you've experienced it 50 times."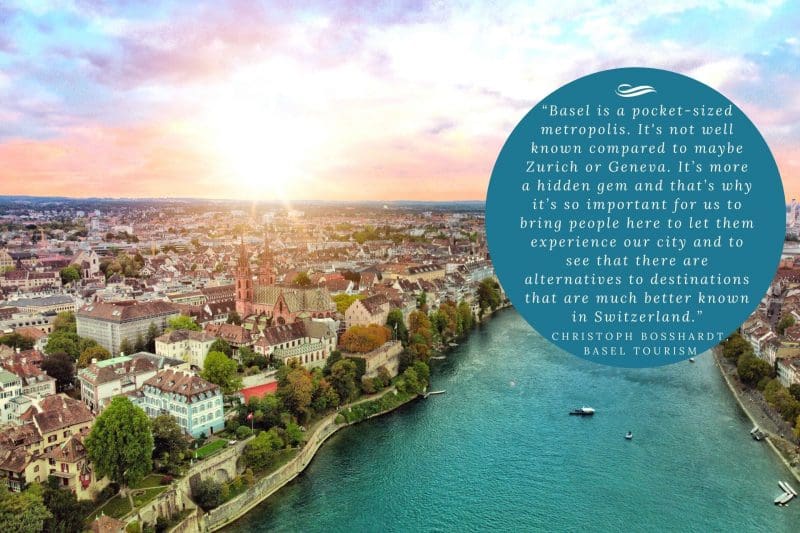 Another unique Basel draw is that it's home to the Three Countries Corner, where France, Germany and Switzerland converge. Here it's possible to bike to three different countries. Another option is to follow the five kilometre long Rehberger-Weg, which links the Fondation Beyeler in Riehen and the Vitra Campus in Weil am Rhein, with 24 colourful art installations by artist Tobias Rehberger.
"Basel is known as the cultural capital of Switzerland, being a mecca for art and architecture lovers and guests who appreciate authenticity and hidden gems," says Martin. "With 40 museums in 37 km2, we have the highest density of museums in Europe and no fewer than 12 winners of the prestigious Pritzker Architecture Prize have graced the city with their work including Richard Meier, Frank Gehry and Mario Botta."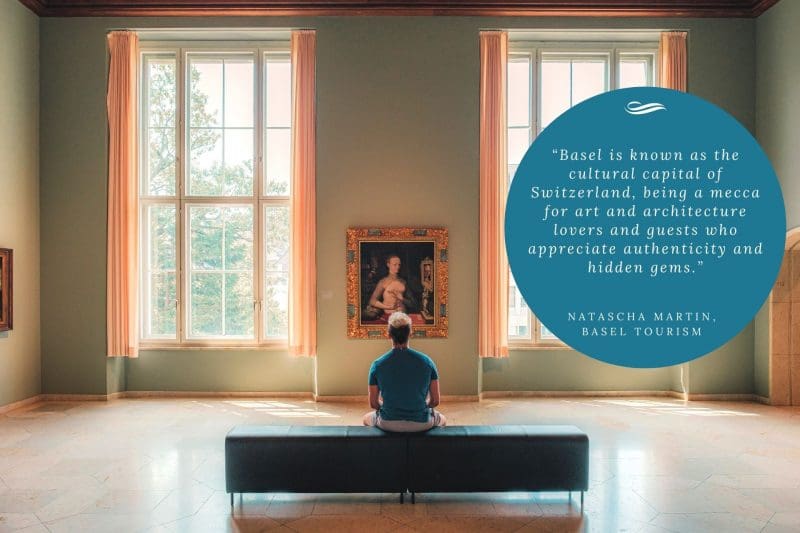 Reasons to visit Basel
Basel sometimes gets overlooked by those eager to explore a quintessentially Swiss mountain village, but it's absolutely worth visiting. Here are some other notable things to experience:
Tinguely Fountain at the Barfüsserplatz, created by the Swiss Artist Jean Tinguley, is a kinetic fountain with 10 installations moving in water.

Basel has one of the largest and most beautiful Christmas markets in Switzerland.
Basel has a thriving

street art scene

and offers walking tours to discover some local pieces.
Basel's Old Town is filled with alleyways and hidden squares with over 300 fountains and many century-old buildings.
Taste the local favourite Basler Läckerli — a ginger bread like biscuit — from the oldest manufacturer at Jakob's Basler Leckerly.
Craft beer fans will enjoy a local, artisanal beer like Ueli Beer — be sure to tour the Brauerei Fischerstube — or the Unser Bier.

For a fun dining option head to Neue Alte Markthalle, a market hall with a cool ambiance and a variety of food venders serving everything from thai to arepas. When no one can decide on what to have for lunch, try KLARA Basel, which brings together nine restaurants under one roof ranging from Ethiopian and Israeli fare to burgers.

Art Basel, held this year from Sept. 24-26, is an annual internationally renowned art fair staged in Basel — as well as Miami and Hong Kong —formed in the 1970s.