The notion that millennials are only booking travel online is outdated.
The founder and president of Wells Luxury Travel, a boutique agency specializing in luxury experiences, estimates that roughly 50% of her clients are millennials.
"It is actually quite incredible to see how many affluent millennials there are, and how so many prioritize spending and splurging on luxury trips," Vancouver-based Kemi Wells tells Travel Courier. "From weekend trips to full blown customized itineraries, they aren't hesitating to spend on travel and I see this trend continuing year on year. Demand is definitely up and the majority of experienced millennial travel advisors are definitely non-stop busy right now with the travel boom."
Wells, who is also the co-founder of networking organization Millennials in Travel's Vancouver branch, believes these clients are turning to travel advisors for personalized service and special benefits.
"As the saying goes 'You can't VIP yourself' and I find younger clients particularly want all the extras and special treatment," she shares. "I find many are busy working professionals and simply don't have the time. I also believe when millennials see other millennial travel advisors or travel agency owners like myself, they are a bit more trusting and have more confidence we will understand their needs and wants better."
Interestingly, she says many millennial clients still love the planning phase and tend to do a lot of research themselves.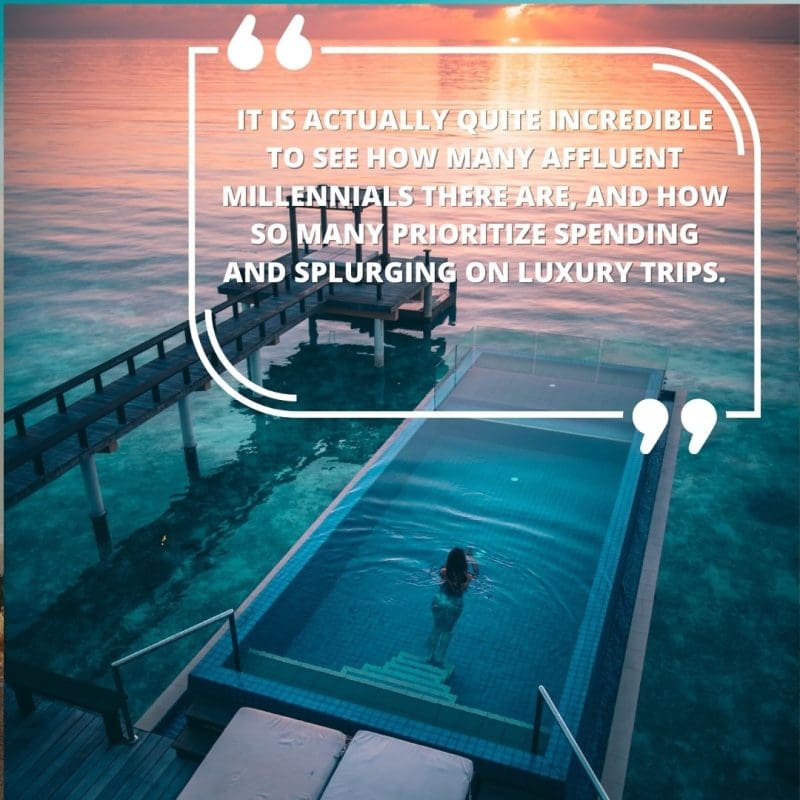 "Then they may come to us for validation, and to gain advice to enhance the itineraries," she says. "Others know fully what they want and simply want us book the hotel. As my agency is part of the Virtuoso network, for the same price they would find online directly with the hotel, when we book it for them they can enjoy complimentary daily breakfast, a USD$100 resort credit, upgrades, welcome amenities and more. So they absolutely love that."
Notably, she says she's not booking many flights for millennials as they're often using their own points.
"But we definitely book their luxury hotels and activities too. We offer a concierge style planning service — and charge hourly for our time and expertise — and we find millennials are not hesitating to pay us either," she says. "They realize time is money and they are so busy they'd pay us to help them, or they come to us and just want us to do the hotel booking for them, so they can enjoy our perks."
Although some millennials still prefer booking online, she says this isn't the case when it comes to luxury travel, as long as they know they exist.
"I have had so many conversations where people of all ages don't even know about the evolvement of our industry," she says. "Our role as travel advisors versus old school agents is really quite different. Once they understand our role and how we can help to enhance their travel experience, they are always so positive and keen to start working with an advisor. I am also finding my millennial clients — as well as clients in their 50s to 70s are often texting me about bookings too — it's very interesting."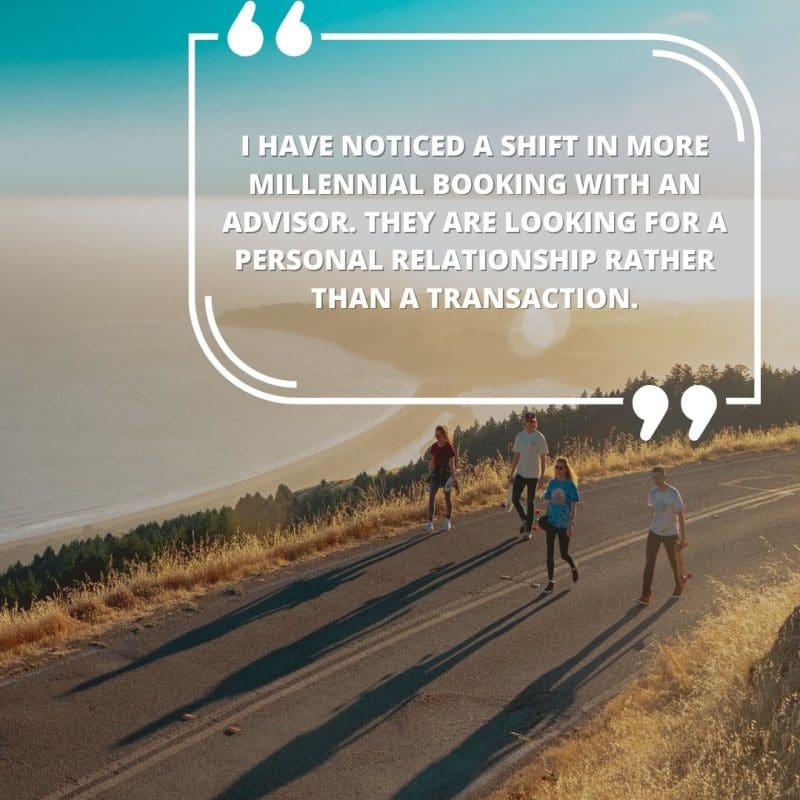 Similarly, Caitlin Lajeunesse of Vacations by Caitlyn with Independent by Flight Centre, puts her pool of millennials at 40% of her clientele.
"I have noticed a shift in more millennial booking with an advisor," she says. "They are looking for a personal relationship rather than a transaction. They take comfort in knowing I am literally a text away, and that they can ask as many questions as they need to."
Many of her clients have connected with her on Instagram, and have been tagging and sharing their trips on the social media platform, which she's benefitted from in terms of marketing and raising awareness about her travel business and what she does. 
"They are often parents with young children, and busy professionals," she reveals. "They come to me because they don't have the time to research, are looking for the best possible vacation experience from start to finish and are happy to pay a professional for their expertise."
As for why clients are booking with an advisor VS going online, she attributes it to the expertise, knowledge, first hand experience and personal connection that can't be replicated by a direct booking.
"My clients are booking bucket list trips, and family vacations they have put off," she says. "We all realize now that time is the most valuable thing out there, and spending it with those you love making life long memories is priceless."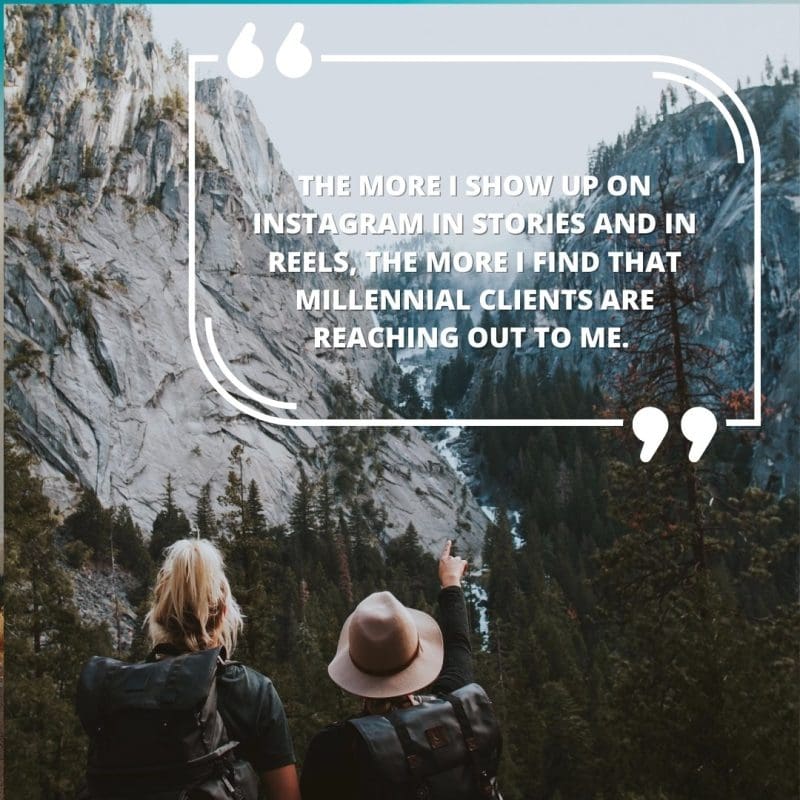 As a young millennial herself, Brittany Rayner of Dream Adventures with TTAND believes many of her clients can relate to her and want to support her.
"The majority of my clients are millennials," she says. "In addition to wanting to support local, they are really unsure of what travel is like these days and to have advice from a professional, they really value that."
Coming out of the worst of the pandemic, she says her clients appreciate, value and are grateful for the expertise and guidance of working with a professional.
"My millennial clients have been amazing to deal with. They are very patient and understanding," she says. "People are saving their money to go on trips and want someone who will ensure that they are getting a great vacation that fits their budget. There are so many tour operators out there with trips marketed towards millennials, travel can be affordable for them and I really want them to feel included in our industry. "
Meanwhile, travel consultant Ashley Doell with TPI says she's getting more and more millennial clients as time goes on.
"The key to selling to millennials is to market where they are, which I believe is on Instagram," she reveals. "The more I show up on Instagram in stories and in reels the more I find that millennial clients are reaching out to me. Selling to any market is all about showing your value to the client first and foremost, and when I'm doing that well I'm seeing clients of all ages reach out and want to work with me."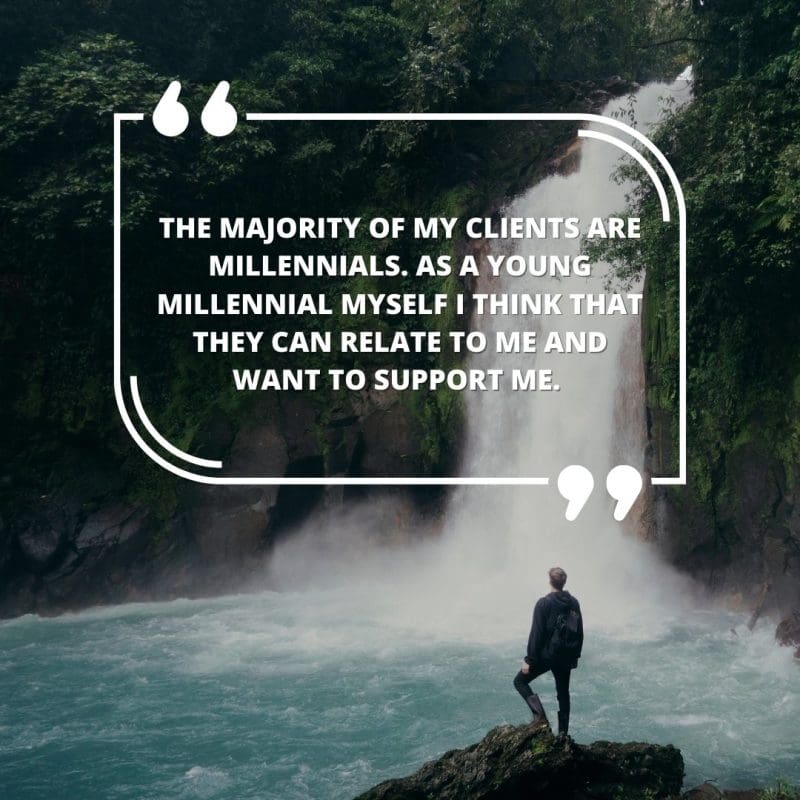 In many cases, millennial clients have done some of their own research, "but often will hit a roadblock or get overwhelmed with options and then reach out to me part way through their planning."
Doell also plans a lot of destination weddings, and notes that those bookings are typically millennials as well.
"I's so important to have a presence and market where they are, so when the time is right, they know who to turn to," she says, advising other travel advisors to increase their visibility on social media.
Although she doesn't have a lot of millennial clients overall, Tara Sparshu of TierOne Travel in Edmonton, Alta., says wedding groups are also where she finds millennials seek her out as a travel professional.
"Destination weddings are a huge undertaking," she says. "They need to find the best resorts not only based on the resort for the clients but what will fit their group's budgets, as well as the wedding offerings and wedding packages, group pricing and group policies. So it makes sense that they will come to an agent. Their guests tend to be a lot of millennials as well."