Cockscomb Basin Wildlife Sanctuary
Amanda Acosta concedes that the odds of seeing a jaguar in the world's first sanctuary created for the big cats aren't spectacularly great.
Acosta, with Belize's Audubon Society, notes Belize is home to the Cockscomb Basin Wildlife Sanctuary, created to provide a safe haven for the large predators, which have been seeing their numbers dropping in much of their traditional range in the Americas.
Acosta told a Belize Tourism Board virtual fam trip that Cockscomb is believed to have around 75 jaguars but spotting one of the spotted cats in the heavily forested sanctuary is no sure thing as they tend to be elusive.
Hiking trails enable visitors to explore the sprawling sanctuary, which has reminders — such as a large replica of a jaguar — that Cockscomb is home to the free-roaming predators.
Area roadside signs have images of the cats, which are wary of people.
Tourism authorities say those keen on seeing one of the large cats can do so at Belize City's Belize Zoo, home to a rescue jaguar, and one of a number of rescue creatures at the attraction. The zoo's Jamal Andrewin-Bohn says seeing Linda will enable zoo visitors to appreciate the "beauty and intelligence" of jaguars.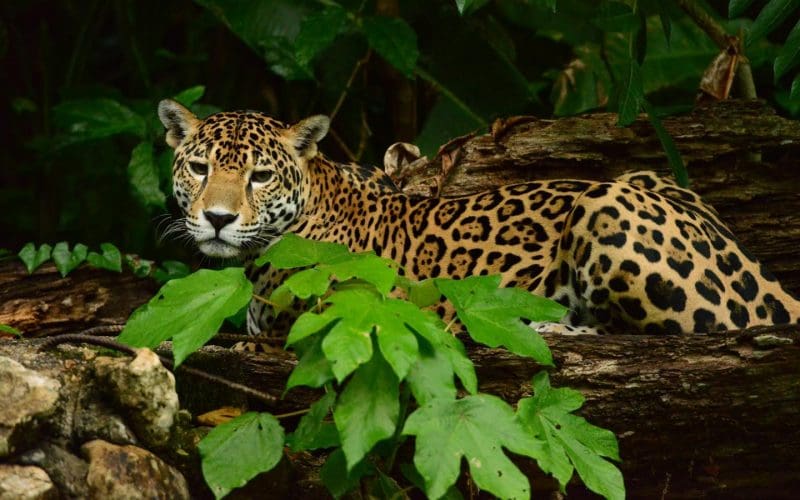 Among other zoo rescue residents is Ranger, a scarlet macaw who is unable to fly, with virtual fam viewers told that the zoo is now Ranger's "permanent home, where he gets lots of love."
Andrewin-Bohn said the attraction can educate people about the roles different creatures play in Belize's ecosystems, among them providing them a look at a vulture. Vultures keep "diseases and pestilence in " check by feeding on decaying flesh, he said, adding their remarkable eyesight enables them to "spot a decaying carcass from miles away when they're soaring up in the thermals."
Another featured creature is a tapir, which Andrewin-Bohn said were once viewed warily by Belizeans because of their unusual snouts. But Andrewin-Bohn said the omnivores are actually "one of the most important seed dispersers."