Life with More Spice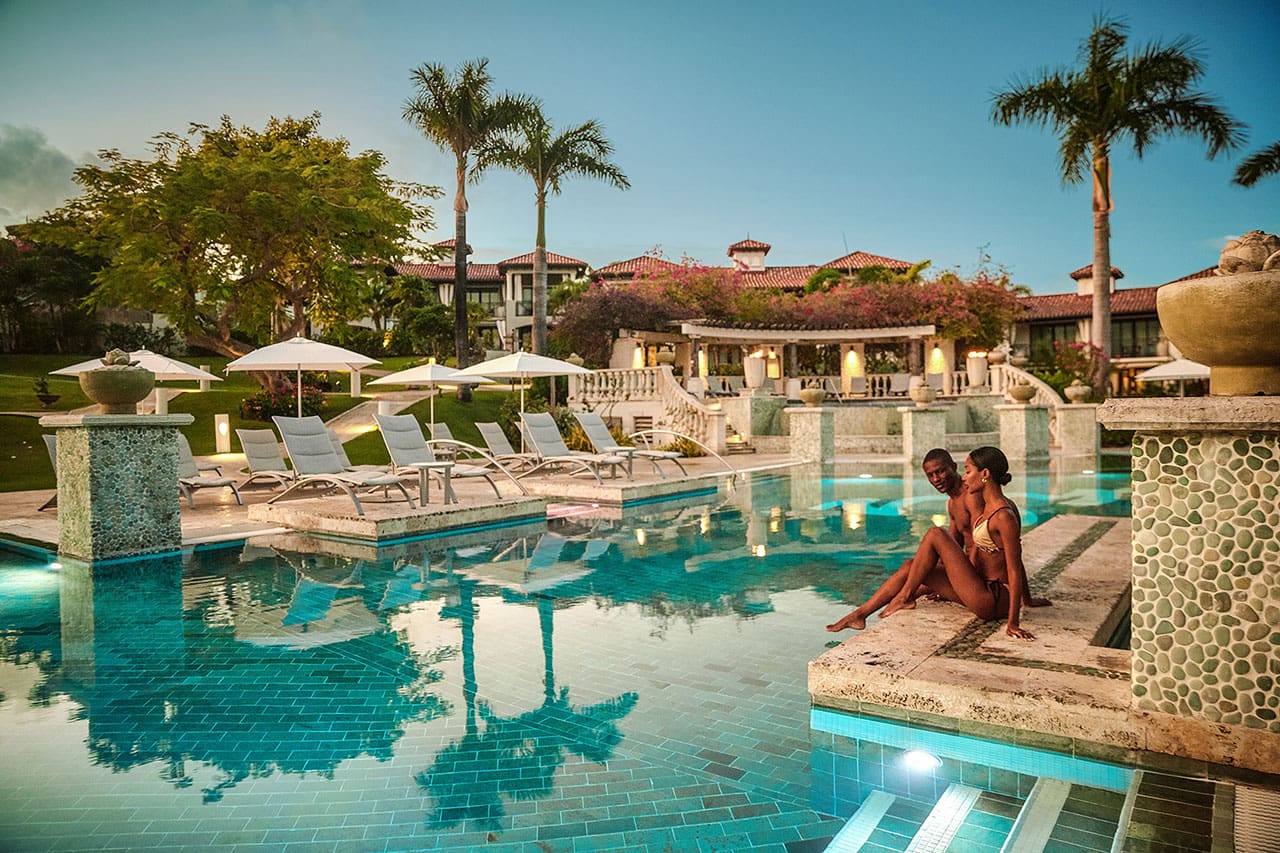 Endless stretches of white sand and turquoise seas are at Sandals® Grenada
Here on the exotic isle of Grenada, between the Atlantic Ocean and the Caribbean Sea, Sandals Grenada is situated on the most enviable spot. Lying on the world-renowned Pink Gin Beach, the island's finest beach with white sand and turquoise seas, it's the ultimate backdrop for a resort fitting of its world-class destination. Your clients will discover an unspoiled hideaway of tropical grandeur with breathtaking scenery and luxurious innovations at every turn.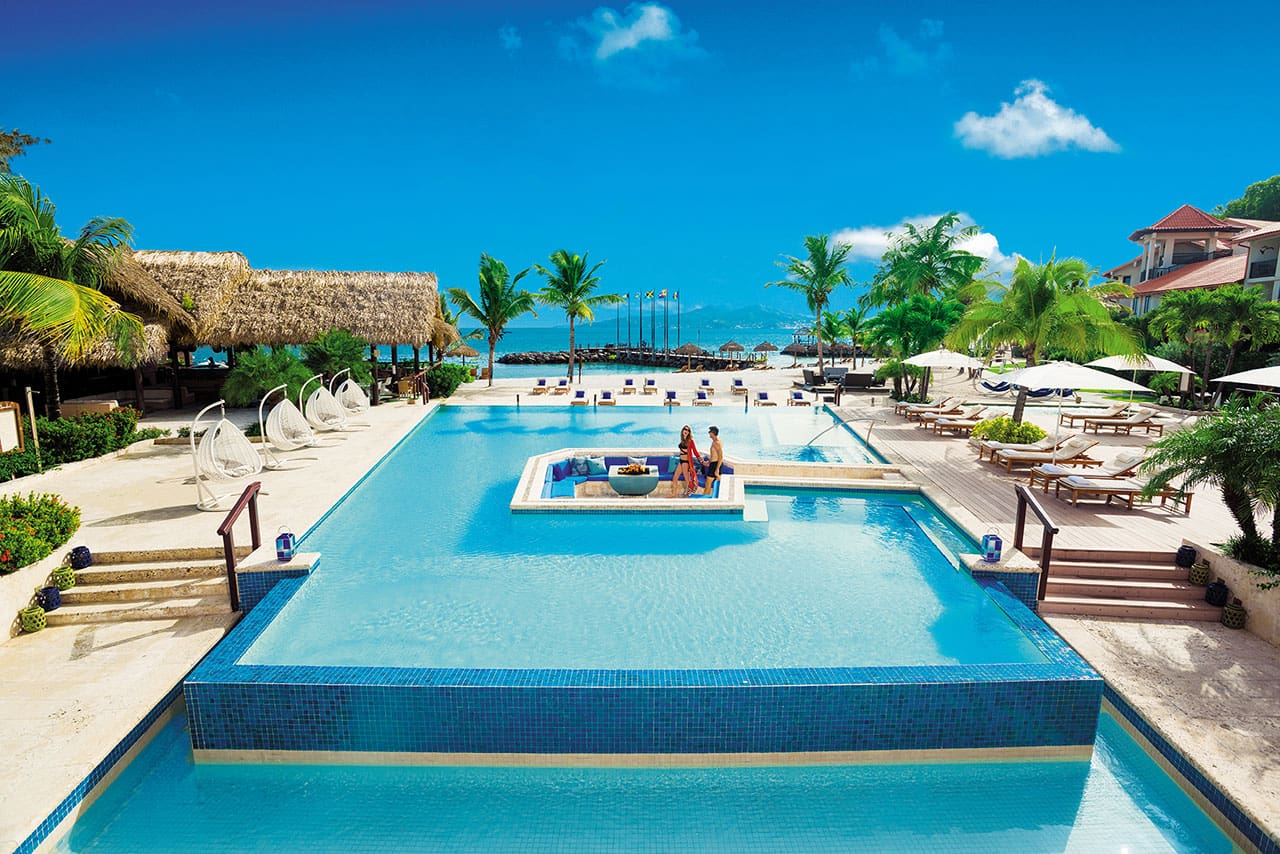 World-renowned Pink Gin Beach
Situated on a magnificent beach, boasting unique pinkish sand and crystal-clear water. Aptly named Pink Gin Beach, it offers unprecedented tranquility as Grenada's best beach spot. It's ideal for swimming, sailing, and paddleboarding, and snorkeling right offshore. You can also enjoy the spectacular Pink Gin accommodations, with the beachfront right out their front door. Breathtaking ocean views serve as the perfect atmosphere for romantic interludes — all complete with a chilled bottle of sparkling wine. They can also step onto the patio of their Walkout room to access the beach for a leisurely or romantic stroll at any moment — day or night.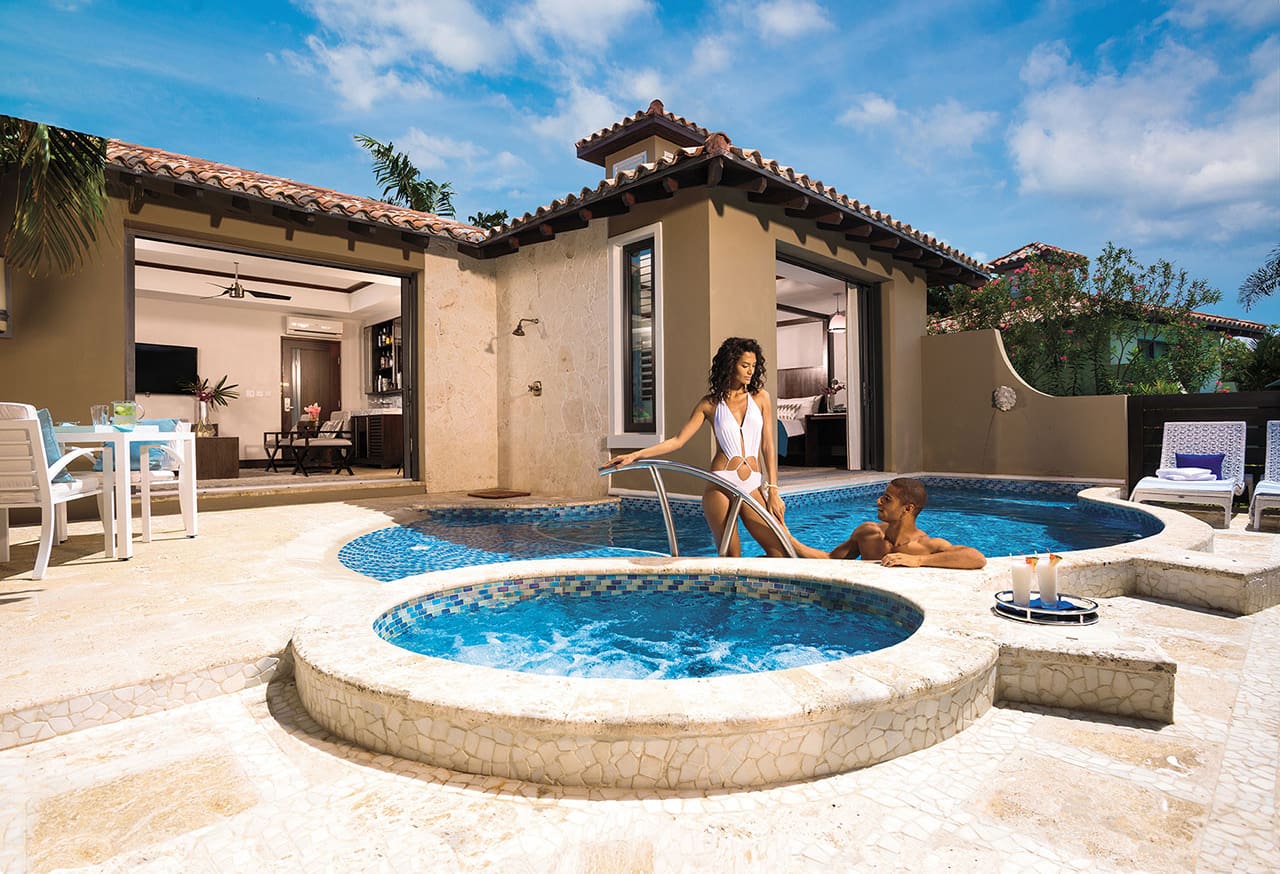 Caribbean Chic
Exotic meets innovative at this resort, which defies every convention of traditional design. Pools are found in the sky and living rooms in a pool. Among the tropical blooms there are private plunge pools, cascading waterfalls and meandering river pools — the ultimate elixir for romance.
It goes without saying, luxury abounds all throughout Sandals Grenada, starting with the resort's extraordinary all Love Nest Butler Suites®, featuring personal butler service. Fantasy meets reality, where you can soak up the sun around one of our swim-up bars, relaxing at on a lounge chair near a zero-entry pool, or enjoying privacy immersed in amidst upscale amenities of a poolside cabana with a day bed and butler service. At Sandals Grenada, every day is sheer exhilaration.
Luxurious Intimate Suites and Villas
Your clients' romance will soar to great heights in these romantic retreats. Our SkyPool Suites have bedroom doors that open to reveal a private infinity-edge plunge pool, seamlessly blending into the distant horizon. Our many Swim-up Suites offer you the opportunity to take an intimate evening plunge right from your room. Secluded, aesthetically designed villas offer private plunge pools.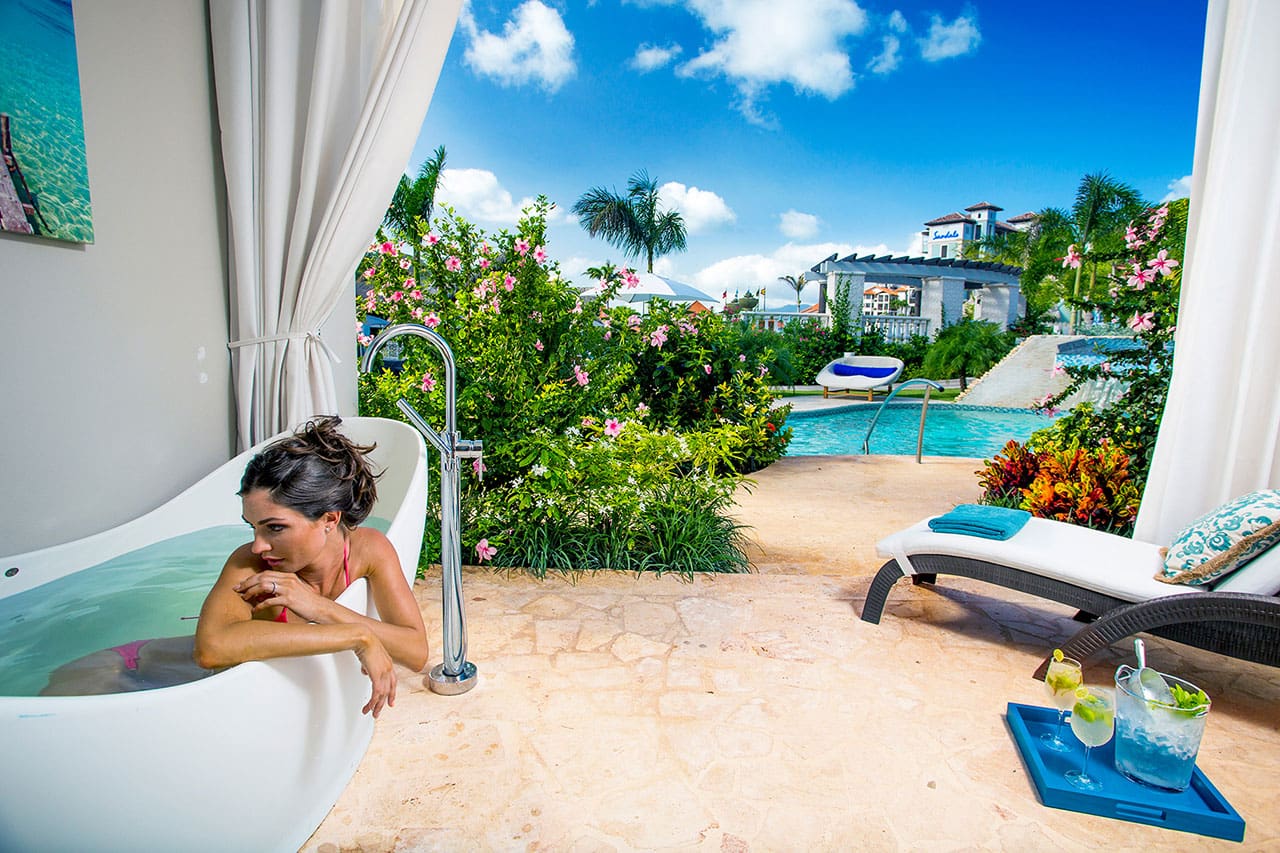 Signature Tranquility Soaking Tubs™
Sandals has the most lavish bathrooms inside with extraordinary custom-sculpted stone tubs and modern interpretations of freestanding tubs. We've also created our Tranquility Soaking Tubs for two, which are found on private patios and balconies throughout most of our rooms and suites. They're located behind elegant privacy curtains, creating a whole new way to celebrate romance.
The spirit of the Caribbean comes alive in this gem amidst unspoiled beauty that's sure to awaken your clients' spirit and renew their souls. Sandals Grenada has innovation and luxury beyond imagination. It's Life with More Spice as they experience this beautiful romantic enclave today.
Help your clients experience this beautiful romantic enclave today. Call your Business Development Manager at 1.800.545.8283 or visit https://taportal.sandals.com to book today.
Sandals® is a registered trademark. Unique Vacations, Inc. is an affiliate of Unique Travel Corp., the worldwide representative of Sandals Resorts.
---
Sponsored content: