Grand Re-Opening on January 27th, 2022
Sandals Royal Bahamian's Grand Re-Opening on January 27th will bring a redefined Luxury Included® experience to the Bahamian way of life where love comes easy, and everything is included.
Your clients will be embraced by luxury the second they first set foot within this newly imagined Bahamian paradise. Following a multi-million-dollar transformation, guests will immediately immerse themselves in a vibrant Bahamian culture that's evident in Nassau's easygoing beach lifestyle and irresistibly soothing charm. Your clients will be greeted by a traditional musician introducing them to the sounds of the island, and once their check-in is complete, they'll be presented with a room key nestled in the gorgeous spiral pink shell of the conch.
Early morning flight to the Bahamas? No problem. With the Resort's new Breakaway service, arriving early just means more time for your clients to enjoy their vacation. Upon arrival, the Breakaway hostess greet guests with a delicious cocktail and with a quick change into comfortable clothes, they'll head straight to the beach or swim-up pool bar and leave the Sandals team to take care of everything else.
A 5-Star Global Gourmet™ team of master chefs will cater to your client's culinary cravings at 10 specialty restaurants, four of which are completely new and unique concepts. La Plume is a French eatery featuring a warm atmosphere and a delicate balance of flavors for the most exquisite French cuisine. The Queen's Pearl is a traditional cozy British pub offering a menu filled with authentic and traditional British classics. At Kanoo, guests can get a tasting of all things Caribbean, infused with a bright culture that brings passion to the evening. There's Butch's Island Chop House – only the highest quality grain-fed Midwestern beef together with the finest fish and seafood.
An impressive Sandals first is the brand-new Coconut Grove beach club, a true sensory awakening for the soul. Here under the generous shade of the palms, your clients can relax during the day and join the party at night with live music and entertainment to keep the easygoing feeling alive. Guests will discover three amazing new food trucks, each boasting its own authentic, casual food and décor. From toes-in-the-sand meals to the clinking of glasses in the evening, the moments spent together here are sure to be moments to remember for your clients.
Guests can also take a short cruise on the Love Runner to the secluded Sandals Barefoot Cay, the resort's exclusive island, where they'll relish uninterrupted time together. They can also enjoy a relaxed dining experience at the brand-new Aralia House, where they will find everything from local Bahamian dishes to other island staples, as they indulge in Caribbean-accented cuisine featuring fresh seafood from boat to table.
The royal treatment shows in everything at this glamorous adults-only resort, starting with the all-new pastel-colored Island Village where peace and exclusivity reign. Here guests will also be introduced to their very own personal luxurious sanctuary with each villa suite–many with private pools–inspired by The Bahamas' beautiful archipelago. Truly a lovely haven built to be perfect for the celebration of love.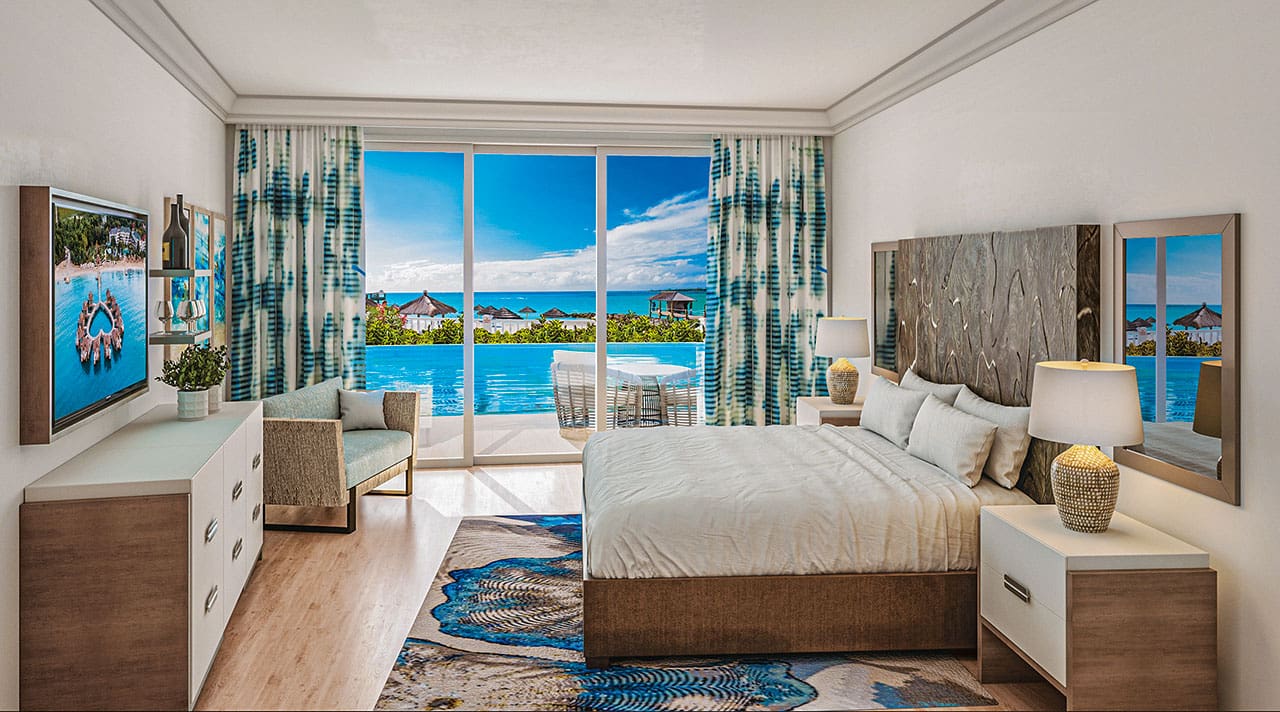 Or your clients might choose to enjoy one of the new River Pool Swim-Up Suites with personal butler service and exclusive VIP airport transfers* in a Rolls-Royce or Mercedes-Benz. They can experience the royal treatment while sitting beachfront at East Bay, where they will submerge themselves in calming swim-up encounters. Or they might decide on luxury blended with regality at West Bay, where they are sure to sip on a refreshing drink near the swim-up pool in an unforgettable luxury suite, just a few steps from the sea and sand.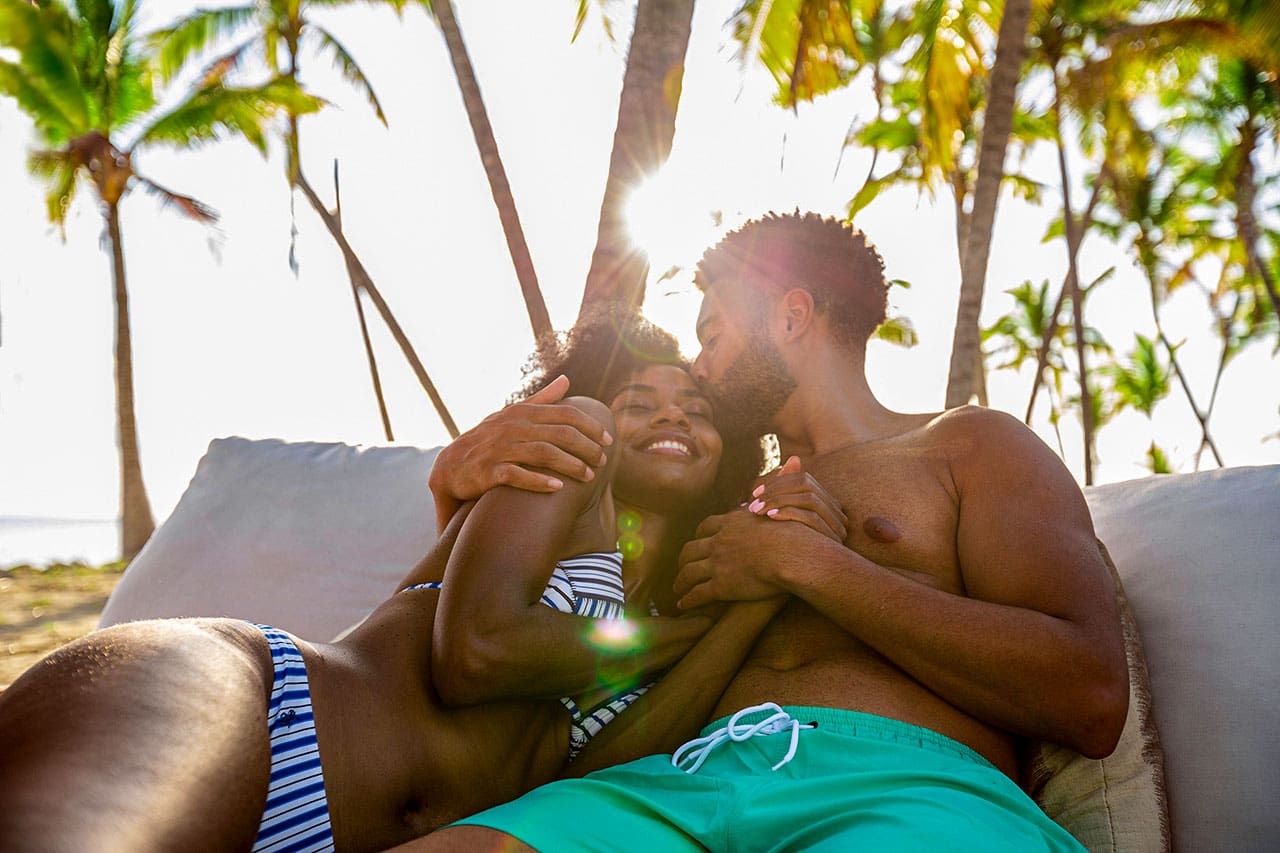 Easygoing is a way of life at the reimagined Sandals Royal Bahamian resort in Nassau. On a serene coast that's as relaxed as the ocean breeze itself, this resort reminds guests just how close this all-inclusive paradise really is. Plus, your clients can be certain that their Luxury Included® Vacation will be fully protected* because Sandals Vacation Assurance Program has their back! So, book your clients with confidence knowing that Sandals is the brand you can trust.
For more information on helping your client's book their next vacation, visit sandals.com, call 1.800.545.8283, or contact your local Business Development Manager.
*Visit www.sandals.com/disclaimers/travelcourier011322 or call 1.800.SANDALS for important terms and conditions. Sandals® is a registered trademark. Unique Vacations, Inc. is an affiliate of Unique Travel Corp., the worldwide representative of Sandals Resorts.
Sponsored content: